A Father's Promise Fulfilled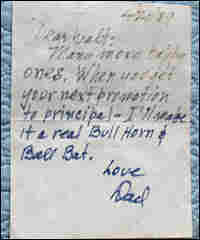 When Walt Shaffner became an assistant principal, his father, Ted, gave him an unusual gift: a tiny megaphone and a toy baseball bat.
The gifts were inspired, Shaffner says, by the school film Lean on Me, in which Morgan Freeman played devoted, but tough-minded, high school principal Joe Clark.
"Dad was a real fan of that principal in that movie," Shaffner recently told his sister, Mary Fischer.
Along with the toy items was a note, promising that Shaffner would have the genuine articles on his next promotion, so he could walk the halls as a principal.
As Shaffner transferred from school to school and got closer to becoming a principal, the gift traveled with him.
When Shaffner and Fischer's father died suddenly just a few years later, Shaffner had only begun to work as a full principal.
After the funeral, with the family gathered around, Shaffner's mother brought out a box. In it were a baseball bat and a megaphone, ready to go into his school office. A note in the box signed off with, "You've earned the real thing. Love, Dad."
It wasn't until several years later that Shaffner looked at the two notes together — and noticed that the handwriting was different.
He pieced together what had happened: His mother, knowing about her husband's promise, had written the note herself — and possibly even bought the horn and bat.
"I think the fact that Mom had the wherewithal to sit down and write this," Mary Fischer says, "was remarkable."
"That was kind of a powerful one for me," Shaffner says. "The power of a promise kept."
This story was produced for 'Morning Edition' by Katie Simon.