Dizzy Gillespie's Cold War Jazz Diplomacy
Dizzy Gillespie's Cold War Jazz Diplomacy
From the 1956 World Tour
Rare recordings made during Dizzy Gillespie's globe-hopping goodwill mission:
USC Thornton Jazz Band
Fifty years after Gillespie's tour, a musical homage to one of the trumpeter's best-loved tunes: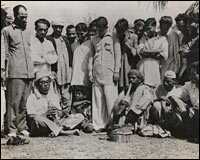 Official diplomacy is one time-tested way to ease tensions between countries. But as John Birks Gillespie proved two generations ago, American jazz and "cultural outreach" can go a long way, too.
Fifty years ago, in the midst of the Cold War, the U.S. government dispatched a high-level emissary to ease tensions during a nuclear crisis: a jazz trumpeter known to most of the world as Dizzy.
Gillespie and his band went overseas in the name of cultural diplomacy. Last week, the University of Southern California marked the anniversary of this historic tour with a special concert.
USC has just inaugurated a Master's program in cultural diplomacy, emphasizing person-to-person outreach by artists and entertainers.
USC Professor Nicholas Cull explains that in the post-Sept. 11 era, cultural diplomacy is more important than ever.
"America woke up to the need to communicate effectively with the rest of the world," he says.
Cull says even nations hostile to the United States can relate to popular U.S. artists. The U.S. Department of State realized this in 1956 when Gillespie and his band were asked to tour the world.
Gillespie made a point during his tour of playing with local bands, and the experience made an impact with both the Americans and the locals.
"It was a mutually transforming experience, and that's one of the things that was so exciting about those tours," Cull says. "And maybe it's something that's missing today."
Rep. Adam Clayton Powell Jr. (D-NY), who represented New York City's Harlem, was the catalyst behind the 1956 Gillespie tour. His son, Adam Clayton Powell III, is now a professor at USC. He says the power of music — especially jazz, a music genre that originated in America — can communicate what words cannot.
"Really interesting music attracts people, and then they hang around for a discussion of the politics," Powell says. "They may hate our policies, but they love our music."
Related NPR Stories
Web Resources