Author on Leaping from Midwest to New York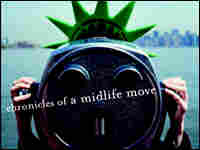 Public-radio journalist and author Katherine Lanpher talks about her book, Leap Days: Chronicles of a Midlife Move, and what she has learned since moving to New York from her comfort zone in Minnesota.
Lanpher moved to Manhattan on Leap Day 2004, to begin a job as Al Franken's co0host on the radio network Air America. Her book of essays called Leap Days begins in New York, and explores a dozen other places: marriage, divorce, parenthood, food, religion and reinventing your life in middle age.