Creating Community in FEMA Trailer Parks
Creating Community in FEMA Trailer Parks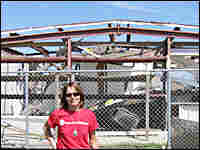 Save the Children, a nonprofit group, has begun planning extracurricular activities for children living in FEMA trailer parks. The activities are part of a new community program they are introducing in some Gulf Coast trailer sites.
Diamond Park, a trailer park located an hour or so south of New Orleans is like most of these FEMA trailer sites. It has a lot of gravel, rocks, dust and young children. It is home to 400 children younger than 13.
The gravel roads have streets named after baseball greats such as Clemente and DiMaggio. On one side of the park is an old playground with two green slides, a couple of swings and some bars for climbing.
Barbara Ammirati with Save the Children says this playground area was submerged in water along with most of the rest of Plaquemines Parish.
"The equipment is old and pretty rusted … so not a great place for kids to play," Ammirati says.
One of the problems with FEMA sites like Diamond Park is that they don't look much like homes. A chain-link fence surrounds the place as a security measure. Armed guards at the front gate check everyone who enters the park.
Amanda Ragas sits outside her trailer with her nine-month-old daughter, Kirasten, on her lap.
She says the kids need more to do, especially after losing so many of their belongings, their library and the computers in the library. Ragas says that losing everything is not something all the children really understand.
"I mean, the parents can find things to do… it's the kids it's taken such a toll on," Ragas says. "They don't understand when the hurricane came, everything was gone; you got to start all over."
Bouncing Back
In the center of the trailer court, Eli Quintana, an energetic former Harlem Globetrotter teaches 18-year-old CJ Mackey some moves on a basketball court that was recently set up.
Quintana says that before basketball, kids at the trailer park would throw rocks at each other for fun. "Now they don't have time to throw a rock," Quintana says, "Now they're just worried about shooting that basketball."
Not all Save the Children projects will be lucky enough to have a former pro basketball star like Quintana. He came as a volunteer because he lived in New Orleans and saw the need to help out. He says that his time with the kids is spent teaching discipline as well as basketball.
Save the Children will build a new playground and community center at Diamond Park in Plaquemines Parish. In addition, the nonprofit group plans to bring their community program to ten FEMA trailer-park sites in Louisiana and Mississippi in the next year.