Google Goes Solar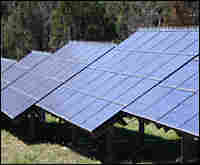 Google announced with much fanfare today that it is converting part of its "Googleplex" headquarters in Silicon Valley to solar power. By next spring, some 9,200 solar panels are expected to produce enough electricity to power 1,000 homes. "We hope corporate America is paying attention. We want to see a lot of copycats" of this project, said David Radcliffe, Google's vice president of real estate.
Bully for Google, but don't forget that big Internet and computing companies like Google, Yahoo! and Microsoft are voracious consumers of electricity. For example, they all have vast air-conditioned complexes called server farms where tens of thousands of powerful computers do what it takes so we can surf the Web.
Google has an estimated 500,000 to one million servers that churn out 2.7 billion online searches a month. That takes a lot of juice. But as much as Google likes to tout its eco-friendly projects like solar panels, it is tight-lipped about those power-thirsty servers lined up as far as the eye can see. According to Fortune Magazine, Google enjoys "discussing its data centers about as much as the NSA enjoys discussing its code-breaking techniques."
No wonder. A single data center gobbles up enough electricity to power a city of 40,000 people.