The Busy-ness of Bees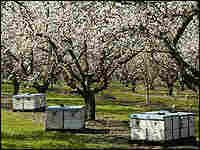 While California beekeeper Orin Johnson prepares his bees for the coming almond season, hundreds of trucks loaded with beehives are bearing down on his state. They are all headed for the almonds. It's a caravan that people in the bee business join every year, chasing the blooms and the dollars.
Johnson is a commercial beekeeper in California's Central Valley. When the almond trees start blooming, his bees will join millions of others shipped from across the nation in a kind of gigantic bee homecoming dance. Growers rent the bees to pollinate almond flowers so the trees will bear nuts.
"Commercial beekeeping can be very lucrative," says Johnson, who is also vice president of the California State Beekeepers Association. Farmers in the United States pay about $150 million a year to rent hives, and demand is growing.
But before you buy your moonsuit and smoker, beekeeping for profit is not a lifestyle for everyone. Johnson says many newbies have a hard time finding enough land to park their hives on — landowners are often too scared of being stung to rent plots.
Plus, bees and their keepers often have to live as migrant workers. Johnson lives close to farms that need his bees' services, but beekeepers in the rest of the country pack beehives onto big trucks each year and chasing one blossoming crop after another.
This time of year, beekeepers are gearing up for the almond season opening on Feb. 1. They're packing hives onto pallets and scraping off mud that could hide fire ants or other pests that would cause California border inspectors to turn back the bees.
"When you've spent $5,000 to ship a truckload of bees, the last thing you want is for them to get rejected," Johnson says.
Winging across the country in an 18-wheeler takes its toll on the bees, so keepers look for trucks with gentle air-ride suspension and truckers willing to hose down the hives during pit stops. Once at the farms, the bees typically wait, partially dormant in the cool weather, for their owners to catch up with them in January.
Around the New Year, keepers flock to California and prepare their waiting hives for the season. Motel rooms fill up, and supply trailers line parking lots. The bees need careful tending at this point and plenty of sweet syrup to get their weight up.
More than a million hives will pour in to the almond orchards. The almond industry is booming, and growers expect they'll need closer to 2 million hives to pollinate all the new trees that will start bearing nuts by 2010. That means 80 percent of the approximately 2.3 million commercial bee colonies that exist now in the United States will have to travel to the California orchards just to meet demand.
The going rate for hives this year ran about $125 to $150 per hive for six weeks. Johnson says speculation about next year's prices ran wild at a recent conference — some said it could hit $200 — but the truth is that no one, including Johnson, really knows how many bees will be ready to fill demand until hives are cracked open in January.
The beekeepers go home for a month-long break while their bees work in the orchards, then head back to California, pack up the bees, and move on to the next location, such as the cherry orchards in California's San Joaquin Valley or apple orchards in Washington. Then, many head back home with their bees to places like the Dakotas or Montana — where land is cheaper — for an intense summer of honey-making during clover season.
Like wild bees, these commercially raised bees are in danger. Farmed honeybee stocks in the United States have declined by 39 percent since the arrival of exotic mites in the 1980s, according to the new report from the National Academies.
Johnson says most keepers are losing 30 to 40 percent of their hives each year to mites and starvation.
"If a cattle rancher lost 30 to 40 percent of their herd each year, they'd go out of business," he says.