Bee Decline Threatens Farm Economy
Bee Decline Threatens Farm Economy
A new report from the National Academy of Sciences says the honey bees that pollinate billions of dollars worth of farm crops are in decline. That could spell trouble for the farm economy.
STEVE INSKEEP, host:
Wild bees across the country are in a state of decline. A few may be headed for extinction. That's according to a new report from the National Academy of Sciences. The bees have been brought down by everything from sprawl to exotic diseases. And since bees help to pollinate many plants, that could cause problems for anybody in the following categories. See if this includes you: gardeners, farmers, people who like to eat. Experts say many of these bees could bounce back fairly quickly, if the habitats they used to live in are restored. As NPR's John Nielsen reports, that is already happening in some unexpected spots in California.
JOHN NIELSEN: One of those spots - and yes, this is a little bit ironic - is the Old City Cemetery in downtown Sacramento, a 40-acre plot that until a few years ago was rundown and barren, but then a native plant society came in and made it lush again. Now untold numbers of wild bee species flit back and forth between giant tilted headstones that date back to the Gold Rush.
Ms. SARAH GREENLEAF (University of California, Davis): It's just buzzing all the time. It's great.
NIELSEN: Sarah Greenleaf, a wild bee expert at the University of California at Davis, says it's not unusual for a city to serve as a refuge for wild bees, including some of the most important pollinating species.
Ms. GREENLEAF: Carpenter bees, bumble bees, leafcutter bees, sunflower bees, just a huge number of species.
NIELSEN: Greenleaf says wild bees would be a lot better off if cemeteries everywhere were covered with bee-friendly plants. Golf courses and suburban developments could also be transformed. Gordon Hinckey(ph), a wild bee expert at the University of California at Berkeley, say it's a fairly simple concept.
Mr. GORDON HINCKEY (University of California, Berkeley): That is, the more diverse these habitats are, the more stable the populations are that depend on them.
NIELSEN: Hinckey tends a garden full of bee-friendly plants near the UC Berkeley campus. It's attracted at least 36 species of wild bee since 2003.
(Soundbite of buzzing)
NIELSEN: One of them is a small leafcutter bee that Hinckey has just pulled off a flower. Holding the bee's legs, he walks over and sticks the insect under my nose.
Mr. HINCKEY: You can pet this bee, if you'd like.
NIELSEN: I will pet the bee. My God!
(Soundbite of laughter)
NIELSEN: I jumped up into the air when this male stingless bee shivered underneath my fingers. Hinckey says that's just the kind of reaction that could thwart bee restoration efforts. The problem is that lots of people seem to be convinced that they'll get stung all the time if wild bees make a comeback in their neighborhood. In fact, very few wild bees even have stingers, he says.
Hinckey hopes the new report will begin to change these kinds of attitudes, by helping people understand how important wild bees are. For example, they're crucial to hundreds of thousands of species of plants, including some commercially important fruits and vegetables.
But attitude adjustments won't be enough to put the wild bees back where they're needed most. For that, you might need bulldozers.
(Soundbite of a bulldozer)
NIELSEN: That's what they're using on this farm in the northern San Joaquin Valley. Here, activists from non-profit groups like the National Audubon Society are turning a mile-long ditch back into the wooded stream it used to be.
Scott Hoffman Black, director of a group called the Xerces Society, says he hopes to start a trend.
Mr. SCOTT HOFFMAN BLACK (Xerces Society): It is one of the first projects of its kind, where we're really integrating pollinators at every level.
Unidentified Man: That's right.
Mr. BLACK: So we've integrated pollinator plants. We'll be integrating habitat features for pollinators for nesting sites. And then we'll be testing to see whether these landscape features actually improve the habitat for pollinators.
NIELSEN: If this project works, this stretch of land will someday crawl, not only with wild bees but with hummingbirds, native quail and other animals. And a new report from the National Academy of Sciences says the project needs to work. The report says the government should start paying farmers to build more wild bee habitat. It also calls for extensive surveys of the nation's wild bees; that will help scientists find out more about where the wild bees are still hanging on and where they aren't.
John Nielsen, NPR News.
NPR transcripts are created on a rush deadline by Verb8tm, Inc., an NPR contractor, and produced using a proprietary transcription process developed with NPR. This text may not be in its final form and may be updated or revised in the future. Accuracy and availability may vary. The authoritative record of NPR's programming is the audio record.
The Busy-ness of Bees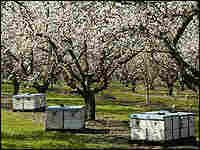 While California beekeeper Orin Johnson prepares his bees for the coming almond season, hundreds of trucks loaded with beehives are bearing down on his state. They are all headed for the almonds. It's a caravan that people in the bee business join every year, chasing the blooms and the dollars.
Johnson is a commercial beekeeper in California's Central Valley. When the almond trees start blooming, his bees will join millions of others shipped from across the nation in a kind of gigantic bee homecoming dance. Growers rent the bees to pollinate almond flowers so the trees will bear nuts.
"Commercial beekeeping can be very lucrative," says Johnson, who is also vice president of the California State Beekeepers Association. Farmers in the United States pay about $150 million a year to rent hives, and demand is growing.
But before you buy your moonsuit and smoker, beekeeping for profit is not a lifestyle for everyone. Johnson says many newbies have a hard time finding enough land to park their hives on -- landowners are often too scared of being stung to rent plots.
Plus, bees and their keepers often have to live as migrant workers. Johnson lives close to farms that need his bees' services, but beekeepers in the rest of the country pack beehives onto big trucks each year and chasing one blossoming crop after another.
This time of year, beekeepers are gearing up for the almond season opening on Feb. 1. They're packing hives onto pallets and scraping off mud that could hide fire ants or other pests that would cause California border inspectors to turn back the bees.
"When you've spent $5,000 to ship a truckload of bees, the last thing you want is for them to get rejected," Johnson says.
Winging across the country in an 18-wheeler takes its toll on the bees, so keepers look for trucks with gentle air-ride suspension and truckers willing to hose down the hives during pit stops. Once at the farms, the bees typically wait, partially dormant in the cool weather, for their owners to catch up with them in January.
Around the New Year, keepers flock to California and prepare their waiting hives for the season. Motel rooms fill up, and supply trailers line parking lots. The bees need careful tending at this point and plenty of sweet syrup to get their weight up.
More than a million hives will pour in to the almond orchards. The almond industry is booming, and growers expect they'll need closer to 2 million hives to pollinate all the new trees that will start bearing nuts by 2010. That means 80 percent of the approximately 2.3 million commercial bee colonies that exist now in the United States will have to travel to the California orchards just to meet demand.
The going rate for hives this year ran about $125 to $150 per hive for six weeks. Johnson says speculation about next year's prices ran wild at a recent conference -- some said it could hit $200 -- but the truth is that no one, including Johnson, really knows how many bees will be ready to fill demand until hives are cracked open in January.
The beekeepers go home for a month-long break while their bees work in the orchards, then head back to California, pack up the bees, and move on to the next location, such as the cherry orchards in California's San Joaquin Valley or apple orchards in Washington. Then, many head back home with their bees to places like the Dakotas or Montana -- where land is cheaper -- for an intense summer of honey-making during clover season.
Like wild bees, these commercially raised bees are in danger. Farmed honeybee stocks in the United States have declined by 39 percent since the arrival of exotic mites in the 1980s, according to the new report from the National Academies.
Johnson says most keepers are losing 30 to 40 percent of their hives each year to mites and starvation.
"If a cattle rancher lost 30 to 40 percent of their herd each year, they'd go out of business," he says.