Pressure Mounts on Iraqis to Quell Violence
Earlier this week, White House spokesman Tony Snow said President Bush has reassured Iraqi Prime Minister Nouri al-Maliki there was no deadline for him to rein in the sectarian violence threatening to tear the nation apart.
So why was the Iraqi leader worried about what Snow called a "rumor"?
Alex Chadwick talks with three experts about the future of the troubled nation, and whether an ultimatum to the Iraqi government will lead to a decrease in tensions that threaten to tear the nation apart:
Mahmoud Othman
Kurdish member of Iraq's Parliament, Sunni Muslim and key proponent of Kurdish independence.
'He talks so much, Mr. Bush -- we don't know what's wrong and what's right.'
Leslie Gelb
President emeritus of the Council on Foreign Relations, former New York Times correspondent and columnist.
'I don't believe in deadlines -- I believe in convincing your allies and enemies you're serious.'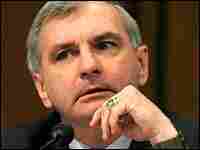 Sen. Jack Reed (D-RI)
Member of the Senate Armed Services Committee, West Point graduate and former Army Ranger.
'It's imperitive that the Iraqi government control the security situation as soon as possible.'