'Jonestown': Portrait of a Disturbed Cult Leader
'Jonestown': Portrait of a Disturbed Cult Leader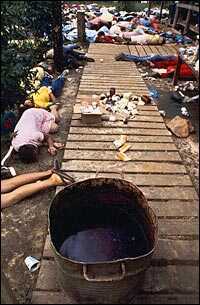 It has been almost 30 years since the mass suicide at Jonestown, Guyana, shocked the world. More than 900 people -- men, women and children -- followed the call of the Rev. Jim Jones and his Peoples Temple, killing themselves by drinking a soft drink laced with cyanide at the cult's sprawling compound.
Jones, a charismatic speaker and preacher, came under scrutiny in the early 1970s after allegations surfaced that he punished wayward church members severely and coerced other members to remain in the fold. He left the San Francisco Bay Area with hundreds of his followers, promising them a self-ruled tropical paradise in the small South American nation.
Instead, the hardship of creating a self-sustaining village in the heart of the jungle seemed to make Jones even more autocratic and obsessed with the loyalty of his flock.
When Rep. Leo Ryan (D-CA) arrived in Guyana to investigate claims of abuse from some of his former constituents, many Peoples Temple members sought to return to the United States with him on the congressman's plane. A separate group of Jones' followers opened fire at the airstrip near Jonestown, killing the congressman and four others.
Later that day, after hearing of the killings at the airstrip, Jones convinced many of his followers to kill themselves to avoid the inevitable punishment and persecution he told them would soon follow. Many of those that resisted were shot, strangled or injected with cyanide. Jones himself apparently committed suicide with a gunshot to the head.
The images of bodies found at the compound were seared into the consciousness of a generation. The phrase "drank the Kool-Aid" came to describe any blind devotion to a cause or person.
Now a new documentary, Jonestown: The Life and Death of Peoples Temple, tells the story of the San Francisco-based cult.
The film includes interviews with former members of Peoples Temple and relatives of the group's leader. One of the most disturbing parts of the film features interviews with childhood friends of Jones.
Born in a small town in what today would be dubbed a "dysfunctional family" led by an alcoholic father, Jones is described by those childhood friends as a troubled, reclusive child drawn to Pentecostal churches for acceptance.