A Culinary Duet: 'The Opera Lover's Cookbook'
A Culinary Duet: 'The Opera Lover's Cookbook'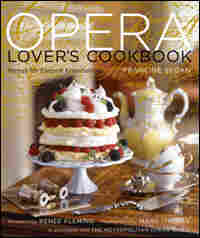 For centuries, an evening of dinner and the opera formed a winning combo. Food historian Francine Segan celebrates the dynamic duo with a new book of musical meals: The Opera Lover's Cookbook. She pairs recipes and menus with beloved arias and overtures and pays tribute to some of the great composers through dinners and desserts.
The treats sold by the street vendors of Puccini's La Boheme inspire a fruit and nut medley, while Bizet's Carmen conjures up tapas of manchego cheese spiked with sherry. Segan even updates a culinary classic from Mozart's birthplace: the Austrian Linzertorte.
Linguine 'Il Trittico'
Music from 'Il Trittico'
Cristina Gallardo-Domas sings 'Senza mamma, o bimbo, tu sei morto'
Just like Puccini's Il Trittico this marvelously unusual dish is made of three main parts. Cointreau-spiked caramelized onions and sweet oranges are complemented by the slightly tart dried apricots to create a multilayered flavor.
You and your guests will love this dish, which is based on an Italian Renaissance recipe.
1 pound linguine
1 large purple onion, thinly sliced
1/2 cup, 1stick, unsalted butter
1/3 cup Cointreau
1 1/4 cups fresh squeezed orange juice
8 to 10 fresh or dried apricots, sliced
1 tablespoon light brown granulated sugar
2 tablespoons minced best quality candied orange peel, optional
Freshly ground black pepper
1/2 teaspoon freshly ground nutmeg
1/2 cup freshly grated Parmesan cheese
1 cup almond slivers
Zest of 1 orange
Cook the linguine in plenty of salted water according to package directions.
Meanwhile, saute the onion in the butter in a large skillet over medium heat until soft, about 5 minutes. Carefully add the Cointreau and simmer until reduced by half, about 2 minutes. Add 1/2 cup of the orange juice, the apricots and sugar and stir until the sugar dissolves.
Slowly add the remaining orange juice and simmer until the sauce turns golden, about 3 minutes. Remove from the heat, stir in the candied orange peel, if using, and generously season to taste with black pepper.
Toss the sauce with the drained linguine and top with nutmeg, Parmesan, and almonds. Garnish with the zest.
Black Lacquer Teriyaki Wings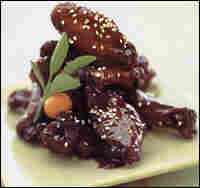 Music from 'Madama Butterfly'
Leontyne Price sings 'Un bel di'
Serves 6 to 8
There is no getting around it; this Madama Butterfly-inspired traditional Japanese nibble is a sticky mess. Slow-baked in sake-honey-teriyaki to sweet, gooey perfection. Glistening, almost black, the wings smell as great as they look. Guests devour them. No guest of mine has ever complained about the mess.
24 chicken wings, about 4 1/2 pounds, split at the joints
5 to 7 large cloves garlic, minced
1 cup teriyaki sauce
3/4 cup honey
1/2 cup sake
1/2 cup orange juice
1/4 cup finely minced candied or fresh ginger
2 tablespoons sesame seeds
Preheat oven to 400°F. Line a roasting pan with aluminum foil and arrange the wings in a single layer.
Stir together the garlic, teriyaki sauce, honey, sake, orange juice, and ginger in a bowl until well combined.
Pour the mixture over the wings and bake for 1 hour. Raise the heat to 450 degrees, turn the wings over, and bake for an additional 30 minutes until the wings are dark and the sauce very thick.
Transfer the wings to a serving platter and top with the sesame seeds.
'La Boheme' Fruit and Nut Fantasy
"Aranci, datteri! caldi i marroni!
Ninnoli, croci! Torroni!
Panna montata!
Caramelle!
La crostata!
Fringuelli, Passeri!
Fiori alle belle!"
— La Boheme, Act II
Translation:
"Oranges, dates, hot chestnuts!
Trinkets, crosses, nougat!
Whipped cream!
Toffees!
Fruit pies!
Finches, Sparrows!
Flowers for pretty girls!"
— La Boheme, Act II
You're going to love this: a wildly flavorful minced concoction of dried and fresh fruits, all sorts of nuts and bits of left-over candy and cookies inspired by the foods the street vendors hawk in the second act of La Boheme — "Aranci, datteri... Torroini... caramelle..."
1 cup assorted minced dried fruit such as dates, figs, and apricots
1 cup assorted minced nuts such as hazel nuts, walnuts, and almonds
1 cup minced assorted candy such as torrone, dark and milk chocolate
1/2 cup assorted dried cranberries or cherries
1/2 cup crumbled cookies, such as amaretti or biscotti
2 fresh pears, peeled and diced
1/2 cup orange juice
1/4 to 1/2 cup of your favorite liqueur such as limoncello or amaretto
In a large bowl, combine the dried fruit, nuts, candy, cranberries, and cookies.
Cover with plastic wrap and reserve in a cool dry place for up to 2 weeks.
Just before serving combine the reserved mixture with the pears and orange juice in a serving bowl. Splash on liqueur to taste.
Books Featured In This Story
The Opera Lover's Cookbook
Menus for Elegant Entertaining
Hardcover, p. cm. |
purchase
Buy Featured Book
Title

The Opera Lover's Cookbook

Subtitle

Menus for Elegant Entertaining

Author

Francine Segan, Renee Fleming, et al
Your purchase helps support NPR programming. How?