'Father Knows Best' Star Jane Wyatt Dies at 96
'Father Knows Best' Star Jane Wyatt Dies at 96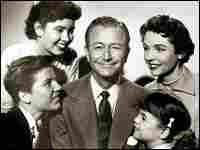 One of television's favorite moms has died. Jane Wyatt was 96.
She was best known for playing Margaret Anderson on the popular 50s sitcom Father Knows Best.
Wyatt appeared in 207 half-hour episodes from 1954 to 1960, winning three Emmys for best actress in a dramatic series.
Wyatt, who also had a successful film career in the 1930s and 1940s, kept working in TV into the 1980s.