In New York, 'Horror Stories' and Halloween
In New York, 'Horror Stories' and Halloween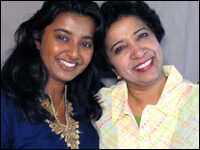 Questions or Comments?
When Juliet Jegasothy came to the United States from Sri Lanka, she had already heard many stories about what life was like in America.
"We came to America in 1969, we were just newly married, and we came to Brooklyn, New York." Jegasothy recently told her friend Sheena Jacob.
"I was so terrified to even open the door, because I had heard all these horror stories about crooks, and gangsters, and guns, in New York."
Jegasothy soon encountered an American tradition that she was not prepared for.
She was home alone with her baby daughter one night when the doorbell started ringing. She looked through the peephole, Jegasothy says, and saw a "really scary person standing outside. So I didn't open the door."
But the ringing didn't stop. One by one, people rang her doorbell. Then a whole group rang, and stood outside, Jegasothy says, "screaming at me through the door."
She called her husband, who was working on his internship and residency at Coney Island Hospital.
"There's something happening, there's some crooks or somebody trying to frighten me at the door."
Don't go to the door, her husband, Brian, said. And try to stay quiet.
So she sat in the bedroom trying to keep her daughter quiet, says Jegasothy -- who admits to having a history as a "wimp." People kept ringing the bell for about another hour. Jegasothy says she was "sweating, and ready to die, almost."
Finally, around 9 p.m., her husband called back.
"I think," he said, "there's something called Halloween going on today, and that's what's been happening: People are supposed to ring the doorbell."
Jegasothy says she has never forgotten about how she became acquainted with the holiday. And her daughter, she says, "loves Halloween" to this day.
This story was produced for 'Morning Edition' by Michael Garofalo. The senior producer for StoryCorps is Sarah Kramer.