Rising ARMs May Upset Housing Market
Adjustable-rate mortgages, ARMs for short, have been a popular way for people to buy a home. The loans will adjust to higher rates in the next two years, and that has many experts making dire predictions about the housing markets.
RENEE MONTAGNE, host:
With new home prices falling, more people were buying last month. Government data on sales in September showed a number of new homes sold is up for a second straight month. However, the median price was down nearly 10 percent. That's the biggest drop in more than 35 years. And there've been lots of stories lately about what will happen to the millions of people who've taken out adjustable rate mortgages or ARM's.
The combination of rising interest rates and a cooling market has left many people with higher loan payments, but also unable to sell their properties for what they paid. This has led to a forecast of a collapse in housing that could bring down the entire economy. But many economists say that's unlikely.
NPR's Jack Speer reports.
JACK SPEER: For months now, there have been dire warnings about what will happen when the bottom falls out of the housing market.
Mr. CHRISTOPHER CAGAN (Director Of Research, First American Real Estate Solutions): The rumor is that adjustable resets will overwhelm and break the real estate market. It's the great tidal wave of the century.
SPEER: That's Christopher Cagan, director of research at First American Real Estate Solutions, who doesn't expect that will happen. Cagan looked at data from around 26 million home loans. He estimates will be around 750,000 real estate foreclosures over the next five years. That's a big number, but it's a small fraction of all the real estate loans out there. And as the interest rate on adjustable rate mortgages rises, people are doing pretty much what you would expect, looking at their options. Jenny Ferguson is a mortgage broker in Pleasanton, California, an hour outside of San Francisco.
Ms. JENNY FERGUSON (Mortgage Broker, Pleasanton, California): We're seeing a lot of people that are coming in with ARMs, that are looking to get out of those ARMs. Or we're seeing a lot of people with home equity lines of credit that are also looking to get out of those and get in to something fixed.
SPEER: She acknowledges there are plenty of people who use risky loans to buy way more house than they could afford who will wind up being forced to sell, in some cases at a substantial loss. But she doesn't sense that's what will happen in most instances.
Ms. FERGUSON: The people that I have calling me are not in panic mode. A lot of them are saying: I'm going to bite the bullet, and I'm going to pay the prepayment penalty. Just get me out of this, and get me into something more stable.
SPEER: There's no doubt adjustable rate mortgages are more common these days, about a third of all of the home loans taken out in the last two years were adjustable, and the percentage is much higher in cities along the East and West coasts.
However, people forecasting problems for the economy - including recession because of the increased use of adjustable rate mortgage loans - are probably painting too dire a picture, according to Mike England, chief economist at Action Economics.
Mr. MIKE ENGLAND (Chief Economist, Action Economics): The more alarmist descriptions that operate on the basic assumption that households are not smart. When they liberate cash, they spend it immediately. And when they commit to mortgages, they adopt a low-interest payments up front with it, which they can just barely make. And then when interest rates rise they're financially crashed, this is not the way most people behave.
SPEER: And it's that rational behavior on the part of consumers, economists are counting on. As interest rates rise on adjustable rate loans, they say some mortgage holders, who opt to pay several hundred dollars more a month for the certainty of a fixed-rate loan, or refinance into another adjustable rate mortgage. But England says the thing that the majority of people won't do is turn their house keys over to the bank.
Mr. ENGLAND: Most default rates on mortgages are small, single digit numbers, even throughout the cycle - though obviously it always trends up at the end of a business cycle - and is probably happening in this cycle as well. Those rates are relatively low. And the large majority of people don't find themselves in default situations with their mortgages.
SPEER: According to the Mortgage Bankers Association, fewer than one percent of outstanding mortgage loans are now in foreclosure. A number that is well within historical averages, but an increase in the number of defaults is not the only way the economy could be derailed. Many economists worry about the so-called negative wealth effect - what would happen if home values dropped enough to make even wealthy people reduce their spending. Economist Chris Cagan says he sees little evidence of that yet. Overall, home equity hasn't dipped much, even though some markets are showing substantial declines in home prices.
Jack Speer, NPR News, Washington.
MONTAGNE: And where will home prices fall next? Get projections for selected cities across the country at NPR.org.
NPR transcripts are created on a rush deadline by Verb8tm, Inc., an NPR contractor, and produced using a proprietary transcription process developed with NPR. This text may not be in its final form and may be updated or revised in the future. Accuracy and availability may vary. The authoritative record of NPR's programming is the audio record.
Falling Home Prices Tempt Bargain Hunters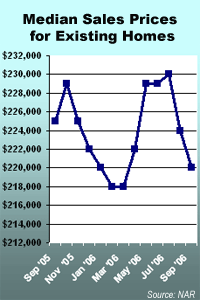 WHERE WILL PRICES FALL?
In a recent report, Moody's Economy.com forecast price declines for dozens of metropolitan areas across the United States. Here's a look at several cities with falling prices ahead, along with when they can expect the housing market to bottom out, according to the report:
ARIZONA
TUCSON
Peak Price: 1st Quarter 2006
Trough Price: 2nd Quarter 2008
Projected Decline: - 13.4 percent
__________________________
CALIFORNIA
MERCED
Peak Price: 4th Quarter 2005
Trough Price 2nd Quarter 2009
Projected Decline: - 16.1 percent
SAN DIEGO
Peak Price: 4th Quarter 2005
Trough Price: 2nd Quarter 2008
Projected Decline: - 8.5 percent
LOS ANGELES
Peak Price: 2nd Quarter 2006
Trough Price: 4th Quarter 2008
Projected Decline: - 4.8 percent
__________________________
FLORIDA
CAPE CORAL
Peak Price: 4th Quarter 2005
Trough Price: 2nd Quarter 2005
Projected Decline: - 18.6 percent
MIAMI
Peak Price: 1st Quarter 2006
Trough Price: 2nd Quarter 2008
Projected Decline: - 5.5 percent
__________________________
NEVADA
LAS VEGAS
Peak Price: 4th Quarter 2005
Trough Price: 2nd Quarter 2008
Projected Decline: - 12 percent
RENO
Peak Price: 4th Quarter 2005
Trough Price: 4th Quarter 2008
Projected Decline: - 17.2 percent
__________________________
NEW YORK
NASSAU
Peak Price: 1st Quarter 2006
Trough Price: 2nd Quarter 2008
Projected Decline: - 8.1 percent
__________________________
WASHINGTON, D.C./VIRGINIA
Peak Price: 4th Quarter 2005
Trough Price: 2nd Quarter 2008
Projected Decline: - 12 percent
Source: Moody's Economy.com
The latest real-estate data leaves no room for doubt: The housing market is in the midst of a substantial correction.
The Commerce Department reported Thursday that the median price for a new home fell 9.7 percent from the same time last year. That's the biggest drop since 1970. Existing home sales fell 2.5 percent.
Of course, prices and sales have been falling for some time now. And that's starting to tempt some bargain hunters.
Whether it's a good time to buy a house depends a lot on where you live. Economists say many cities haven't seen much of a correction yet; they predict that prices will keep sliding in some of them for years.
But other areas could level off much sooner, in part because prices are already down. In Arlington, Mass., a suburb just outside Boston, home prices have fallen 18 percent from their peak in the summer of 2005. Back then, 38-year-old art teacher Alan Sutherland was visiting open houses, but found everything to be unaffordable.
"We actually looked at a condo in Arlington in the mid-400s … and as they were selling, they were going up. So we gave up and just put it off," Sutherland recalls.
But in the past couple of months, Sutherland says friends have been calling to tell him about not just condos, but single-family homes they've seen in the area for sale in the mid-$300,000 range. He says he never saw that last year.
Don't Jump In. But Do Look.
Broker Anita Shishmanian is working with Sutherland on his house hunt. She says that in recent weeks, her phone has been ringing more, as buyers get interested in looking for deals.
"Buyers are suddenly just deciding, 'Oh, maybe it's time to buy,'" Shishmanian says. "They're always hearing now that it's a buyers market."
And it's not just brokers saying that. So is Mark Zandi, chief economist at Moody's Economy.com.
"I'm not saying jump in right away," Zandi says. "There's no need to. I think, though, it's a good time to start looking around. There's a lot of inventory, a lot of options. Inventories have never been as high as they are today. Moreover, fixed-mortgage rates are down a little bit, and sellers are willing to deal."
Zandi recently came out with a report, "Housing at the Tipping Point," that projects the severity and length of the housing correction in nearly 400 cities and towns across the country. The variation is dramatic. He says some markets will see modest price declines and may be at the bottom of their trough already: Boston, Napa, Calif., Salt Lake City, Boulder, Colo. He says you might find a good deal on a house there right now.
But in other areas, Zandi says prices will keep going down: Reno, Washington, D.C., Vallejo Calif., and Naples, Fla., among them.
Rent or Buy?
And some economists still see a strong case for renting.
"Economic fundamentals favor renting at the moment," says Gleb Nechayev, with Torto Wheaton Research in Boston. "No question about it. In most major cities, renting seems like a better deal because of how much house prices have gone up."
Nechayev says that even with housing prices starting to come down, the monthly cost of owning is still historically very high compared with renting. And he says almost nobody expects home prices to rise for a few years.
So he argues it doesn't make sense if you're spending, say, $1,400 a month to rent a two-bedroom apartment to pay a $2,200 mortgage on a similar two-bedroom condo. True, there can be tax savings when you own. But there are also added costs: insurance, condo fees, maintenance and repairs and property taxes.
That said, if you find a house you just love and want to be in for a long time, many economists say it's not a bad time to buy in some cities -- if you do your homework.