Battle for the Senate Down to Four States
Battle for the Senate Down to Four States
The battle for control of the Senate has come down to four states: Missouri, Tennessee, Virginia and New Jersey. With 11 days before the election, it's still not clear who will control Congress.
Election Forecast Graphic
RENEE MONTAGNE, host:
The battle for control of the Senate has come down to four states: Missouri, Tennessee, Virginia and New Jersey. So with 11 days to go, we turn once again to NPR's national political correspondent Mara Liasson and political editor Ken Rudin, who are in our studio this morning. Good morning.
MARA LIASSON: Good morning, Renee.
KEN RUDIN: Good morning.
MONTAGNE: We just heard President Bush speaking out against the New jersey court's decision on gay marriage. Mara, let's start with you. Will the court's ruling have an effect on the New Jersey Senate race, or any others actually, for that matter?
LIASSON: Well, in general, this ruling should help Republicans energize their base of social conservative voters. It certainly did in 2004. However, New Jersey doesn't have the concentration of socially conservative voters that other states do. The Republican candidate there says he's not going to campaign on this issue, but it could have some affect around the edges; that, and the fact that Republicans are pouring $3.5 million into that state in the hopes of getting a pick-up.
But in Tennessee there is an amendment banning gay marriage on the ballot. That should help the Republicans. However, both candidates there, Bob Corker, the Republican, and Harold Ford, the Democrat, are for that amendment.
In Virginia there's also a gay marriage amendment on the ballot, and there you have the clearest contrast. The Republican incumbent George Allen is for the amendment, his opponent, Democrat Jim Webb, is against it. And Allen, who has been hurt by allegations of racial insensitivity, has jumped on the New Jersey decision. Yesterday he was at anti gay marriage rally in Roanoke. He's clearly trying to use this to shore up his base.
RUDIN: I do think it's interesting, though, that this push on gay marriage comes not long after the Republican Party was embroiled in the Mark Foley scandal on Capitol Hill, and maybe this is perhaps President Bush's attempt to divert the issue away from Mark Foley.
LIASSON: And, Ken, there's been a lot in the news this week about campaign ads. And one features the actor Michael J. Fox - it's been playing in Missouri and Maryland - that's about stem cell research.
RUDIN: That's correct. It's a very moving ad, Michael J. Fox, who suffers from Parkinson's disease, he's trying to make the case that the Senate should pass a stem cell research. In Missouri, Claire McCaskill, the Democratic nominee, supports it. The incumbent Republican, Jim Talent, does not support at least a measure on the Missouri ballot that would call for that.
And so you see these ads. But the more interesting ad, and MORNING EDITION has been on top of it all week, is the ad in Tennessee where you have an assortment of people making fun of Harold Ford Jr., the Democratic candidate for the Senate in Tennessee, an African-American candidate, including a scantily-clad, a white woman who you know, seductively looks into the camera and says psst, Harold, call me. Again, they're really hitting the negative stuff.
LIASSON: You know, I want to say something about Tennessee, which I think has been one of the most amazing races this year. The fact that Harold Ford, this is a considered a toss up, Harold Ford is an African-American man running in a Southern state with a family whose some members are involved in ethics scandal. And he has been able to make this an extremely close race.
And people I talked to, both Democrats and Republicans, think he's run one of the best races this year. Win or lose, I think he's going to provide a model for how Democrats can run in some of these conservative rural states.
RUDIN: In a region that has never elected…
LIASSON: Elected…
RUDIN: …an African-American.
LIASSON: He hands out business cards with the Ten Commandments on the back. He's opposed to gun control, to gay marriage. He favors school prayer. He has really been able to give the Republican in a Republican state a run for his money. And we don't know how it'll come out.
MONTAGNE: And as you said, never elected an African-American senator since Reconstruction.
RUDIN: That's correct.
LIASSON: This week, President Bush, as we've just said, insisted that Republicans are going to keep control of both houses of Congress. Karl Rove also says that. Well, what are they basing their predictions on?
RUDIN: Well, a lot of people want to know if they know things that we don't know. Look, he is - President Bush is the optimist in chief and Karl Rove has to say that stuff as well. But I just went through a whole list of every House race in the country. It looks like to me as of this moment, with 11 days to go, Democrats still pick up enough seats, 18 seats in House. They need 15 to take control of the House.
LIASSON: You know, sometimes when you listen to these stories about national polls, there is this drumbeat that there's this huge Democratic wave coming. You know, polls are not predictions. I understand the White House's private projections are from 12 to 18 seats in the House. The Democratic Campaign Committees' private projections are a little bit larger but not that much more. And I think still the real wildcard here are the Republican advantages in turning out their vote and in money.
Those can minimize losses. The problem is those things are invisible. We don't know how they're going to do until Election Day. But there was something that jumped out of me this week. The Washington Post poll among independents - who are breaking two to one for Democrats - asked these independents how many of you have been contacted by either party. Forty-five percent of them said they've been contacted by a Republican, only 17 percent said they've been contacted by a Democrat, which tells you how good the Republicans are at finding and targeting voters. And that could help them minimize losses on Election Day.
MONTAGNE: And 11 days can be an awfully long time?
RUDIN: It is and exactly right. But again that the national momentum is on the Democratic side right now.
MONTAGNE: Political editor Ken Rudin and NPR political correspondent Mara Liasson. Thanks both of you.
RUDIN: Psst, Renee, call me.
(Soundbite of laughter)
MONTAGNE: Well, that too, and to look at Ken's projections for the hottest House races, go to npr.org.
This is MORNING EDITION from NPR News.
NPR transcripts are created on a rush deadline by Verb8tm, Inc., an NPR contractor, and produced using a proprietary transcription process developed with NPR. This text may not be in its final form and may be updated or revised in the future. Accuracy and availability may vary. The authoritative record of NPR's programming is the audio record.
52 GOP House Seats Up for Grabs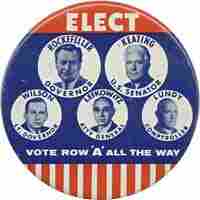 Two weeks to go, and we still don't know who will control the Senate in the 110th Congress. The conventional wisdom is that the Democrats will capture the House -- and I'm kind of in that camp. But there are still a few races that make it impossible to forecast with full confidence who shall carry the day in the Senate.
Everyone has the same list of tossup seats: Missouri, where Republican incumbent Jim Talent is in a tough race with state Auditor Claire McCaskill (D); Tennessee, where Senate Majority Leader Bill Frist is vacating for greener pastures, and where it's nip and tuck between former Chattanooga Mayor Bob Corker (R) and Rep. Harold Ford Jr. (D); and Virginia, where Sen. George Allen's (R) mouth has given him far more problems than Democratic challenger Jim Webb. These three are the ballgame. Whichever party wins two of them controls the Senate.
But things get messier when you throw in New Jersey, the one Democratic-held Senate seat in question, where appointed incumbent Bob Menendez can't seem to put away GOP state Sen. Tom Kean Jr.
Two states that were once considered battlegrounds are clearly leaning in the Democrats' direction, Ohio and Pennsylvania. In Ohio, incumbent Republican Mike DeWine has been falling behind Democratic challenger Sherrod Brown, and in Pennsylvania, Sen. Rick Santorum has trailed Democrat Bob Casey Jr. all year long.
And there are two others that may wind up in Democratic hands as well: Rhode Island and Montana. In Rhode Island, liberal Republican Sen. Lincoln Chafee is fighting for survival in a decidedly blue state against Democratic state Attorney General Sheldon Whitehouse. In Montana, which seems to be enjoying a Dem surge in recent years, GOP Sen. Conrad Burns is a few points behind state Senate President Jon Tester.
As for the House, where the Democrats need 15 seats to make Nancy Pelosi speaker, we seem to keep adding Republican seats to the "watch" list. By our count, the list is up to 60, 52 of which are currently held by Republicans. Here is a list of ratings changes for the House since last week's column; this includes newly added races (incumbents in BOLD).
ARIZONA 1st District (new): Rick Renzi (R) vs. Ellen Simon (D) – LEANS REPUBLICAN.
CALIFORNIA 50th District (new): Brian Bilbray (R) vs. Francine Busby (D) – REPUBLICAN FAVORED.
COLORADO 4th District: Marilyn Musgrave (R) vs. Angie Paccione (D) -- Moves from Republican Favored to LEANS REPUBLICAN.
CONNECTICUT 2nd District: Rob Simmons (R) vs. Joe Courtney (D) -- Moves from Leans Republican to TOSSUP.
IDAHO 1st District (new): Bill Sali (R) vs. Larry Grant (D) (Butch Otter (R) running for governor) – LEANS REPUBLICAN.
NEBRASKA 3rd District (new): Adrian Smith (R) vs. Scott Kleeb (D) (Tom Osborne (R) lost governor primary) – REPUBLICAN FAVORED.
NEW JERSEY 7th District (new): Mike Ferguson (R) vs. Linda Stender (D) – LEANS REPUBLICAN.
NEW YORK 19th District: Sue Kelly (R) vs. John Hall (D) -- Moves from Republican Favored to LEANS REPUBLICAN.
NORTH CAROLINA 8th District (new): Robin Hayes (R) vs. Larry Kissell (D) – REPUBLICAN FAVORED.
OHIO 2nd District: Jean Schmidt (R) vs. Victoria Wulsin (D) -- Moves from Republican Favored to LEANS REPUBLICAN.
PENNSYLVANIA 7th District: Curt Weldon (R) vs. Joe Sestak (D) -- Moves from Tossup to LEANS DEMOCRATIC.
PENNSYLVANIA 10th District: Don Sherwood (R) vs. Chris Carney (D) -- Moves from Tossup to LEANS DEMOCRATIC.
WYOMING At-Large (new): Barbara Cubin (R) vs. Gary Trauner (D) – LEANS REPUBLICAN.
REMOVED FROM THE LIST: NH 01 (R), OH 06 (D). In both of these races, the incumbent party has a comfortable lead.
Check out my full list of key House races.
You have questions? We have answers:
Q: Have you checked out what's happening in Maryland? Here we are --an avowed Democratic state -- and both the Senate and gubernatorial races are neck and neck, with Republicans gaining every day. It's defying all the wisdom about the Democrats' momentum. If Lt. Gov. Michael Steele (R) wins the Senate race, will things shift in the state? I'd be interested to learn why there's so little attention to this. Is it because everyone is certain that Maryland will remain in the Democratic camp? -- Debra Rubino, Baltimore, Md.
A: If people think the Democrats are going to win both races in Maryland, it's with good reason: There are far more Democrats in the state than there are Republicans. No Republican has won a Senate race here since 1980, and he -- three-termer Charles Mathias -- was a particularly liberal kind of guy. And one of the reasons why Bob Ehrlich (R) was elected governor in 2002 -- the first Republican to win the post since 1966 --was that his opponent, Lt. Gov. Kathleen Kennedy Townsend, ran a less-than-inspiring campaign.
Ehrlich has a tough fight on his hands with Baltimore Mayor Martin O'Malley, and he could go down to defeat for no reason other than simple numbers. It's not so simple with the Senate race.
What's so interesting about Steele's candidacy -- other than the fact that he is African-American -- is that he is making some inroads into the state's sizable black community. Republicans, even black Republicans, don't often do particularly well with black voters. It's driving Democrats nuts that Steele is running without mentioning his party affiliation and is stressing his independence, even though he is the former state GOP chair.
The Democratic nominee, veteran Rep. Ben Cardin, may not lead the league in charisma, but he is a solid lawmaker who emerged from a tough primary with ex-NAACP head Kweisi Mfume pretty much unscathed. The contest will be closer than expected, but Cardin should win.
Q: For decades now, Democrats have been gaining support steadily in the Northeast, while the Republicans have been doing the same in the South. Now, however, it seems the Democrats are making a comeback in the Upper South. Virginia has had two straight Democratic governors, Sen. George Allen (R-VA) is facing an unexpectedly competitive election, Jim Bunning (R-KY) had trouble in his last race, and Reps. Geoff Davis (R-KY) and Thelma Drake (R-VA) are vulnerable this year. -- Scott Nolan, Charlotte, N.C.
A: Well, Democrats seem to be doing well everywhere this year, so I don't know if what's happening in these Southern states is a trend or just endemic to 2006. But given the GOP's success two years ago with all five open Democratic Senate seats in the South -- capturing Georgia, Florida, Louisiana and both Carolinas -- I'm not sure I would make any grand pronouncements about a sea change in the region for 2006.
Actually, if you look at where the Democrats are doing best this year, it's outside the South. Check out the vulnerable House seats in places like Connecticut, Pennsylvania, Indiana, and Ohio. And the Senate seats in Rhode Island, Pennsylvania, Ohio and Montana -- and maybe more.
And that leads to a new book by Tom Schaller, an associate professor of political science at the University of Maryland and a keen observer of campaigns. In his book, Whistling Past Dixie: How Democrats Can Win Without the South (Simon & Schuster), Schaller makes the case that for Democrats to become the majority party again, not to mention win the presidency, they need to assemble their coalition outside the South. Just look at Al Gore and John Kerry, the two most recent Democratic presidential nominees. Both came oh-so-close to winning the White House, and neither carried a single state in the South.
Add that to the fact that former Virginia Gov. Mark Warner has taken himself out of the running for the 2008 Democratic presidential nomination, and that the new buzz is all about Sen. Barack Obama (D-IL), and you have the perfect segue into the fact that Schaller will be the special guest on Wednesday's "Political Junkie" segment on NPR's Talk of the Nation.
Q: You stated in your Sept. 27 column that no Hawaii incumbent member of Congress has ever been defeated for re-election, including Rep. Neil Abercrombie (D). But I checked both Wikipedia and the Congressional Quarterly Web site, and both said that incumbent Abercrombie was defeated in 1986 by Republican Patricia Saiki. -- Will Ryan, Phoenix, Ariz.
A: Nobody does a finer job with politics than the folks at CQ, and you should know better than to trust everything you see in Wikipedia, but I am correct here. Abercrombie competed in two contests on the same day in September of 1986: a special election to replace Rep. Cecil Heftel (D), who was required by state law to leave his House seat in order to run for governor, and the regular Democratic primary for Heftel's seat that would commence the following January. Abercrombie won the special election to become a member of Congress. But at the same time he lost the primary (to Mufi Hannemann) to fill the seat for the regular term. It was Hannemann, not Abercrombie, who lost to Saiki that November. Abercrombie's term in Congress lasted less than four months, from the September special to the new Congress being sworn in on 1/3/87. He later returned to the House in the 1990 election, when Saiki left to make an abortive bid for the Senate.
Q: Where do Connecticut's Democratic candidates for governor and Congress stand regarding the Senate race between Democratic nominee Ned Lamont and incumbent Sen. Joe Lieberman, a Democrat who is running as an independent? Are any Republican candidates supporting Lieberman? -- Norm Eavenson, West Chester, Pa.
A: All of the Democratic candidates have endorsed Lamont since his victory over Lieberman in the August primary. That includes incumbent Reps. John Larson and Rosa DeLauro, Democratic gubernatorial candidate John DeStefano, Democratic Sen. Chris Dodd, as well as the challengers in the three GOP-held congressional districts.
On the Republican side, Rep. Chris Shays, in a tough battle for re-election, has openly endorsed Lieberman. That's further than the other two GOP House members, Rob Simmons and Nancy Johnson, would go, though both have said nice things about Lieberman and neither has endorsed the Republican Senate nominee, Alan Schlesinger. Nor has GOP Gov. Jodi Rell. Or the White House.
Interestingly, the biggest win for the Republicans on Nov. 7 may ultimately be that of Joe Lieberman.
Q. I read in The New York Times that Democrats in New York are poised to sweep all statewide elections for the first time in "over four decades." Do you know the last time they accomplished this? -- Cathy Kent, Yonkers, N.Y.
A: Well, it's certainly more than four decades ago. Let's start from the top.
George Pataki, a Republican, was elected governor in 1994, 1998 and 2002. Prior to that, while there was a long stretch of Democratic governors (Hugh Carey and Mario Cuomo), you also had a Republican state comptroller; Ned Regan was elected four times between 1978 and 1990.
And then there's the long streak of GOP victories for state attorney general. Louis Lefkowitz was elected in 1956 (to succeed fellow Republican Jacob Javits, who won in 1954), and was re-elected in 1958, 1962, 1966, 1970 and 1974. Before Javits there was another Republican, Nathaniel Goldstein, who was elected A.G. in 1942, 1946, and 1950. That puts us back to 1938.
I know that Democrats won the governorship (Herbert Lehman) and the attorney general post (John Bennett) that year, but I don't know if a Democrat was elected comptroller. If that is what happened, then it's been 68 years -- yes, more than four decades ago -- since the Democrats swept the elections in New York.
Democrats seemed on their way to a sweep this year. Eliot Spitzer is all but assured of winning the governorship. Andrew Cuomo is the odds-on favorite to succeed him as attorney general. And Alan Hevesi holds a huge lead in his bid for a second term as comptroller.
Here's the rub: This week, a state ethics commission declared that Hevesi may have broken the law by using a state employee to chauffeur his wife since 2003 and not reimbursing the state. A criminal investigation has begun, and Joseph Bruno, the powerful Republican Senate Majority Leader, has called for Hevesi to resign, calling his action a "serious breach of public trust." Spitzer said he was "reevaluating" his support for Hevesi's re-election bid. He called the ethics commission report "deeply troubling and disconcerting."
If Hevesi stays in the race, and manages to win, it will be the first Democratic sweep in New York since at least 1938 -- nearly seven decades. If he loses to Christopher Callaghan, the Republican candidate, the GOP's streak of winning at least one statewide race will continue.
Stay tuned.
Q: Was Tom Lantos of California the only Democrat to defeat an incumbent Republican for the House in 1980? -- Rob Levinson, Fairfax, Va.
A: No. Bob Bauman, a Maryland Republican caught in a sex scandal, was ousted by Democrat Roy Dyson that year. And Sam Devine (R-OH) was beaten by Bob Shamansky.
Speaking of which, in last week's column, I said that Shamansky was the only House Democrat to be defeated for re-election in 1982. Wrong! Greg Giroux, a politics writer with Congressional Quarterly in Washington, points out two more Democrats, both from New York, who lost when their districts were merged with those of Republican incumbents that year: Leo Zeferetti, who lost to Guy Molinari, and Peter Peyser, who was beaten by Ben Gilman.
WANT AN NPR CONVENTION PIN? If you have a 2006 Senate, House or governor campaign button that I don't have, I will gladly trade you a (gasp) rare NPR lapel pin from the 2004 national conventions! Send a photocopy of what you have to Political Junkie, 635 Massachusetts Ave., NW, Washington, DC 20001.
IF IT'S WEDNESDAY, IT'S "POLITICAL JUNKIE" ON THE AIR: Remember, not only can you read "Political Junkie" each week, but you can hear it too. Tune in to NPR's Talk of the Nation, a call-in program, every Wednesday at 2:30 p.m. Eastern, for a half-hour on politics. Check local listings to see if your local NPR station carries TOTN. If not, you can always hear the program on the web at npr.org. This week: the latest in Campaign '06, plus the decision by Mark Warner -- and a hint from Barack Obama -- about 2008.
And don't forget about "It's All Politics," our weekly podcast. New edition of the podcast goes up every Thursday at noon.
Please... If you are sending in a question to be used in this column, don't forget to include your city and state.
This Day in Campaign History: Democratic presidential candidate George McGovern goes on nationwide television to accuse the Nixon administration of corruption and political sabotage. The speech comes the same day the Washington Post reports that top Nixon aide H.R. Haldeman is part of a White House operation to secretly finance covert activities (Oct. 25, 1972).
Got a question? Ask Ken Rudin: politicaljunkie@npr.org