'Mountain Man Dance Moves': Lists for Laughs
'Mountain Man Dance Moves': Lists for Laughs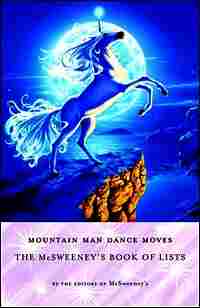 Scroll down to read some of the favorite lists of the Day to Day crew.
McSweeney's, the publishing enterprise behind several humor journals, has a new book out -- a collection of its often absurd "lists" that readers send in to McSweeney's Web site.
McSweeney's has published several irreverent humor journals, but this is a first for the wildly popular "Lists" section of McSweeneys.net.
Part of the appeal of the lists section is its Zen-like simplicity. A big part of the humor is the actual titles of the lists themselves.
And for some reason, unicorns have a recurring role in McSweeney's lists.
Editor John Warner talks with Madeleine Brand about the new collection, Mountain Man Dance Moves: The McSweeney's Book of Lists.
Dance Moves Man-Mountain Standing in Front of Me at Beastie Boys Last Night Amused Bystanders With
...and How One Might 'Feel' If One Performed Them
THE "TEASE"
(Beckoning with both hands.) "C'mere, you crazy B-Boys! Give me more of that rhyme!" (Suddenly breaking away to "pshaw" and wave in opposite direction.) "No! It's too much! Back to the stage with you three!"
THE "YOU GO, GIRL!"
(Pointing finger repeatedly, nodding head in approval.) "That's what I'm talkin' 'bout!"
THE "JAGGER"
(Hands on hips, pouting, shaking of head.) "Now, these fly couplets are simply too much for an old rockin' daddy to bear! Cease at once before my leggings split!"
THE "RAISE THE ROOF"
(Palms facing the ceiling as if to shield self from falling debris caused by burning of roof. Please note: The roof has ignited due to hotness of performance.) "Ow! Those pieces of burning timber are searing my skull! But I cannot tear myself away from this scintillating show!"
THE "HIP-HOP HOORAY"
(Raise hands in air and wave with certain degree of nonchalance.) "I am so white right now! But seeing you three Jewish rappers on stage is making me feel incredibly black!"
THE "DON'T MIND ME, I'M WITH THE BAND"
(Alarmingly gesticulating in the manner of a teenager with epilepsy posing for a series of "rap" photographs.) "What's that you say? My turn to bust out some killer beats? Why, yo! Bum-rush the show! I gots mad skills!" (Repeat, ad-lib, fade.)
McSweeney's © 2006
Reasons I Don't Feel Like I'm Family When at the Olive Garden
The hostess never hints that she'd really like it if I went to law school.
The busboy is always very polite about denying my requests for money.
The waiter never hits me, pulls my hair, or tells on me for things I never did.
The manager never cheats on my dad.
The dishwashers don't like it when I hug them goodbye.
McSweeney's © 2006
Books Featured In This Story
Mountain Man Dance Moves
The Mcsweeney's Book of Lists
Paperback, 216 pages |
purchase
Buy Featured Book
Title

Mountain Man Dance Moves

Subtitle

The Mcsweeney's Book of Lists

Author

McSweeny's
Your purchase helps support NPR programming. How?