Halloween in Missouri: The Devil's Promenade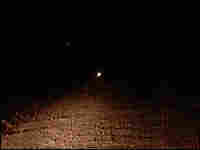 For more than a century, the people in southwest Missouri at the Oklahoma border, not far from Kansas, have seen an odd hovering light on a road called West 50.
The light, usually seen around the state line, heads due west. The phenomenon occurs in the southwest of the state, where the Ozark Mountains give way to flat land — in an area called the Devil's Promenade.
Local lore has it that an Indian died there — or a woman in a farmhouse, or a Civil War hero — and the ghost of that person shines the light.
Everyone in Newton County knows the story, and most of them have been taken to West 50 by their parents when they were kids.
Every Halloween scores of people wait for the light on what is called "The Spook Road" by locals.
In the 1940s, the Army Corps of Engineer conducted studies to try to explain the anomaly — but they couldn't.