As the Election Nears, the Ads Sling Mud
There is less than a week left until the elections that will determine which party wins control of the House and Senate. With such high stakes, political parties are not holding back.
Millions of dollars have been spent on campaign ads that discredit opponents in the eyes of at-home viewers. From the much discussed Michael J. Fox on stem-cell research, to a lady who claims to have met a candidate at a Playboy party, the campaigns are doing whatever it takes to get their message across. Below, a sampling of some campaigns at work.
DNC 'Stay the Course?' Ad
A Web ad from the Democratic National Committee released shortly after President Bush announces he will no longer use the phrase "stay the course" to describe his Iraq policy.
RNC 'Apologize' Ad
The Republican National Committee responds to a comment made by Sen. John Kerry (D-MA) just a week before the elections. The senator said that students who don't study hard and do homework would likely "get stuck in Iraq."
*****************************************
DNC 'Scare Tactics' Ad
The Democratic National Committee asks if finding Osama bin Laden is a priority for the Bush administration or if the al-Qaida leader is being used as a "scare tactic" before the upcoming elections.
RNC 'Stakes' Ad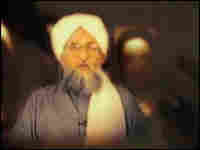 Images of al-Qaida leaders Osama bin Laden and Ayman al-Zawahiri and exploding bombs flash across the screen in this ad from the Republican National Committee. The ad ends with this proclamation: "These are the stakes. Vote November 7th."
*****************************************
Anti-Harold Ford Ad
In Tennessee, the Republican National Committee ran this ad against Democrat Harold Ford, an African American running for Senate. The video is so loaded with innuendo that even Ford's Republican opponent, Bob Corker, denounced it.
Anti-Bob Corker Ad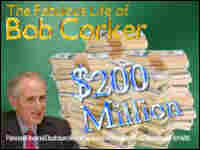 A takeoff on the TV show Lifestyles of the Rich and Famous, this ad for Democratic Senate candidate Harold Ford targets Bob Corker, the Republican candidate hoping to fill the seat being vacated by Bill Frist.
*****************************************
Anti-Steve Kagen Ad
An open House seat is up for grabs in Wisconsin where Republican John Gard and Democrat Steve Kagen are vying to replace Republican Mark Green. This ad for Gard attacks Kagen's tax policies.
Anti-John Gard Ad
Also in Wisconsin, an ad from the Democratic Congressional Campaign Committee attacks Republican Congressional nominee John Gard and his acceptance of campaign contributions from the oil and gas industry.
*****************************************
Anti-Jim Webb Ad
Republican Sen. George Allen is facing a tight re-election bid against Jim Webb in Virginia. This ad features female Naval Academy graduates speaking out against Webb, who, in 1979, criticized the academy's admission of women.
Anti-George Allen Ad
In an ad for Jim Webb, the Democratic candidate for Senate, a Virginia mother criticizes Republican incumbent George Allen for the rising costs of health care and college tuition.
*****************************************
Pro-Jim Talent Ad
In Missouri, military veteran Joe Frank appears in an ad defending Republican Sen. Jim Talent against attacks made by his opponent, Democrat Claire McCaskill. "The ads you've seen... are not only mean," Frank says, "they're plain wrong."
Pro-Claire McCaskill Ad
Democratic nominee for Senate Claire McCaskill is also running a "rebuttal" ad defending herself against attacks made by Missouri Sen. Jim Talent. "This is personal," McCaskill declares.
Related NPR Stories