S.D. Rejects Abortion Ban, Missouri Backs Stem Cells
S.D. Rejects Abortion Ban, Missouri Backs Stem Cells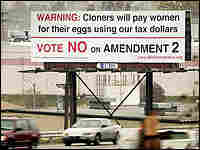 NPR Election Map
Contentious initiatives on abortion and embryonic stem-cell research brought out voters in South Dakota and Missouri.
In conservative South Dakota, voters struck down a proposal that would ban virtually all abortions in the state. The state's legislature approved the ban last February, setting the stage for a challenge to the 1973 Supreme Court abortion ruling Roe v. Wade. Proponents of the ban had anticipated that Planned Parenthood of South Dakota, the only abortion provider in the state, would immediately file suit, sending the ban on a path toward the Supreme Court. Instead, Planned Parenthood took advantage of a state law that allowed it to collect enough signatures to put the ban on the ballot and let voters decide.
Voters resoundingly decided against the ban, which was one of the most sweeping in the United States. The ban allowed for an abortion exception if the mother's life was in danger, but not in cases of other health risks, rape or incest.
In Missouri, voters approved an initiative that changes the state's constitution to protect embryonic stem-cell research. The initiative was backed by the Stowers Institute, a Kansas City medical research center. The institute is interested in pursuing embryonic stem-cell research, but attempts by the Missouri legislature to ban the research have prevented the medical center from successfully recruiting scientists.
The state constitutional amendment now protects the right to conduct research to produce embryonic stem cells, while banning cloning to produce a human baby.