Americans Turning Their Attention to Tea
Americans Turning Their Attention to Tea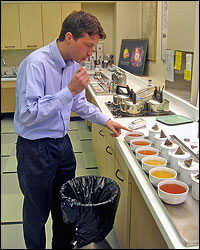 Of the tea sold in the United States each year, 85 percent is consumed as iced tea. When it comes to hot caffeinated beverages, Americans still prefer coffee. But that's changing.
Tea is one of the oldest beverages around, but its popularity is growing like a new product's. Total U.S. sales have almost quadrupled since 1990, according to the Tea Association of the USA.
You can now buy a range of ready-to-drink teas in even the most out-of-the-way convenience stores, and there's been a boom in premium and specialty products like chai tea.
That boom has forced the world's biggest tea company, Lipton's, to make changes to its products.
One of the biggest changes is to the venerable tea maker's tea bags: Now, they are shaped like three-dimensional triangles, in order to accommodate the long-leaf teas that appeal to purists and premium-tea fans. They're also made of mesh, so drinkers can watch the longer tea leaves unfurl when hot water is added.
A Tea Primer, with Recipes
Types of Tea
All tea comes from the same plant, the Camellia sinensis. How the fresh leaves of this evergreen are processed and the level of oxidation determine what kind of dry tea they are.
White tea is the least processed of any tea. It is made from immature tea leaves, hand picked just before the silvery buds are fully opened. It is not oxidized or rolled and has the least amount of caffeine.
Green tea, too, is unfermented. Unlike white tea, the leaves are rolled to give them a desired shape.
Oolong tea is partially fermented which turns the leave from green to reddish-brown.
Black tea is the most popular tea in the world. (It is called red tea in China.) Its flavor varies widely, but it is stronger tasting and higher in caffeine than green or oolong. It is a fully fermented tea.
How to Brew Tea
Boil water and pour a little into the teapot to "hot the pot." Pour the water out. Add 1 teaspoon of loose tea for each cup you're brewing and an extra teaspoon of tea "for the pot."
Tea should be steeped in water just below the boiling point for 5 minutes.
Pour tea through a strainer into a cup.
Cooking with Tea
Cooking with tea is an ancient practice as well as a contemporary style. Teas are used in marinades, braising liquid, rubs, flavoring and garnish.
The following recipes are adapted from Eat Tea by Joanna Pruess with John Harney (The Lyons Press 2001):
Lapsang Souchong Gravlax
Scandinavian gravlax is cured with salt, sugar and dill Smoky tea leaves and Chinese five-spice powder make an Asian version.
1 1/2 cups coarsely chopped cilantro
1 1/2 pounds fresh salmon fillet, cut into 2 equal pieces
2 tablespoons coarse salt
1 1/2 tablespoons sugar
1 tablespoon lapsang souchong tea leaves, lightly crumbled
1 1/2 teaspoons Chinese five-spice powder
1 tablespoon mirin (sweet rice wine)
Lime juice, to drizzle on gravlax (optional)
Sprinkle about one third of the cilantro in the bottom of a deep glass or other nonreactive dish large enough to hold the salmon flat. Lay 1 fillet, skin side down, in the dish.
Combine the salt, sugar, tea and Chinese five-spice powder and sprinkle over the fish. Cover with another third of the cilantro. Drizzle with the mirin and place the remaining salmon, skin side up, over the first fillet. Scatter with the remaining cilantro. Cover the dish with plastic wrap and place a plate or dish with two 8- to 12-ounce cans on it to weight it evenly.
Refrigerate for 48 to 72 hours, turning and basting ever 12 hours, until the flesh no longer appears translucent. Once cured, remove the fish from the dish, scrape off the cilantro and spice mixture and pat dry. Thinly slice the salmon on the diagonal, working from the tip of the tail. Drizzle with a little lime juice, if desired.
Serves at least 6 for hors d'ouevres
Tea Grits
Green tea adds an herb taste to complement the spicy cheese mixture in these grits. Serve them with fried eggs for Sunday breakfast.
1 tablespoon green tea leaves
1 tablespoon unsalted butter
1 teaspoon salt
3/4 cup quick-cooking grits
1 1/2 cups Jack or Cheddar cheese
Bring 3 cups of water to just under a boil. Pour it over the tea and steep for 3 minutes. Strain the tea into a medium-heavy saucepan, pressing to extract as much liquid as possible.
Add the butter and salt, and bring to a boil. Whisk in the grits slowly to avoid lumps. Reduce the heat to low and continue cooking until the grits are tender and all the liquid is absorbed, 12 to 15 minutes. Add the cheese and stir until melted. Serve at once.
Serves 4 to 6
Green Fruits in Jasmine Tea Syrup
This salad was created by Jane Pettigrew of London, the author of several books about tea. Serve it alone or with a scoop of green tea ice cream.
2 teaspoons jasmine tea leaves
1/2 cup sugar
Grated zest of 1 lime
Juice of 1 lime
3 kiwi, peeled and sliced
1 ripe honeydew melon, about 5 pounds, flesh scooped into little balls or diced
8 ounces seedless green grapes, stemmed, washed and cut in half
Sprigs of fresh mint, for garnish
Bring 1/3 cup of water just to a boil in a small saucepan. Add the tea, remove from the heat and steep for 4 to 5 minutes. Strain into a clean pan, pressing to extract as much liquid as possible, and discard the tea leaves.
Add the sugar and lime zest to the pan. Over medium heat, stir until the sugar dissolves, then bring the liquid to a boil. Reduce the heat and simmer the syrup for 1 to 2 minutes. Remove the pan from the heat and stir in the lime juice.
Place the kiwi, melon and grapes in a serving bowl and pour on the syrup. Cover and marinate in the refrigerator fro 4 to 6 hours. Remove from the refrigerator at least 20 minutes before serving, toss gently, and garnish with mint.
Serves 6