Rethinking Direct Talks with Iran, North Korea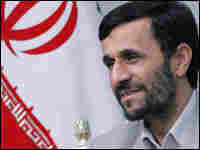 President Bush famously described Iraq, Iran and North Korea as part of an axis of evil and has vowed to keep nuclear weapons our of their hands. His policy toward each of these three nations has been criticized from both sides of the aisle.
Foreign policy is traditionally the president's domain, and members of Congress have had little influence over U.S. policy toward Iraq, Iran and North Korea. But that could change, as each of these crises reach a potential turning point.
North Korea has tested a bomb and is under U.N. sanctions. Many Democrats want to see the United States open direct talks with Pyongyang to ease the crisis. President Bush has resisted, saying he thinks he is in a stronger position negotiating with North Korea alongside other regional powers, including China and South Korea. But the talks have been stalled, and Democratic Senators Carl Levin (MI) and Jack Reed (RI) say the only way to revive them is to reach out to Pyongyang.
On Iran, the issue of direct talks is the topic of heated debate as well. The United Sates has not had diplomatic relations with Iran since the 1979 revolution. The focus of the Bush administration's diplomacy is to persuade the U.N. Security Council to ratchet up pressure on Iran to give up its nuclear ambitions.
Some in the neoconservative wing of the Republican Party say the United States should bomb Iranian nuclear facilities. That has raised fears on Capitol Hill, where both Democrats and mainstream Republicans are suggesting that the United States talk directly with Iran.