A Star is Born, Stars Sing, Meteors Shower
What a weekend! You can celebrate Mickey Mouse's birthday, relax with a cool DVD starring some of the greatest talents of the 1950s (hosted by none other than Hef) and gaze at a meteor shower. And then, just in case you were wondering, we have the word on the best wine to sip with your Thanksgiving turkey — or your KFC takeout.
Playboy's TV Show Didn't Have a Centerfold
The Details
DVDs: Playboy After Dark
What It Is: Three-DVD set of the 1950s and '60s TV shows hosted by Hugh Hefner and featuring comics and musicians, from Lenny Bruce to Nat King Cole.
Price: $40
Get the new-to-DVD Playboy After Dark, and you might figure you're in for a night of soft-core porn. Nothing could be further from the truth. (Oh, stop moaning in disappointment. This is gonna be good).
Playboy After Dark is a three-disc DVD set featuring select shows from the late 1950s TV series Playboy Penthouse and the early-to-late 1960s Playboy After Dark. Though both series were filmed on a soundstage, the idea was that Playboy publisher Hugh Hefner was throwing a swinging party on the top floor of the Playboy building in Chicago, and you've been invited to hang out.
What could have been just a parade of semi-clothed women turns out to be a eclectic mix of art and politics that mingles at the outer edges of social acceptability. In a show from 1959, one minute you've got Hef and "sick" comedian Lenny Bruce talking openly about integration, then the incomparable Ella Fitzgerald drops by to deliver an absolutely astounding set of jazz vocals.
In a show from ten years later, Mort Sahl does a routine on the disparate ideologies of men and women as compared to that of governmental politics of the era, a young Linda Ronstadt does a little rockabilly back when that was more unusual than a white guy rapping, and Joe Cocker comes by to lay a few down.
The truly incredible thing, while the rest of America was tiptoeing around race relations, Hef had mixed-race couples on the set digging on each other while getting down with the likes of Nat King Cole, Vic Damone, Sammy Davis, Jr., Ike and Tina Turner, Anthony Newley and Sonny and Cher. This isn't just a DVD for Kitschologists trying to excavate artifacts of a bygone era. This is an amazing look at how a man and a magazine were not just provocative but progressive.
Oh, and Barbi Benton's there, too, looking really, really hot. I told you not to moan in disappointment.
Author and screenwriter John Ridley will publish American Way, a graphic novel about U.S. history, in early 2007.
Mickey, You Don't Look a Day Over 40!
Courtesy of The Walt Disney Photo Library
The Details
Museum Exhibit: Disney: The Music Behind the Magic
Location: Experience Music Project, Seattle
Voice Talent Wayne Allwine on the First Two People to Voice Mickey Mouse (Courtesy of Experience Music Project)
This weekend is a great time to drag out that Mickey Mouse waffle-maker and dig around in the toy chest or the back of your closet for those souvenir Mickey Mouse ears. November 18 is Mickey's 78th birthday and after 120 cartoons, several TV shows, and thousands of public appearances as Chief Greeter at Disney theme parks around the world, the rambunctious rodent is still going strong.
Mickey Mouse's first on-screen role was in 1928, in Walt Disney's Steamboat Willie, the first cartoon with synchronized sound. Back then it was Walt Disney himself who provided Mickey's squeaks and noises. The evolution of the mouse's voice, and the ways in which Disney has used music to tell stories and create memories for generations, is told in Disney: The Music Behind the Magic, a new exhibit at Seattle's Experience Music Project (EMP).
In addition to viewing film clips and artifacts, including vintage Mickey Mouse Club outfits, visitors can create and record sound effects for the 1939 Mickey Mouse cartoon "The Band Concert" and re-mix tracks for several Disney songs. After a 10-month run in Seattle, the show will hit the road.
For fans who can't make it to EMP for Mickey's birthday, we have an audio clip from the exhibit. You might also enjoy the official and unofficial Web sites detailing Mickey's lifetime achievements, especially the site that tracks images of Mickey Mouse hidden in Disney resorts and theme parks around the world.
Harriet Baskas is a writer and radio producer who first met Mickey Mouse on a college road trip to Disney World. She contributes to member station KUOW in Seattle and to NPR.
What Wine Goes Well With Turkey... and KFC?
The Details
Book: What to Drink with What You Eat
By Andrew Dornenburg and Karen Page
Bulfinch Press, $35
It's that time of year when turkey weighs on us. No sooner do you decide how many pounds of bird you need for leftovers than you face the annual debate over whether red or white wine goes better with Aunt Hazel's stuffing. Andrew Dornenburg and Karen Page can take that problem off your plate: A California Chardonnay or a Gewurztraminer will do fine, they say. But the standout choice is a fruity Zinfandel.
As with their previous books, including Becoming a Chef, this husband-wife team has researched their subject exhaustively, consulting the chefs and sommeliers at America's top restaurants to put together the definitive pairing guide. All the classic wine-and-food matches are here: a California Cabernet Sauvignon with steak, a white Burgundy with Dover sole, a tawny Port with chocolate. But what's the perfect liquid complement to French toast or French fries, goat or gravlax, hot dogs or Hostess Twinkies? And what Wine Spectator snob would have guessed that root beer tastes good with foie gras or that you should skip savory foods when you're drinking a cup of coffee made with Ethiopian beans?
What to Eat with What You Drink is as easy to use as a thesaurus. Turn to "Oysters, Wellfleet," and order yourself a glass of champagne. Turn to KFC Fried Chicken, and you'll regret that Col. Sanders doesn't have a liquor license to serve up a dry Spanish sherry.
Freelance writer Linda Kulman drinks Two Buck Chuck with everything.
It's Just You and Jeff Tweedy on the Road
The Details
Concert DVD: Jeff Tweedy: Sunken Treasure — Live In the Pacific Northwest
What It Is: A live concert from the Wilco front man
Bonus: Buy the $20 DVD and you can download its music tracks off Wilco's website for free
As the finger-plucked opening notes trickle in, a foggy montage of rainy highways, old storefronts and empty concert halls captures the behind-the-scenes feel of a tour. A rumble of the crowd and a lone fan declares, "Hey Jeff! I love you man!"
It's these little moments that make Wilco frontman Jeff Tweedy's new concert film, Sunken Treasure, so engaging — you feel as if you're on the road with this guitar-playing icon of alt-country. At one point, he even forgets the words to "Shot in the Arm," then asks the audience to sing along to boost his memory.
Longtime Wilco fans will know most of the music, but both newcomers and diehards get a glimpse at a different side to Tweedy's prolific songcraft. The stripped down arrangements revitalize old favorites like "In a Future Age" and "Airline To Heaven" and show off Tweedy's haunted yet charismatic voice. You could argue that watching from home is a far cry from experiencing this great show in person. But this DVD beautifully takes you there — and you don't have to fight your way out of the parking lot when it's over.
Michael Katzif, who writes about music for NPR, turned his baby boomer Dad on to Wilco.
Take In a Shower, Take Tips From a Telescope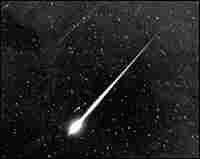 The Details
Heavenly Event: Leonid Meteor Shower
When: Nov. 18 to 19
Best Time to View: 11:30 p.m. to 1:30 a.m.
SkyScout Personal Planetarium, $399
Look, up in the sky! It's a bird! It's a plane! No wait, it's a trail of burning vapor from debris breaking up in the Earth's atmosphere!
Amateur astronomers take note: the annual Leonid Meteor Shower returns this weekend, and the show promises to be brief but spectacular.
The Leonids arrive every November as the Earth passes through Comet Temple-Tuttle's debris cloud. As fragments of rock heat up and disintegrate in the Earth's atmosphere, paths of burning vapor streak across the sky. The result: a swath of bright yellow shooting stars. From 11:45 p.m. Saturday to 1:30 a.m. Sunday, NASA estimates that about 100 meteors will pass through the sky each hour.
The best view is from an area far from city lights. Lie on a blanket and look straight up. To capture the streaks on camera, you should use the widest angle and aperture setting possible, and set the time exposure for at least five minutes.
Though the Leonids enter Earth's atmosphere near the constellation Leo, you can see them throughout the sky. And if you find yourself thinking "Just where the heck is Leo?" the Brookstone SkyScout Personal Planetarium will point you in the right direction. For amateur-astronomers, the device is a must-have: point it at any object in the sky and the GPS-enabled telescope tells you (on a side screen) exactly what you're looking at. Even in light-polluted areas like Washington, D.C., the SkyScout quickly identified constellations, satellites and stars. You can also plug in the constellation you'd like to find; an arrow on the viewfinder points you to the correct spot.
Melody Joy Kramer is spending a year at NPR as part of the Joan B. Kroc Fellowship program. She is a Leo.
Books Featured In This Story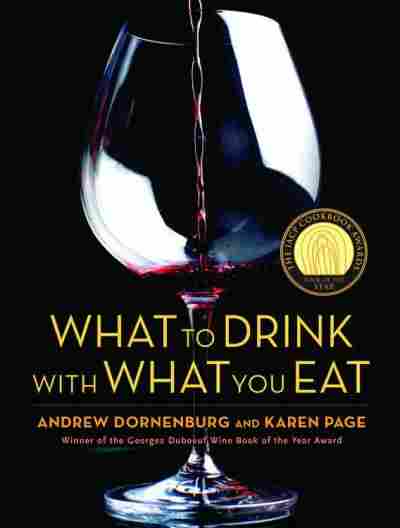 The Definitive Guide to Pairing Food With Wine, Beer, Sake, Spirits, Coffee, Tea— Even Water— Based on Expert Advice from Americas Best Sommeliers
Hardcover, 356 pages |
purchase
Buy Featured Book
Title

What to Drink With What You Eat

Subtitle

The Definitive Guide to Pairing Food With Wine, Beer, Sake, Spirits, Coffee, Tea-- Even Water-- Based on Expert Advice from Americas Best Sommeliers

Author

Andrew Dornenburg, Karen Page, et al
Your purchase helps support NPR programming. How?