Tempting Tech: iPods Are In, Partridges Are Out
Even if you don't identify yourself as a geek, chances are there's at least a little geek in you. While gadgets may not bring us love or happiness, they can offer joyful diversions and make our daily work routines a little more comfortable.
We've scoured the e-world for a wide array of tech toys and now present to you 10 holiday gift ideas guaranteed to delight the geek in your life — or, maybe, transform you into one.
Tiny Tunes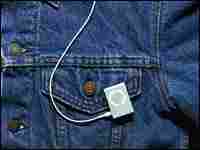 1 GB iPod Shuffle ($79, Apple.com and many online retailers)
What looks like a folded stick of gum, costs less than $100 and holds about 250 songs? Apple's smallest digital music player yet, the new iPod shuffle. No need for pockets or armbands to hold it while you're treadmilling at the gym, because the 1.62-inch long, 1 1/2-ounce shuffle clips right to your clothes. It holds a gigabyte of music (around 12 hours' worth, depending on how your music is encoded). While the device is limited to "shuffle mode" (meaning you can't pick exactly which song you want to hear at a given moment), its low price and ease of use make it a great "starter" for anyone not yet initiated into the cult of iPod, or a nice addition to the collection of a committed devotee.
Wii: Worth the Waiit
Nintendo Wii ($250, Nintendo.com and many retailers)
In a recent episode of the TV show South Park, a desperate Cartman freezes himself and travels 500 years into the future to hasten the Wii's arrival. Release date delays will do that to a gamer. Pent-up demand for this long-awaited and much-hyped device is high. New editions of Sony's Playstation and Microsoft's XBOX are also due this holiday season, but the Wii's lure is twofold. First: It's a freeform, motion-sensitive, kinetic experience. The wireless, handheld controller you use to navigate through games feels more like a magic wand than a conventional joystick. Second: the nostalgia factor. Many 20s-and-older geeks grew up on Nintendo games. For them, the Wii may feel like a welcome trip back in time to the early days of gaming, when Nintendo — and its old-school games like Mario Brothers and Donkey Kong — ruled the world.
Pixel Paper
Cintiq by Wacom ($2,500, Wacom.com and online retailers)
Wacom's digital drawing tablets have long been a favorite of artists, animators and graphic designers. But the 21-inch Cintiq is different than others. This pen-based tablet doubles as a monitor. It shows you what you're drawing on its 1600 x 1200 pixel adjustable-angle display as you're drawing, so the experience feels more like sketching on real paper. The surface responds to the touch of your stylus just like ink or paint on paper: instantaneously, and with high sensitivity to the slightest change in movement. It's pricey, though, and better suited for your desk than your lap: at 22.4 pounds, it's a lot heavier than most digital tablets. But if reviews coming in from some pro illustrators are any indication — some say the Cintiq has saved their wrists from repetitive motion injury induced by lesser tablets — it could literally change the way you feel about digitally created art. You don't have to be a design professional to enjoy this tool, either. It's a terrific, if pricey, gift for anyone who loves to draw, paint or retouch digital photos in applications such as Photoshop.
Shut Up, World
Bose QuietComfort Acoustic Noise-Cancelling Headphones ($299-$349, Bose.com and online retailers)
You can use them with your laptop, your digital music player or pretty much any audio device you like. They work so well at reducing outside noise, it's as if each pair comes with your very own shushing librarian, constantly telling the world to be quiet. Tiny microphones in the earcups monitor inside and outside sound, then trigger electronic signals that help cancel the outside noise. The Bose ads say they'll help you cope with loud plane rides or nearby cubicle distractions — and they do. At a steep $300 a pair, they had darn well better. You'll be able to shut out sounds you'd rather miss altogether. And when listening to music, you'll hear sounds with these headphones that you'll miss with others. Bose offers two models: The larger QuietComfort 2 ($299) cups around your ear. The smaller "on-ear" QuietComfort3 ($349) is better for frequent travelers because it folds away to relative flatness, making it easy to cram in a carryon bag.
Big Images, Tiny Camera
Canon PowerShot SD630 ($299 at Canon.com, but many online retailers offer for around $250)
There are many models to choose from in Canon's popular PowerShot line, but this 6 megapixel Elph with 3x optical zoom hits a sweet spot in price, size and performance. At around $250, and not much bigger than a tin of Altoids, the SD630 packs a lot into a highly portable form. It captures photos with enough clarity for crisp 14-by-19-inch prints. It shoots video in 320 x 240 pixel resolution (think YouTube size, not high-def) video at up to 60 frames per second for short clips under a minute long, and allows you to shoot up to an hour at lower resolution and frame rates. The camera stores photos and video on an SD card (tip: the camera comes with a relatively small 16MB card; buy a 1 or 2 GB card separately so you don't have to worry about filling up the card quickly). No need to squint in a viewfinder, either: this offers a clear, bright 3-inch LCD display, instead. On-screen controls are intuitive and easy to use. Easy-shoot modes and advanced imaging features make this an ideal compact choice for dedicated amateur photographers and casual snapshot-takers alike.
Cool Coverings
Vintage Video-Game Wrapping Paper ($4.50 for 8 sheets, Whimsypress.com)
Okay, you can't plug it in, so maybe it doesn't belong on this list. But what better wrapping paper to dress up a gadget you're giving this holiday season? Whimsy Press offers other hip designs in wrapping paper, as well as notecards, stickers, and ribbon.
Laptop Luxury
Logitech Alto Laptop Stand (About $100, expected in December 2006. Pre-order now from Logitech.com or other online retailers)
Laptop users typically have two options when they return from the road, and settle down to work at the office or in home. One choice: dump your laptop in your lap -– not comfortable for long work spells (hot and heavy). Another choice: spring for a laptop dock, keyboard tray, external monitor and other helper devices for maximum ergonomics — but this can be costly and requires dedicated space. The forthcoming Alto laptop stand offers something in between: It elevates your laptop display (minimizing eye and neck strain), offers a full-sized keyboard built into the stand to boost typing speed and prevent hand and wrist injury, and comes with three USB ports for your mouse, external drive, printer or other devices. It flips open and shut in one step, and is easily tucked away when you're done.
Hook, Line and Inker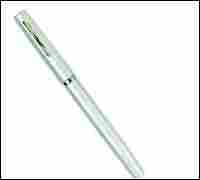 Retractable Pen Fishing Rod (About $45, Expertverdict.com)
Some of the greatest sources of joy in sport fishing is are the cool tools for the pursuit of the catch. And there may be no cooler fishing tool on the planet than this teeny-tiny "stealth" retractable fishing rod kit disguised concealed as in a shiny, aluminum-case pen (yes, it really writes) but capable of expanding to four feet in length. Perfect for impromptu fishing breaks during long days at the office — now all you have to do is find a pond near work where you can catch teeny-tiny fish.
Palm-Size High-Def
Sony HDR-HC3 High-Definition Handycam MiniDV Camcorder ($1,399 at Sonystyle.com; available for around $1,000 at online retailers)
This year marks the first holiday shopping season in which consumers finally have a variety of small, under-$2,000, truly high-definition camcorders to choose from. With more television networks and movies now available in the ultra-realistic look and feel of high-def, it's about time our home videos made the switch, too.
For 2006, Sony, Canon and Panasonic have all released digital HD camcorder models just in time for that annual buying spree — in fact, Sony released three: one shoots to a 30 gigabyte hard drive (HDR-SR1), one shoots to DVD (HDR-UX1), and one (HDR-HC3) shoots to MiniDV. Of these three manufacturers, and Sony's multiple models, the Sony HDR-HC3 wins top marks for several reasons. Unlike competitors' models in this size and price range (such as the Canon HV10), this model will allow you to attach an external microphone for better sound quality. And unlike Sony's direct-to-hard-drive model (HDR-SR1), the HC3 lends itself well to editing footage on PCs or Macs, using readily available image-editing software (the HDR-SR1 won't work for Mac users at all and saves footage in a proprietary video file format introduced just a few months ago, which isn't currently supported by most video-editing tools). Finally, remember: HD is a space hog. High-def video files take up a lot more storage space, minute for minute, than standard-definition video, no matter what storage medium you're saving to. Of Sony's three options — DVD, 30G hard drive, or MiniDV, the MiniDVs end up being the most economical and hassle-free choice — at least for this shopping season.
Dream Machine
Tesla Roadster (Roughly $100,000 and up, depending on options, Teslamotors.com)
It'll set you back about $100,000, and chances are you won't even be able to get your hands on the steering wheel 'til 2008. Demand was so high for the Tesla Roadster, the first release of this sexy, all-electric car sold out by pre-order in less than four months. It vrooms from zero to 60 miles an hour in four seconds, goes 250 miles on a single charging session and runs for the equivalent of a penny a mile, according to manufacturer claims. You can even power it up from the sun: Tesla Motors offers a solar power package with the Roadster, and will arrange solar panel installation at your home for an additional fee. The Tesla's high price and limited availability will keep it out of reach for many consumers, but its arrival is a positive sign for style-craving car buyers who yearn for alternative-power vehicles that feel more "hot rod" than "soccer mom."
Related NPR Stories