DVDs are a Gift-Giver's Best Friend
It's the perfect gift. It's shiny. It has lots of curb appeal. And everyone loves it. No, not diamonds. DVDs!
In fact, DVDs are even better than jewels. The ephemeral quality that turns the DVD from just so much plastic and flash into the perfect gift is its ability to transport each of us out of this world and into an entertaining realm where everything works out just right -- for the most part. In a year defined by war, terror threats and greenhouse gas, there really is no better gift. Our list of current titles and rereleased classics runs from newest to oldest.
Road Thrill
Disney Enterprises, Inc. and Pixar Animation Studios
Cars (Disney-Pixar, $29.99)
The story of Lightning McQueen, a speedy race car in bad need of friends, is about as Hollywood as you can get -- an homage to small-town life on historic Route 66. And yet the story hits on all cylinders, from the digital perfection of its animation to the human nature of its four-wheeled characters. "I create feelings in others that they themselves don't understand," the self-involved McQueen tells a courtroom when he first finds himself trapped in the town of Radiator Springs. By story's end, McQueen has won the big race and returned to his new friends in the once forgotten Route 66 town, declaring, "I thought I'd stop and stay a while. I hear this place is back on the map." Adults on your gift list will enjoy this blockbuster ride once, maybe twice. Kids will never tire of it.
Extras: Super! Three original animated shorts: Epilogue and Mater and the Ghostlight feature the stars of Cars, while One Man Band is a radical departure: a battle of two one-man bands on an Italian piazza.
Buzzing for Attention
Akeelah and the Bee (Lions Gate Films, $28.98)
A movie about a spelling bee champ from the ghetto could easily be way too e-a-r-n-e-s-t. Instead, star Keke Palmer sucks us in with her convincing portrayal of Akeelah Anderson's run from the mean streets of south Los Angeles to the klieg lights of the Scripps National Spelling Bee in Washington, D.C. Akeelah is an irresistible story of an underdog's triumph, with a little help from her friends.
Extras: Fine for fans. The extras offer a look behind the scenes at the making of the movie, with a special focus on Keke Palmer and her close relationship with writer-director Doug Atchison. The idea for the movie came from Atchison's chance 1994 viewing of the real Scripps bee on TV.
Karma Chameleon
My Name is Earl (20th Century Fox, $49.98)
The first season of NBC's semi-hit sitcom tells the painfully funny story of Earl Hickey's slow redemption after a life of bad deeds. Hit by a car just after he nabs a winning $100,000 lottery ticket, Earl figures karma is out to get him -- unless he atones for years of bad behavior. Which isn't easy for a guy who didn't pay taxes, broke his ex-wife's fancy skater figurine and stole beer from a golfer, to mention a few sins. If karma really worked, Emmys would go to Jason Lee as Earl and to the stellar supporting cast -- especially Earl's trashy ex ("karma this, you dummy") and his sublimely moronic brother, who ponders life's imponderables: "Being alive is kinda hard, but I think it's definitely better than being dead."
Extras: Must-see TV! An entertaining behind-the-scenes documentary, commentary from show creator Greg Garcia (who sort of based Earl on his own step dad), and best of all: a DVD-only episode called Bad Karma, which reworks the series premise. Introduced by Jason "Earl" Lee in the garb of a British nobleman, this bizarro pilot features an Earl who seeks retribution, not redemption.
Puzzle People
Wordplay (IFC Films, $24.95)
I'm the first to admit it. I figured a documentary about crossword puzzle fanatics would be the equivalent of a six-letter word that means "a brief sleep." (Hint: the fifth letter is "z".) Instead, I was hanging on the edge of my seat as the film wound up with a three-way duel for the American crossword crown. And I'm not just saying that because one of the stars is NPR Puzzle Master Will Shortz. Wordplay is a tale of obsession, competition and friendship, and it's the perfect gift for anyone addicted to The New York Times's hallowed crossword puzzle.
Extras: Definitely worthwhile. Along with the standard deleted scenes and commentary tracks are five "featurettes," each telling the story of an "unforgettable puzzle" from the Times. Can you solve the "High Definition" puzzle, with its towering theme? Print copies of the puzzles are included with the DVD.
Life Starts at 49
49 Up (First Run Features, $29.95)
The comforting conclusion to be drawn from the British documentary 49 Up is that people do eventually find their place in the world, regardless of the trials they face. Director Michael Apted's Up series has been documenting the same diverse group of Brits every seven years, starting when they were age seven in 1964. The group runs from working-class Londoners, like cab-driver Tony (who now travels with his family to their vacation home on the coast of Spain) to the privileged barrister John (who vacations where he pleases and is active in a Bulgarian charity he started). At 49, members of the group are almost unanimously ambivalent about appearing in the Up series. But the ones still taking part seem to have found some kind of peace in their lives.
Extras: Minimal. Bonus material consists primarily of film critic Roger Ebert's ponderous 30-minute interview of director Michael Apted. Also: a text (!) biography documenting Apted's prolific film career and a photo gallery of 49 Up's subjects.
Lights, Camera ... Paradise
Cinema Paradiso (The Weinstein Company, $39.99)
Are movies about movies a good thing? In the case of this 1989 Oscar-winning Italian film, the answer is yes. This is an unrepentantly sentimental and nostalgic film that follows the life of Salvatore, or "Toto," as he grows up in the arms of his little town's only cinema. His bittersweet journey sweeps through time, from post-war Italy through to Salvatore's return home as a successful middle-aged film director.
Extras: Mediocre. The current "Limited Collector's Edition" of Cinema Paradiso is a three-disc set featuring the original U.S. theatrical release, a much longer director's cut and Ennio Morricone's movie soundtrack on CD. Director Giuseppe Tornatore provides commentary on movie, and appears in a Paradiso documentary. The hefty box set comes also includes postcard-sized reproductions of advertising posters and production stills from the movie.
Sweet and Sour
A Fish Called Wanda (MGM, $26.98)
Most people remember this surprise 1988 hit film for Kevin Kline's performance as the criminal Otto, a Nietzsche-spouting dolt with an anger-management problem. But it's the humanity and humor of star John Cleese as barrister Archie Leach that makes this small-time caper film a keeper. It's a swimming good time (except for the eponymous goldfish, who, sadly, is swallowed alive).
Extras: Extensive. Most feature Cleese expounding on the movie and his career. "As you know, I am something of a sex object these days, by British standards at least," he notes. If you think that's funny, then you'll enjoy the extras.
The Sound of Musicals
The Rodgers & Hammerstein Collection (20th Century Fox, $99.98)
Folks who pine for the heyday of Hollywood musicals will enjoy this omnibus boxed set more than cream-colored ponies and crisp apple strudels. Julie Andrews runs down her favorite things in The Sound of Music, and Marni Nixon (dubbing for Deborah Kerr) gets to know you in The King and I. Then you're off to the State Fair and a Carousel ride. Stop in Oklahoma! on your way to the South Pacific.
Extras: Superlative. Every disc is loaded with star and director commentaries, documentaries, scenes from the Broadway productions. The set even tosses in two additional movies: the non-musical 1945 version of State Fair and 1934's Liliom, a Carousel precursor. Plus: karaoke subtitles! Start brushing up now on your do-re-mi's.
No Place Like Bedford Falls
It's a Wonderful Life (Paramount, $19.99)
It is the most obvious choice for a holiday gift, and for good reason. In this 60th anniversary release of director Frank Capra's classic 1946 tale about the importance of loyalty to friends and family, Jimmy Stewart's George Bailey selfishly declares, "I want to do what I want to do." Ah, George, how little you know. By the movie's end, he overcomes adversity and disappointment to find happiness in the embrace of the people of Bedford Falls.
Extras: Bland. Tom Bosley, who narrates the documentary on the movie's making, and Frank Capra Jr., who offers a remembrance of his dad, are dull and lifeless. The best extra would have been a box of kleenex: No matter how many times you the movie, a tear will always come to your eye.
The Mating of Cary and Kate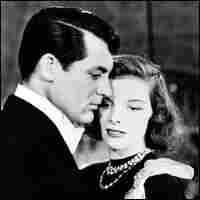 Holiday (Sony Pictures, $24.95, Release Date: Dec. 5, 2006)
Cary Grant. Katharine Hepburn. Need I say more? Grant's Johnny Case is a man on the move. He has a good job and a wealthy fiance. "If I'm going to get stuck with a rich girl, I'll just grit my teeth, make the best of it," he tells his betrothed. Unfortunately, they don't want the same things from life. Fortunately, she has a black sheep of a sister, played by the incomparable Kate, who is much more in tune with Case's independent streak. It's a film for people who like slick dialogue, strong characters and grown-up emotions.
Extras: Limited: a nice, but tame, feature on Cary Grant's work for Columbia Pictures and a brief montage of production stills from a deleted scene.