Chefs Detail How They Learned the Craft
Chefs Detail How They Learned the Craft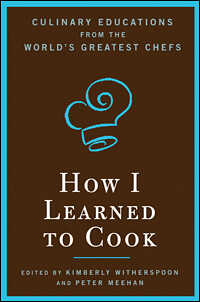 Scroll down for essays from each chef, excerpted from the book.
On this Thanksgiving Day, some of the best chefs in the country and listeners talk about how they learned to cook and what inspired them. They also recount some of their culinary highs and lows.
Guests:
Mary Sue Milliken, co-chef and co-owner of the Border Grill restaurants in Santa Monica and Las Vegas and Ciudad restaurant in downtown Los Angeles; contributed essay to How I Learned To Cook called "Early Riser"
Chris Schlesinger, owner of the East Coast Grill in Cambridge, Mass; contributed essay to How I Learned To Cook called "Catching the Wave"
José Andrés, chef and owner of several restaurants in Washington, D.C., including Jaleo and Café Atlantico; "Boiling Point" is the name of his essay in How I Learned To Cook
Mary Sue Milliken: 'Early Riser'
For over two decades, Mary Sue Milliken and her business partner Susan Feniger have transformed street foods and comfort foods into critically acclaimed cuisine and become some of the country's foremost authorities on the Latin kitchen. Today, they own the popular Border Grill restaurants in Santa Monica and Las Vegas at Mandalay Bay, and Ciudad restaurant in Downtown L.A. They have authored five cookbooks and appeared in 396 episodes of their television programs Too Hot Tamales and Tamales World Tour for the Food Network.
Back before I hooked up with Susan Feniger, my partner in crime at the old City Restaurant, Border Grill, and Ciudad, I corralled various cousins for my culinary adventures. In fact some of my earliest cooking triumphs were the result of lazy, restless summers at a resort in Michigan, where my grandparents lived and much of our extended family rented holiday cottages.
My mom and dad would come up some weekends, aunts and uncles would come up others, but most of the time we cousins were under our own supervision, running wild, free to get ourselves into (and out of) all kinds of trouble.
My cousin Carol and I often babysat her youngest brother, Jimmy, who had a fiery temper and a penchant for throwing tantrums. At the beginning of one summer, when he was still too young to speak, we gave him a pile of carrot sticks in an effort to get him to stop yelling. They seemed to do the trick—until one got stuck up his nose and the end broke off. We tried to get it out, but it was unreachable. Not even the village pediatrician could get it to budge, but he pronounced it harmless, and eventually we all forgot about it. Then, during an evening downpour after a big Labor Day weenie roast, as we all crowded onto the porch swing watching the thunder and lightning, something made Jimmy howl with laughter. And out popped that carrot looking as fresh as the day it got stuck. No one has yet to come up with an explanation for that perfectly preserved carrot that lived in my cousin's nose for nine weeks.
We were always looking for something to occupy ourselves, and one afternoon we resorted to flipping through copies of one of our mothers' magazines -- maybe it was Redbook, or Ladies' Home Journal -- and we were intrigued when we came across a recipe for something called "apricot coffee cake." I was in fourth grade at the time and my cousin was just a year older than me, so neither of us had cooked much more than Bisquick pancakes at that point in our lives. We had never drunk coffee, and I know that I had certainly never eaten coffee cake before. I felt lucky when I got my hands on a doughnut as a kid, or if my aunt splurged on a tube of Pillsbury Poppin' Fresh cinnamon rolls.
I'd never been drawn in by a recipe in one of my mom's magazines before, but this one seemed so preposterous that my cousin and I couldn't help but read it again and again. It sounded like instructions to a science experiment. There were lots of precise measurements -- the dough, the waxed paper, softened butter -- so we got out a ruler and tried to figure out what the thing would look like. Then there were strange instructions for enclosing the butter, chilling, rolling, folding again and again -- each time with hours in between when you were supposed to wait and let the dough "rest," whatever that meant. Every step of the way, the recipe just got more complicated.
My curiosity was piqued, big time. When we finally looked up from the pages of the magazine the decision had been made. "We gotta do it," I said, and we were off. We jumped on our bicycles -- somehow I always forgot to hurry to the bike rack, which meant that I ended up on the blue black, fat-tired clunker we had nicknamed The Bruise. We pedaled our way over to the local A & P supermarket, me arriving hotter, sweatier, and several minutes after Carol. And then we started shopping, going up and down the aisles calling out to each other. Butter, check. Flour, check. Sugar, check. Yeast, check. Dried apricots, check. Soon we had everything we needed to make the coffee cake -- not that we knew exactly what that was.
Despite the fact that we had no idea what we were doing, we did have the sense to follow the directions -- to the letter, word for word. Mixing and kneading, rising, chilling, softening, smearing, we approached every detail with diligence and precision, rereading each step of the recipe to make sure we'd get it right.
A yeasted, butter-rich Danish dough, which is what we were making, is a day-long task. But since we were baking on impulse, we got a late afternoon start on the dough. That meant that the final rising stage when the yeast worked its magic ended at the less than convenient time of four a.m. The two of us were deathly afraid that any deviation from the rigid rules of the recipe would result in disaster, however, so we set our alarm clock for the middle of the night and tried to get a couple of hours of sleep.
Of course, being preteen girls embroiled in an exciting adventure, we could barely keep our eyes shut. I was afraid the alarm wouldn't wake me and we'd already spent so much time and energy on this darn cake that I was determined to see it through successfully. This was no Betty Crocker mix we'd spent twenty minutes on; it was a significant investment of time and concentration. I guess that's why we were up long before the alarm went off and caught our older siblings sneaking tipsily up the secret pine stairway to the bedroom window after a forbidden teen beach party. This observation would come in handy a few years down the road -- but on that night we just hurried past them, rubbing our eyes. We were on a mission to see what this wacky concoction was going to look like and how it would taste. At four a.m. on the button, we did the finger test and the dough held the print -- telling us it was ready.
Then came the moment of truth: we popped our creation into the (preheated, exactly, of course) oven, sat in front of it in wooden chairs, and watched the foggy window like a TV set, waiting….
Much to our surprise, out came a beautiful, burnished cake.
It was perfection, buttery layer upon buttery layer of delicate dough; it rose up big and tall and flaky. I remember being absolutely blown away that I had made this thing, this coffee cake. It was so complicated, but it came out right. And that was it: I was crazy about cooking from that moment on. My cousin and I baked for every bake sale and cakewalk after that. We cooked for the family -- our older siblings couldn't get enough of our buttery cakes in the mornings when they were nursing hangovers. We cooked every chance we got.
One year, when I was about twelve, Carol and I treated her parents to a formal anniversary dinner. We made Cornish game hens and wild rice, we got dressed up and recruited some boys and taught them how to be waiters and had them hold folded towels over their arms -- it was very refined. For dessert we were serving the pièce de résistance: cherries jubilee. But at the moment before the boys were to carry it, aflame and glorious, to the dinner table, we hit a snag. We couldn't get the thing to light. Not to save our lives. We kept bringing the matches close to the alcohol on the plate but as soon as we'd get the match really close we'd jerk our heads back -- we had read the warning in the recipe and we didn't want to singe our eyelashes. Unfortunately, every time the match got close it would drown in the alcohol and extinguish. (We didn't know then that you have to warm alcohol a little to get it volatile enough to catch fire, though that's the sort of thing you only need to learn once.)
We went through an entire box of kitchen matches trying to get that thing lit, while Gammie and Gampie, Uncle Al and Auntie Frill waited patiently. By the time we gave up, we had a big pile of ash and sulfur and crepes and cherries and kirsch. I'm certain the dessert had more sulfur flavor from the matches than the taste of cherries.
Setbacks like those less-than-jubilant cherry crepes didn't deter me. It was one of dozens of lessons I've learned from failures, like why not to drive all night with your cousin's wedding cake in the back seat of your Maverick while you're flicking ashes from your Newports out the window; unless you want to end up with a gray-speckled cake and have to make new buttercream in a church basement with only a bowl and a whisk -- after which the stress of the cake repair will cause you to sleep through the entire ceremony and drink too much at the reception. But that's another story.
Through it all, I remained obsessed. I took all the home ec classes I could -- there weren't any cooking schools for kids back then. I worked in a doughnut shop and a pizza joint and took extra classes so I could get out of high school early. I left Michigan for Chicago where I enrolled in chef school at seventeen.
The first time we made Danish dough in pastry class, a light bulb went off in my head. I realized I had made it before, though it took me a second to figure out when. And then that wacky day and night that my cousin and I spent slaving over that coffee cake came rushing back to me: it was my first kitchen triumph!
Chris Schlesinger: 'Early Riser'
Chris Schlesinger was born and raised in Virginia, where he first developed his love for barbecue, spicy food, and live-fire cooking. He opened his first restaurant, East Coast Grill, in 1985, and tripled the ever-popular spot's size (and shifted its focus from barbecue to seafood) in 1996, the year he was named Best Chef: Northeast by the James Beard Foundation. He is the coauthor with John Willoughby of several cookbooks including the James Beard Cookbook Award-winning The Thrill of the Grill and, most recently, Let the Flames Begin.
During the summer after I dropped out of college, my sister came home one afternoon and told me that all the cooks at the restaurant where she waited tables had walked out.
She said that if I wanted a job cooking she was pretty sure they couldn't turn me down. I said I wasn't interested -- I had things to do, like catching Red Sox games on television and surfing -- but my grandmother, who we were staying with down in Virginia Beach, overheard the exchange. After a few stern words from her, I was off the couch and on the way to the restaurant.
It didn't go exactly as my sister predicted: they didn't hire me as a cook, not immediately. Instead, the chef pointed me toward the dish room, a closetlike area with a sink stacked full of soiled plates and grimy silverware. He told me to grab a beer and clean the dishes. So I did, and I had a blast; it was an unexpected rush bringing order to the chaos. And it was even more fun afterward, when the shifts were over, and the nighttime waitresses and ragtag kitchen crew and I sat around putting back beers.
It wasn't more than a few weeks before I'd graduated from dish washer to cook. I hadn't been the most focused kid in school, but when I found the kitchen, I found the place I knew I wanted to be. It was hot and hectic during service, but when you were in the groove, it didn't matter, it was a constant buzz. Back in those Virginia Beach days, no one got mad when you drank beer all through service, and having a job where I could surf in the morning and then work and sip on beers at night seemed perfect to me.
With my dad's encouragement, I got a little more serious and made my way from that restaurant on the beach to the Culinary Institute of America. Back then, the CIA wasn't like it is now: it was a trade school, even if it was a distinguished trade school. It took guys like me and molded them into efficient and eminently hirable cooking machines.
I parlayed my degree into some decent work down at a couple of hotels in Florida -- hotels that just so happened to be near good surfing spots. I took my chef status seriously, sure, but surfing and hanging out were still important to me. I was a much more peripatetic guy at the time, though it's not unusual for people in this profession to travel around a lot: the skills are portable. After Florida, I made my way to Cambridge, Massachusetts. My sister lived up there -- done with waitressing, she was in graduate school at Tufts studying city planning -- and it was where my dad grew up, but I wasn't looking to put down roots. I was just passing through. We went out to dinner one night, and that was the night I stumbled onto Harvest.
Harvest had been open for about four or five years when I started cooking there in 1980. It was different than any of the other places I had worked: it wasn't tied to classic sauces and staid French cuisine. The owner, Ben Thompson, wanted it to be a very cutting edge, esoteric restaurant. He backed up that demand by making sure the kitchen could cook anything. Jim Burke, the chef, would place a phone call to France and buy whatever the guys on the other end of the phone were selling. A cook would be dispatched to the airport to pick the stuff up and haul it back into the kitchen, where we'd open up the boxes and try to figure out how to use it. This was anything but normal in American kitchens of that era. At that time, kitchens were bastions for macho men who took a workingman's pride in what they did. The temperamental, artistic side of cooking had no place in them.
Harvest was the first kitchen -- and remains one of the only ones -- where I've worked where cooks would make trips to the library to find out more about what they were cooking with and how they might cook it. We played around with roe scallops and all kinds of great seafood, plus a bunch of ingredients that sound incredibly common today -- haricots verts, baby vegetables, kiwi fruit -- but at that time were considered exotic, the very building blocks of nouvelle cuisine in this country.
Not wanting to be left behind, I started spending more time with cookbooks and reading about food. I wanted to be able to keep up with the conversations the other cooks were having while we were prepping. It was the first place I'd worked where the cooks talked more about the food they were cooking than about which one of the waitresses they wanted to sleep with. I was eschewing morning trips to the shore to surf because I'd been up late with my co-workers eating and talking, coming up with crazy new things to try in the kitchen.
And it wasn't just the cooks in the back of the house -- the waiters and bartenders and managers were all just as enthusiastic about what the restaurant was doing. Our collective enthusiasm for food spilled over into our personal lives: We cooked for each other in our apartments; we ate at other cutting-edge restaurants together. There was a palpable sense among the people who I worked with at Harvest that we were ushering in a new age in American restaurants.
I remember never having seen or even heard of a premeal briefing before Harvest. A premeal briefing, as I discovered, happens right before guests arrive: it's when the chef goes over the menu for the night, explaining the dishes and the specials to the waitstaff, and maybe offering a taste from the wine list so that they are well-prepared when a customer asks about it. That's standard practice at any good restaurant today, but it was initiated back then during the creative boom of the early eighties.
Since the sous chef at Harvest at the time was slightly uncomfortable talking in front of people, he asked me to take on the premeal. I am, as anyone who knows me can attest, a natural ham. And at that time I hadn't been up in the North very long and everyone thought my southern accent was hilarious. So I would get out there and ham it up, really mangling the French names of the cheeses and having a good time with it.
Those good times carried over into the kitchen, where we cooked a lot of very good food. We butchered all our own meat, made our own pickles, stocks, and patés; if there was an ingredient that we were curious about -- head-on chickens, for example -- we had it available the next day. It was a cook's paradise in that way. The repetitious drudgery of most kitchens, where there was always a veal chop done this way and tenderloin with some overly buttery French sauce, was entirely absent.
There was a new challenge every week if not every day at Harvest, and a host of new dishes and techniques to learn and master. Much of what we cooked was simple and light and delicious -- and some of the best food I've ever had a hand in making -- but we were also the perpetrators of many culinary atrocities in the name of nouvelle cuisine: smoked scallops with strawberry sauce, smoked kiwi beurre blanc, raspberry quiche. It went with the territory; the boundaries of nouvelle cuisine were still being mapped out.
And we were always pushing those boundaries. One night we'd gotten in a whole wild boar from West Germany, a fierce-looking critter shipped to us with a full head of hair and plenty on its haunches, too. It was a spectacle to behold -- fatty, meaty, and feral -- and we treated it as such: we decided to cook it on a spit outdoors, out on the deck, in front of the guests. They were not as pleased as we were, however. Customers would come up and stare, their faces barely hiding their revulsion. The outdoor cooking station was my domain at the time, so I was the one who had to hear, again and again, "You shouldn't be cooking that thing."
I was undeterred by their reactions, even egged on a little bit. That is, until we got busy and I turned away from the spit for a minute. It was probably less than a minute. However brief the interruption, when I turned back I saw that the spit had stopped turning and some of the boar's hair had caught on fire. And it didn't take any time for the fire to ignite the fat that was dripping off the animal; in an instant the spit-roasted wild boar had turned into a conflagration of skin and meat and hair. I stepped away in horror as huge red flames crackled and sizzled around the animal. One of the cooks raced for the fire extinguisher and put it out, right there, in front of the guests. Oh, was that humiliating.
But those were the sort of disasters we were courting -- we were constantly pushing the limits of what we knew. Sometimes you'd go down in flames. More often, though, we were cooking excellent and exciting food.
I had been at Harvest for two years when I got an offer to go and cook at a Marriot in Hawaii. Two years was a long time for me to stay in one place back then, but I wasn't itching to leave. I liked my co-workers, whom I saw as peers instead of fellow hooligans for the first time in my career. I liked the progressive and professional environment in the kitchen at Harvest. And they liked me. In fact, they liked me enough to offer me a better position and a raise.
But I was torn. I had always wanted to surf in Hawaii. The hotel was on Maui, and for the few nights after the offer came in, I drifted off to sleep at night with visions of the best surf spots on the island dancing in my head. With one of these phone-it-in cook's jobs at a corporate hotel, I'd be able to surf as much as someone who has to earn a living could.
I called my dad and asked him his opinion. Without a moment's hesitation, he replied, "Go to Hawaii." It was out of character for him to say so, but if he thought me going to surf and screw around in Hawaii was the right thing, I was behind it.
My friends at Harvest sent me off warmly, and I headed to Hawaii, to what I thought was going to be paradise for a surfer chef like myself.
But after a couple of great mornings of surfing, dismal days in that horrible hotel kitchen, and empty nights of mai tai swilling, I was miserable. Harvest had changed me: food was important. Doing a good job -- not just doing what was acceptable -- was important. I had stumbled into a community of creative, thinking cooks and waiters at Harvest, and it was a community that I needed to be a part of. Every restaurant on the planet had beer and waitresses. They weren't the draw anymore. And the surfing up in Massachusetts wasn't all that bad when I got around to it.
As for my father, he gave me the perfect advice: If I hadn't tried Hawaii out, I probably would have felt like I was missing out on something. But now I knew for sure where I needed to be. A few months later, once I'd saved up enough for the airfare, that's just where I went.
José Andrés: 'Boiling Point'
José Andrés was born in Nieres, Spain, and attended Escola de Restauracio i Hostalatge of Barcelona, apprenticing at restaurant El Bulli under celebrated master chef and mentor Ferrán Adrià. In 1990 Andrés moved to New York City to work for the Barcelona-based restaurant El Dorado Petit. In 1993 he moved to Washington, D.C., to become head chef and partner at Jaleo, a Spanish restaurant there. He has since opened two more Jaleo locations and serves as executive chef-partner at Café Atlantico, Oyamel, Zaytinya, and the six-seat minibar within Café Atlantico, one of the premiere destinations for avant-garde cooking in the United States. In 2003 The James Beard Foundation named Andrés Best Chef: Mid-Atlantic Region, and in 2004 Bon Appetit named him Chef of the Year. He published his first cookbook, Tapas: A Taste of Spain in America, in 2005. José is also the host of the wildly popular Vamos a cocinar, a daily food program on Television Española (TVE), Spanish national television.
I learned a lot of what I know about cooking, especially traditional Catalan cooking, from my mother. She was a working mom, but she cooked for us every night. My father, on the other hand, confined his cooking to the weekends, as do many men in northern Spain and, as I've learned, here in America.
My father's Sunday cookouts were kind of like American weekend barbecues, when the men are out in the backyard with their friends, beers in their hands, gathered around the grill poking at hamburgers, except that his were grander in scale than the run-of-the-mill barbecue.
His specialty, the dish that he used to make every other Sunday for the entire time I was growing up, was paella. Paella is a Spanish classic, a rice dish prepared in a broad, shallow, two-handled pan called a paella. He cooked tremendous paellas, paellas that could feed a hundred people. He used a gorgeous copper paella pan that was giant -- a meter and a half across -- big and beautiful. It seemed impossibly huge to me when I was a child, the size of the moon.
One of the first paellas I remember my father cooking was at a fund-raiser for my school, in Santa Coloma de Cervelló, when I was six or seven years old. It was during the spring, and the cherry trees were in full blossom. Sometimes I think that I feel so at home here in Washington, D.C., because the first time I visited, the cherry trees were flowering, like they did every spring in the rural town I grew up in Cataluña.
By the time I was eleven or twelve, I was old enough and eager enough to start helping my father with his Sunday meals. But while he agreed to let me assist him, to my disappointment he never let me participate in the physical act of cooking, the sautéing, simmering, stirring: the glory work. That was always for him and his adult friends. There were other tasks for me to look after.
As instructed, early Sunday mornings I would commandeer the other young kids from the neighboring houses to start the preparations. There were dozens of things to be done until the paella was ready in the early afternoon. We would put the tables together and set them. We would open bottles of wine that the adults would drink later in the day. We would gather bunches of wildflowers to decorate the tables.
And then there was the fire to be dealt with. An all-day fire for a giant copper pot requires a lot of fuel. Initially, I would just go out with the other kids to gather wood from the countryside. When I got a little older and a little more savvy, however, my father revealed to me how the fire under the paella pan needed to work: in the beginning, when you are sautéing the meat or the seafood or the shellfish, you need a moderate to high fire; at the stage when you add everything to the pan -- the rice, water or broth, the saffron and pimentos -- you need huge boiling, amazing boiling, supernatural boiling. This is the moment of truth, and the fire must not fail you. The flame needs to be very, very strong for a few minutes -- and then suddenly die down, so that the paella steadily simmers and doesn't overcook.
My father explained how all the different woods we were gathering would burn. Cherrywood burns differently from oak and different still from olive. I learned that wood is a whole world of knowledge unto itself: some wood burns hot and fast and dies after three or four minutes -- that's what you need for the crucial boiling; some burns slow and steady, which is the kind of wood you need for before and after. Over time I became adept at making and managing the fire under the paella. But, oh, do I still remember how much I would sweat. It was the heat of the fire, certainly, but also in part from worrying whether or not I had it right.
It took a few months -- not that we ever lost a paella on account of the fire -- before I eventually mastered it. But I'm a guy who's always asking myself, What's next? I think it's important to be curious if you're going to be a chef, to always be searching, to not sit around and be satisfied with what you're doing. Maybe I am that way today because I was always curious as a kid, always impatient, always wanting to know what came next.
I was thirteen or fourteen by the time I was put completely in charge of the fire, just the time in your life when you really start questioning everything: Why does this happen? Why do I cry when I cut up onions? Why do you add things in a certain order? Why don't you stir the paella after a certain point? Everything. It's also when you stop being satisfied with grown-ups just letting you hang around and you actually want to be dealt with like a person.
Every couple of weeks I'd think, This will be the week when I get to cook the paella. I'd finally get to stir, to stand around with the men, to be one of the cooks. And every Sunday I was back down there sweating, hand in the fire, burning myself. My temper grew as hot as the cherrywood flame. I was headed toward a confrontation with my father.
One week I couldn't stand it anymore and I blew up at him in front of everyone: "When am I going to get to cook the paella? It's always fire, fire, fire. I want to cook!" I was pissed off, with all the indignant rage that only a teenager can muster. My father, a jovial guy, always with a little bit of something to eat in one hand and a smile on his face, turned serious for a second. "José," he said. "We are cooking right now. We will talk about this later, my boy." And he went back to tending to his paella. I stormed off, fuming.
He found me later in the day, when our neighbors had all gone home. "Son, I would have thought you were smarter. The fire is the most important job! Don't you see that everything begins and ends with the fire? Without the fire there wouldn't be a paella." He grinned and placed his hand on my shoulder, directing my gaze toward our backyard, the scene of countless festivities. "And if there wasn't wine to drink, tables to sit at, and neighbors to eat with, there would be no point in making the paella at all. The cooking? The cooking is the easy part. The truth is that every step is important."
How simple he made it seem. How hard it was for me to accept. Though I continued to help make the fire every other Sunday until I went off to cooking school at fifteen, I never woke up one morning and thought, "My dad was right."
Now that I'm a grown man, I know that he was. I've been cooking -- not just making the fire -- for twenty years, and I understand that every inglorious step, from the most rudimentary chopping and prepping to cleaning up at the end of the night, is important. And that in order to reach the point where you get to be the one stirring the paella, you've got to master each step along the way.