Bebe Moore Campbell: Writer, Activist, Friend
Best-selling author and NPR commentator Bebe Moore Campbell died Monday. She was 56. Karen Grigsby Bates remembers Cambell as a prominent writer, mental health activist — and friend.
MIKE PESCA, host:
From NPR News, it's DAY TO DAY. Author Bebe Moore Campbell died yesterday here in Los Angeles. Her latest book "72 Hour Hold" was like many of her previous books, a New York Times bestseller.
NPR's Karen Grigsby Bates has this remembrance.
KAREN GRIGSBY BATES: For many of us in the black community, November has been a month of loss. First Ed Bradley, the pioneering CBS newsman, died on the 9th. Then last week former New York Times editor Gerald Boyd, another pioneer, died.
Then in the early hours of yesterday morning we lost Bebe Moore Campbell. She was one of this countries most important black writers.
Like Ed Bradley and Gerald Boyd, she died much too young. But while I knew Ed and Gerald from afar, I knew Bebe from around the corner. She was my neighbor and my friend.
Twenty years ago, Bebe appeared at my door with a bottle of champagne when I moved to Los Angeles a year after she did. She welcomed me to the neighborhood and assured me my homesickness for the East Coast would fade, eventually. She was partially right.
And it was Bebe who would call me to walk up and down the neighborhood hills in the early evening. It was our communal effort to forestall middle age weight gain. She was successful; I was not.
She was successful at most things. People who saw the end result of Bebe's work assumed writing just flowed from her, and in some ways it did. She took great joy in writing. But for Bebe writing was a serious job. She took her time off as seriously she did at writing. Bebe and her husband Ellis Gordon enjoyed Martha's Vineyard with their two tiny granddaughters and their friends.
Author Jill Nelson and Bebe were fellow islanders each summer. Jill interviewed Bebe for her book "Finding Martha's Vineyard" and remembers how much Bebe cherished her time there.
Ms. JILL NELSON (Author): She loved the islands. She loved to relax. She had a great convertible. She played cards; she played Scrabble. And she was so straightforward about that like I - she said I just like when I am in the Vineyard I just want to relax. I love writing, but that is something I do in L.A.
GRIGSBY BATES: In L.A., Bebe was always participating in bettering something. she started a neighborhood beautification drive to make sure the streets were pristine. She always insisted on making things making not just for her but for the people beyond her immediate orbit.
When a family member was diagnosed with bipolar disorder and resisted treatment for it, Bebe helped to start a support group in the 'hood for people with mentally ill loved ones.
Then she wrote a novel partly based on the experience and used her book tour to educate the public. She explained why on NPR's NEWS & NOTES last year.
(Soundbite of previous NPR broadcast)
Ms. BEBE MOORE CAMPBELL (Author): The thing about being in denial and being in the closet and bowing down to stigma is you don't get any information. And after being in that organization with some friends who were also family members of mentally ill people, we decided hey, we need to start this on our side of town.
And so part of my mission for this book tour is to get black people owning up to the fact that yes we have mental illness in our families and to know that recovery is possible.
GRIGSBY BATES: But not from everything. Bebe's deep, deep faith helped her through her fight with a brain cancer that eventually took her life. Despite that grim diagnosis, she maintained her signature droll sense of humor throughout.
When I contracted hepatitis around the time she had been diagnosed, I dragged myself home from the doctors one afternoon to hear Bebe on my message machine.
Hey, Karen, it's Bebe, the message said. I heard you were sick, so I'm praying for you. Then she chuckled. I guess we should be praying for each other, huh? And I have been ever since. Bebe Moore Campbell was 56 years old and she wouldn't mind my adding she looked at least 10 years younger than that.
Karen Grigsby Bates, NPR News Los Angeles.
NPR transcripts are created on a rush deadline by Verb8tm, Inc., an NPR contractor, and produced using a proprietary transcription process developed with NPR. This text may not be in its final form and may be updated or revised in the future. Accuracy and availability may vary. The authoritative record of NPR's programming is the audio record.
Author Bebe Moore Campbell Dies at 56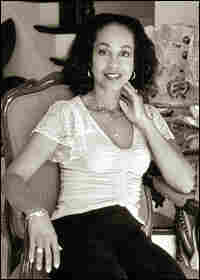 Author Bebe Moore Campbell died of complications from brain cancer at her home in Los Angeles on Monday. She was 56.
In addition to being an author, Campbell was an NPR commentator and an advocate for the mentally ill.
"Stigma is one of the main reasons why people with mental health problems don't seek treatment or take their medication," Campbell said. "People of color, particularly African Americans, feel the stigma more keenly. In a race-conscious society, some don't want to be perceived as having yet another deficit."
Campbell is survived by her mother, husband, daughter and two grandchildren.
Michele Norris talks with Marita Golden, a friend of the author's and a fellow novelist, about how Campbell's journalism background and coming of age in the 1960s shaped her work.