It's Morgan Freeman Week! Also: Tubas and Crafts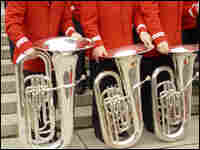 Fans of the supremely cool Morgan Freeman can enjoy his early work in the new Electric Company DVD set and his latest effort in the nearly-no-budget indie Ten Items or Less. Hopeless romantics will fall in love with Project: Romance, a collection of unusual comic strips. Tuba players: Come blow your horns at the annual TubaChristmas Celebration. And with the holidays nigh upon us, what better time to ease your burdens with some online assistance (and to enter our NPR holiday crafts contest).
Coming Soon to a Supermarket Near You
The Details
Movie: Ten Items or Less
What It Is: No-budget indie about the making of a no-budget indie.
Release schedule: Major cities starting Fri., Dec. 1. Available for download on Dec. 15 at cstar.com
Certain to drive strict grammarians to distraction, the new movie 10 Items or Less (yes, in a perfect world it would be "or Fewer") is a no-budget indie about making a no-budget indie. A charmer with an insinuating central performance by Morgan Freeman that's so natural, you feel as if you've spent an afternoon chatting with him, the film marks a change of pace for nearly everyone involved.
For Freeman, who plays a big-name actor slumming in an independent film, it's very stylish slumming. For Paz Vega, who plays a grocery checkout clerk who gives him pointers on playing a grocery clerk, it's a whole new language (her performance in Spanglish she managed mostly phonetically, while this time she was actually learning English on the set).
For director Brad Silberling, it's a vacation from such special-effects extravaganzas as Lemony Snicket's A Series of Unfortunate Events and Casper the Friendly Ghost.
And for the movie company -- ThinkFilm -- it's a wildly foreshortened way of releasing a picture. Where most films delay their home-market release for six months or so, 10 Items or Less will have just a two-week window between its theatrical opening today in major U.S. cities (including New York, Los Angeles, Atlanta, Boston, Chicago, Washington, D.C., Detroit, Forth Worth, Houston, San Francisco, Seattle and St. Louis) and its online availability (through downloads on ClickStar www.cstar.com ) on Dec. 15. Stay for the credits, by the way. The outtakes are as much fun as anything in the movie.
Bob Mondello regularly reviews films for All Things Considered and for "Five for Friday."
They Brought the Power Before the Rangers Did!
The Details:
DVD: The Best of The Electric Company, Vol. 2
What It Is: Twenty more episodes of the fondly remembered '70s educational program
Label and Price: Shout! Factory, $39.98
Until recently, the brilliant educational program The Electric Company -- a significant contributor to many thirtysomethings' ongoing ability to read -- was mostly relegated to the bowels of the cable channel Noggin's lineup, if it could be seen at all. Now, it's spawned its two DVD best-of collections. The newly released second four-disc set cherry-picks 20 more of the show's 780 half-hour episodes, complete with introductions by many of the show's cast members.
Running from 1971 to '77, The Electric Company remains best-known for its star-intensive cast (everyone from Rita Moreno, Bill Cosby and Morgan Freeman to Spider-Man himself), along with occasional voice work by Joan Rivers, Mel Brooks, Gene Wilder and Zero Mostel. But its enjoyable and inventive, reading- and grammar-intensive lessons remain enormously useful -- whether in the form of silly live-action sketches or animation by the likes of John and Faith Hubley -- and hold out as much appeal to today's kids as they did to yesterday's.
Sesame Street's funky and less cloying older sibling, The Electric Company feels overtly of its era (1971-77), but its educational value -- and entertainment value -- remains undiminished by age or fashion.
Stephen Thompson, an online music producer for NPR, would be a drooling illiterate without exposure to The Electric Company at an early age.
Dear Readers, Do It Yourself!
This weekend, join the DIY cult.
DIY, for the uninitiated, means Do It Yourself.
And what better time to drop-kick commercialism and embrace handcraftiness than the holiday season?
To inspire you, we are making holiday history. NPR is launching the first ever news-pegged menorah and ornament craft contest. Design a menorah or ornament that captures the headlines of 2006. To inspire you, we've created a Mel Gibson menorah (aka "Mel-norah") and a red-state/blue-state Christmas tree ornament.
And if you've never done it yourself before, there are a lot of Web sites that can guide you.
For Menorah Makers:
There's never a reason to go hungry if you decide to make a cupcake menorah. (Although, really, potato pancakes would be more seasonally appropriate.) If high-tech is more your thing, you could make this baby out of parts from your local Radio Shack. Or go very low-tech and cut and tape celebrity pix.
For Ornament Artisans:
A good place to start is the craft store Michael's, which has instructional videos for decorating various glass and wooden ornaments. Or experiment with different materials: felt, crystals, even cookie dough!
For News Ideas:
We know you've been following the news this year: You're an NPR listener, for goodness sake! So put your knowledge to good use. Global warming, political battles, celebrity breakups and breakdowns, Borat ... has there ever been a better year to capture in a menorah or an ornament?
Melody Joy Kramer is a Kroc Fellow at NPR. Marc Silver is an editor in Digital Media.
Love Hurts, Amuses, Confuses and Astounds
The Details
Comic Book: Project: Romantic
What It Is: A collection of romance comics by indie cartoonists
Price: $19.95
Alec's new girlfriend is a bloodthirsty zombie who likes to devour young men. But he doesn't mind at all. He's just happy that he finally has someone to join him in a game of Scrabble.
That's amore in Project: Romantic, a new anthology that aims to rekindle the flame for romance comics. It also amuses, confuses and startles. The collection has 33 comics by some of the most innovative indie graphic artists around. A few pieces miss the mark, but most deliver with wit, charm and stylish art. "Kingdom Animalia, Illustrated" offers a faux-scientific guide to mating rituals (don't miss the octopus's guide to safe sex). In other stories, the lovers are doodles, blobs, dolls, breakdancing robots -- and animals. Turtle to rabbit: "I feel like maybe you're moving too fast for me."
As the book's introduction points out, the 1950s romance comics were far more formulaic. Typically, bombshells pined over quarterbacks. Those old comics also gave advice, warning single girls against being an expert in "technical things." The closest Project: Romantic comes to advice is a look at how to tell your parents you've gotten engaged to your boyfriend ... who happens to have turned into a bear.
Paula Rogers, a freelance writer in San Francisco, reviews culture for member station KQED.
How Low Can Christmas Go?
Details
What It Is: TubaChristmas
Locations: www.tubachristmas.com
Price: Free to watch, $5 donation to play
Dress: Festive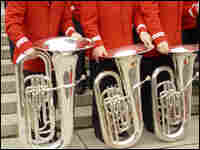 Most professional orchestras only have one tuba, so the lowest of the low-brass players can't bond with one another the way other instrumentalists do. That changes every December, when tens of tubists (and euphonium players) gather together in more than 200 cities worldwide to toot their horns in an annual low-brass-only Christmas concert. The TubaChristmas celebration features the largest instrument in the brass family, which happens to be one of the trickiest (and heaviest, at 35 pounds) to play.
Any tuba player can sign up and play the Christmas repertoire, which includes 33 Christmas classics, including "Santa Wants a Tuba for Christmas." If you merely want to attend, the concerts are free and are held in all 50 states; the largest one, in Akron, Ohio, features more than 600 tubists! Participants must pay a small fee, as well as purchase a copy of the sheet music if it's their first TubaChristmas performance. If you're an audience member, prepare for a treat: Once you've heard "Little Drummer Boy" played by an all-tuba band, you'll never think that the song required a drummer in the first place!
Melody Joy Kramer, is spending a year at NPR as part of the Joan B. Kroc Fellowship program. She plays trumpet, trombone and xylophone -- but not the tuba.
Books Featured In This Story
Romantic: An Anthology Dedicated To Love And Love Stuff
Paperback |
purchase
Buy Featured Book
Title

Project

Subtitle

Romantic: An Anthology Dedicated To Love And Love Stuff
Your purchase helps support NPR programming. How?