Dick Clark's Rock 'n' Roll Memorabilia Up for Auction
Dick Clark's Rock 'n' Roll Memorabilia Up for Auction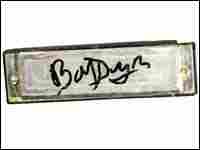 Would you like Bruce Springsteen's guitar? How about John Lennon's Nehru suit? They belong to Dick Clark, who hosted the TV show American Bandstand for three decades. Once called America's oldest teenager, Clark is now 77 and recently suffered a stroke. His immense collection of rock 'n' roll memorabilia is up for auction Tuesday and Wednesday in New York City.
The collection includes Bob Dylan's harmonica, Elton John's shoes, Paul McCartney's guitar, Bo Didley's handmade guitar and a white, tassled poncho worn by Janice Joplin. There are autographed shoes of Fred Astair, hair clippings from Elvis, and even Clark's famous slim, white microphone.
Over the weekend, many of the items were on display at the Time Warner building in Manhattan. Those who came to look were filled with nostalgia, among them, Marge Cotton Mayon of Nashville. She said all of the music represented by the collection had played a part in her life.
"Fats Domino and Chubby Checker and the Beatles and Elvis -- we loved them all," Mayon said. "We had that big hair with all the spray net, and we danced, and rock 'n' roll was fun. We watched Bandstand since I was a little kid. I was 5 years old when it started."
There are no minimum bids in this auction. Some of the proceeds will go to a foundation that raises money for research on cancer and AIDS.
Related NPR Stories
Web Resources