Dad's Admiration Makes Strong Bond with Daughter
Dad's Admiration Makes Strong Bond with Daughter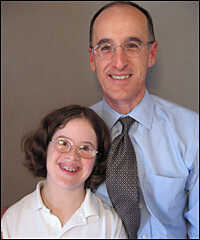 Questions or Comments?
Mary Warm, 15, joined her father, David, in a StoryCorps booth when it stopped in Kansas City, Mo., near their home.
Mary is a lot like any other teenager: She's in the 7th grade, and she looks up to her big sister, who is "a great person, no matter if her room is messy."
But Mary also has Down syndrome, and she thought that a StoryCorps conversation could help other kids who are like her.
When Mary asks her dad how he felt when she was born, he says it's a complicated question. He was excited to have another little girl, he says, but worried about how to raise her.
"When [your mother and I] learned you had Down syndrome, I think we both decided that we had to figure it all out. So we went to classes and we read books and we talked to other people," David Warm, 51, tells his daughter. "But about two months later, I think we just kind of relaxed and realized that we just needed to raise you with love and teach you like we did your big sister, and everything would turn out all right."
And it did work out all right, although Mary admits she gets a little annoyed when her dad tells her what to do.
David Warm often tells Mary that she's special because of her positive attitude and the way she cares about others.
"I told somebody just the other day that I want to be like my daughter Mary when I grow up."
Produced for 'Morning Edition' by Katie Simon. The senior producer for StoryCorps is Sarah Kramer.