Sonic Youth's B-Sides Are Worthwhile and Strong
Sonic Youth's B-Sides Are Worthwhile and Strong
Scroll down to hear songs from a Sonic Youth concert taped in June.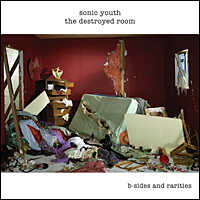 Sonic Youth, the influential avant-garde rock band from New York, has just released a new album called Destroyed Room, a collection of previously unreleased tracks and B-sides from the band's last twelve years.
A 10-minute swirl of sound called "Fire Engine Dream" opens the album. What immediately grabs you on this and other tracks is Sonic Youth's signature bursts of noise. What keeps you listening are the shadings of emotion and feeling that emerge amidst all the fuzz and distortion.
Oftentimes, bands who release collections of B-sides and rarities are just seeking to get rid of musical marginalia. They might as well title their output, "Junk we found lying around the studio and decided to pawn off on our fans."
Thankfully Destroyed Room departs from this regrettable trend. Admittedly there are a few toss-off clunkers here and there. But the vast majority of the tracks are worthwhile and strong. "Queen Anne Chair" shimmers with off-kilter, angular beauty.
Earlier this year, Sonic Youth released the album Rather Ripped. It delightfully blended the band's penchant for experimentation and their quirky, but keenly developed pop and rock sense.
Destroyed Room focuses to a much greater degree on musical experimentation and, in this regard, is a good companion to the more conventional Rather Ripped. On Destroyed Room, you can hear the band play with samples and odd guitar tunings for the pure love of sound.
Sonic Youth has been around for a quarter of a century. The bandmates started out on the fringes of New York City's art and music scene, and have been recording for the music powerhouse Geffen Records for the last 16 years. This move toward the mainstream hasn't dulled their ability to find new ways to express their take on contemporary life and culture, especially urban life. With their noisy, fractured guitar lines, the band captures the anxiety and loneliness of the city. But they appreciate the exuberance, even the sublime pleasure of life. The ringing melodies tell us that. Call it hipster modernism. It's wonderful.
John Brady is a writer living in Santa Monica.
Sonic Youth in Concert
A quarter century after the group first formed in New York, Sonic Youth remains one of rock's more inspired, creative bands. Now on tour for their 20th album, Rather Ripped, the trio visits Washington, D.C.'s 9:30 Club for a full concert, originally webcast live on NPR.org June 15. The show included an opening performance by Be Your Own Pet.
When guitarists Thurston Moore and Lee Ranaldo formed Sonic Youth with bassist Kim Gordon and drummer Richard Edson in 1981, they could never have imagined the band would go on to inspire and influence a generation of other artists. From the beginning, they mixed experimental noise rock with New York's post-punk, avant-garde aesthetic and came to create a new sound — one that redefined what rock guitars could do, with dissonant feedback and alternate tunings.
By the '90s, Sonic Youth had become a fixture of college radio stations and achieved cult status with legions of other bands emulating their sound. In time, the group's songs became more focused and less free-form, but remained rooted in noise, with each album ranking consistently in the Top 100.
After several line-up and label changes, Sonic Youth entered the 21st century with Chicago producer and musician Jim O'Rourke joining the group. Together they released three albums: NYC Ghost and Flowers in 2000, Murray Street in 2002 and Sonic Nurse in 2004. In 2005, O'Rourke left the band and Sonic Youth continued with its mostly original lineup, featuring Kim Gordon, Thurston Moore, and Lee Ranaldo with drummer Steve Shelley.
Sonic Youth's latest album, Rather Ripped features shorter, more conventionally structured and melodic songs with less guitar-based, improvised noise. With two-decades of releasing records behind them, some critics are calling the group's latest CD one if its strongest to date.
Be Your Own Pet is a Nashville, TN garage rock band making catchy, manic music. Their self-titled CD has been called "a stampede of songs." Already a critical and cult favorite in the U.K., Be Your Own Pet hopes to reach a wider U.S. audience as the opening act for Sonic Youth's current tour.