Teen Fell in Love with the Flute, Abandoned Piano
Ridge Davis started playing piano at the age of 6, and he practiced with such determination that his parents bought him a grand piano to encourage his interest.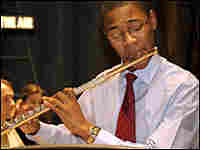 "I was practicing hard, studying piano literature and listening to classical music on the radio," he recalls. "While listening, though, I started to find myself captivated by the gorgeous sound of the flute, and decided I wanted to play flute instead."
Ridge's parents were rather surprised by this unexpected turn. "After spending all that money on a baby grand, I think my mom probably wanted to slap me!" Ridge says.
Not only is Ridge a talented musician, he is also a math whiz.
"I think math and music go hand in hand," he says. "They're both about problem solving." This past summer, Ridge was accepted to the Governor's Honors Program at Valdosta State University, a program for intellectually and artistically gifted high school students. He studies music and math in the program, as well as a variety of other subjects.
Although Ridge intends to pursue a music career, he knows the importance of remaining well-rounded.
"I think it's really important for aspiring professional musicians to be able to communicate with other people besides just music people," he explains. "I enjoy spending time with friends who have a wide spectrum of interests."
Ridge performs "Concertino in D major for Flute and Piano" by Cécile Chaminade.