Teen Soprano Sings in Professional Opera Company
Soprano Stephanie Domingues started singing in a choir when she was 8 years old, but she was discouraged from entering singing competitions.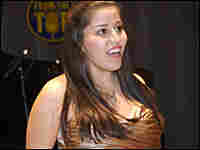 "I was told that my voice was too big for my age group, yet I wasn't allowed to enter competitions for an older age group," she explains. "I tried not to let it discourage me, though. I just kept doing what I loved to do, and eventually things turned around."
These days, things have more than turned around for Stephanie. She is now a member of the Canadian Opera Chorus in Toronto.
"It's been an amazing experience," she says. "Being next to people you look up to, who have made it big doing what you love to do, is just amazing. You watch their professionalism and their way of approaching things, and you learn so much."
Stephanie intends to have a career in opera, and she has a definite idea of the qualities that make up a professional artist.
"I think being professional means remaining humble and never forgetting about where you came from and all the people who've helped you along the way," she explains.
No matter how successful she becomes, Stephanie will always be especially grateful to her mother.
"She's driven me to lessons, helped me to get money for everything, and has always done everything she could for me," says Stephanie.
Stephanie performs "Ho sparse tante lagrime" by Francesco Morlacchi.