Pianist Captivated by Music Since He Was a Toddler
Tyler McCuan's parents first noticed their son might be a budding pianist when he was just a toddler.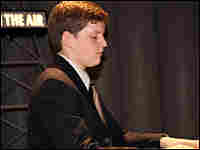 "There was a piano in the lobby of my grandfather's nursing home, and I liked to go up to it and hit notes," he explains.
By the time he was 6, Tyler was so enthralled with the piano that his parents decided to sign him up for lessons, which he took to immediately. In fact, within six months, Tyler won an honors recital in his hometown of Tyler, Texas.
Tyler loves to compete, and he excels in a competitive atmosphere.
"Competition drives me," he explains. "It pushes me to do better."
He isn't one to lose his cool in competition, even when things don't go exactly as planned. Once, for example, a piano string broke in the middle of a competition performance.
"I just slowed down and looked at the judge," he recalls. "She nodded for me to go on so I sped back up and continued playing."
He wound up winning first place, despite the broken piano string.
Tyler performs "Piano Sonata in E-flat Major, Mvt. I Allegro" by Franz Joseph Haydn.