Harpist Joanna Newsom's Enchanting Tales
Harpist Joanna Newsom's Enchanting Tales
Joanna Newsom is a concert harpist, an unusual background for a singer-songwriter.
Her debut album, The Milk-Eyed Mender, was widely praised in 2004.
She won over many fans with her harp playing, but that's not the only challenge for first-time listeners to Newsom's enchanting tales.
The 24-year-old singer is part of a growing musical movement referred to as "freak folk"-- a term many of the artists involved don't seem to care very much for.
Newsom's long-awaited sophomore effort is called Ys.
NPR Listeners Pick the Best CDs of 2006
Listen to All Songs Considered count down listener picks for the year's best CDs (90 mins).
NPR Music's online show All Songs Considered holds its annual countdown of the year's best CDs, as selected by NPR listeners. Host Bob Boilen chats with reviewers and listeners about their picks and plays highlights from each album.
Below are the results of an online poll with the top ten CDs of 2006, chosen by listeners, with select comments from some of the fans who love them. You can also read the top ten lists for critics Will Hermes, Meredith Ochs and John Richards.
10. Regina Spektor
"Regina sounds like Regina. Her voice is unmistakable – gorgeous, lithe, far from timid. Her songs are richly textured with unexpected yet accessible arrangements, and the variety of moods begs for many repeat listens. Her playful and sometimes theatrical way of addressing the human condition is the best melding of sugar and medicine I've been served up since Nellie McKay. Thanks NPR for introducing us." -- Barbara
9. Tom Waits
"Way back in 1972 The Rolling Stones released Exile on Main St. That album was a tour through various styles and genres: blues, country, gospel, etc., but with all of them filtered through the Stones' musical identity. Well, it's taken 34 years, but someone has finally created another record of equal breadth, stylistic adventurousness and power. There's something here for everyone, and yet it's unmistakably Tom Waits. Only real artists can pull something like this off, and Waits not only pulls it off, he makes it seem easy." -- Steve
8. Jenny Lewis
"It touches the soul. It is both irreverent and uplifting. Her version of 'Handle Me With Care' gives me goose bumps. And I can just listen to Jenny Lewis sing forever." -- Randal
7. Cat Power
"Chan Marshall follows through on the promise of earlier albums You Are Free and Moon Pix, which – no pun intended – only flirted with greatness. Her latest album, recorded in Memphis with a host of veteran soul and R&B musicians, is a giant leap forward for this ever-intriguing songwriter. Sad, hopeful, lovelorn, romantic, regretful, sweet – Marshall's voice and lyrics convey emotions and feelings that most songwriters only pay lip service to. Quietly but confidently — and I mean that figuratively and literally — Marshall indeed delivered the greatest album of 2006." -- Jake
6. Joanna Newsom
"Joanna Newsom is definitely an acquired taste. But once you settle into her world, you become addicted. She may caterwaul and screech her schwas, but for my money she has the most emotive voice going in music... a voice you can fall into like a well worn chair. Ys makes me feel as if I'm being physically lifted into the air — the first album in a long while to evoke 'real world' sensations." -- Chris
5. TV On the Radio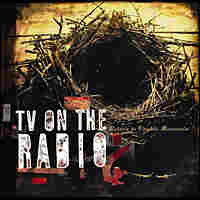 "Simply put, there is no independent rock/pop band emerging anywhere on the scene pushing the boundaries of sound in such an imaginable, intelligent and stylish way. They embody all that is good about popular music: uncompromising standards and a radical sound that neither overwhelms the listener, nor underestimates them." -- Nathan
4. M. Ward
"M. Ward's Post War has a mysterious and seductive quality that never grow tiring. The songs are never too long, always a little elusive, yet insistent and memorable. Not only are the songs little gems in their own right, they are set perfectly against each other. The record has that rare quality that makes you feel as though you are in a conversation in which everything said came at just the right moment." -- Mark
3. Bob Dylan
"This is a high point for an artist whose high points redefined modern music. There is no irony in this album's title if you view history in a panoramic sense as Dylan seems to do. Dylan takes literary modernism to its next level, interspersing the lyrics of a confederate poet among blues forms that are rooted in African American tradition. His voice is worn but dances through this album. The album begins with the voice of God on the mountain and ends with a proclamation that Dylan 'ain't talking.' Brilliant. This is a no brainer." -- Chuck
2. Neko Case
"Neko Case has made another album shrouded in dark beauty. Fox Confessor's music sounds the way old black and white celebrity stills look. Confessional lyrics like, 'The most tender place in my heart is for strangers / I know it's unkind, but my own blood is much too dangerous,' make Case perfect for late night listening. She restrains herself from the melodrama that her popular country counterparts can't seem to avoid. She's content with making music that is truly entrancing. This is what modern country should sound like: thoughtful, evocative, all wrapped in a package that sounds oddly like home." -- Bertha
1. The Decemberists
"The Decemberists manage to do something completely new from their previous album while retaining all the wonderful things that make them unique: Colin Meloy's fantastic storytelling, the ability to be incredibly creepy and yet entirely beautiful at the same time, not to mention the use of fun words. I'm torn between 'dirigible' and 'parallax' as my favorites, though I'm not sure either competes with 'palanquin' from their last album. Even if you put all that aside, this is just wonderful music, that makes me laugh, cry, join arm in arm with my fellow man." -- Felicity
"First, the music is phenomenal: the band moves away from its older, quieter sound into an eclectic, bold style. They veer from folk-rock to prog rock to funk to hard rock and back around again with ease, and it all sounds excellent. 'The Crane Wife' song cycle stands out, but so do the epic run-on 'The Island,' the Led Zeppelin-esque 'When the War Came,' and the mournful 'Yankee Bayonet.' Second, despite the range of genres, the album comes together as a cohesive whole. There's no filler on the album, and from the opening chords of 'The Crane Wife 3,' to the closing chants of 'Hear all the bombs, they fade away,' the album flows together perfectly. In short, one of the best bands producing music today outdid itself in spectacular fashion and nothing else quite matched it." -- Evan
M. Ward: Post War
The Decemberists: The Crane Wife
Regina Spektor: Begin to Hope
Jenny Lewis: Rabbit Fur Coat
Cat Power: The Greatest
Lilly Allen: Alright Still
Touamanti Diabate's Symmetric Orchestra: Boulevard de L'independance
Paul Simon: Surprise
The Beatles: Love
Joanna Newsom: Ys
The Black Angels: Passover
Band of Horses: Everything All the Time
The Decemberists: The Crane Wife
TV On the Radio: Return to Cookie Mountain
The Long Winters: Putting the Days to Bed
The Roots: Game Theory
Beirut: gulag Orkestar
Silversun Pickups: Carnavas
Beck: The Information
Pablo: Half the Time
Gnarls Barkley: St. Elsewhere
TV On the Radio: Return to Cookie Mountain
Cat Power: The Greatest
Joanna Newsom: Ys
Toumani Diabate: Boulevard de L'independence
Comets on Fire: Avatar
Juana Molina: Son
Neko Case: Fox Confessor Brings the Flood
The Coup: Pick a Bigger Weapon
Lupe Fiasco: Food and Liquor
Various: Eccentric Soul
The Decemberists: The Crane Wife
Solomon Burke: Nashville
Johnny Cash: American V
Neko Case: Fox Confessor Brings the Flood
The Gourds: Heavy Ornamentals
Bruce Springsteen: We Shall Overcome
Jim Noir: Tower of Love
Tom Petty: Highway Companion
Jenny Lewis: Rabbit Fur Coat
Select Live Concerts
Last Year's Best CDs
Profiles of the Top 10 Artists