Abbas Calls for Early Palestinian Elections
Abbas Calls for Early Palestinian Elections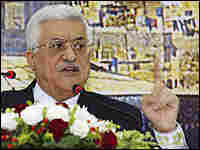 Omar Rashidi/Palestinian Press Office/Getty Images
Palestinian Authority President and Fatah leader Mahmoud Abbas has called for new elections in an effort to break a bitter political standoff with rival Hamas. Hamas denounced the idea, calling it illegal. There are now fears of increased factional violence. The deadlock between Fatah and Hamas has led to inter-Palestinian bloodshed and worsening economic conditions.
Abbas' speech in Ramallah came less than 24 hours after factional violence erupted in the usually quiet West Bank city. Abbas told assembled group, many of them long-time Fatah leaders, that a political solution was the only way out of rising internal conflict and crippling international sanctions against the Hamas-led government. Abbas said he had the right as president to dismiss the Hamas government and would call for early elections.
"The people are looking to their elected president to have a solution, and not to be turning in empty circles," Abbas said. "That's why I've decided to call for early presidential and legislative elections."
Abbas added that he wants a unity government of technocracts that can end what he called the economic siege, perhaps leaving open the possibility of re-starting dialogue wth Hamas.
Abbas' much-anticipated speech comes after months of failed efforts to form a "unity government" with Hamas and end the economic and political isolation of the Palestinian Authority. Those unsuccessful attempts aimed to push the Islamists toward recognition of Israel and to meet other conditions asked for by the West and Israel, which list Hamas as a terrorist group.
The call for new elections comes after a dark week in Gaza that pushed the factions ever closer to civil war: In Gaza City three young sons of a Fatah leader were gunned down on their way to school; a Hamas judge was assassinated outside a courthouse; and suspected Fatah gunmen opened fire on Hamas leader Ismail Haniyeh's convoy, which Hamas called an assassination attempt.
Chief Palestinian negotiator and Fatah leader Saab Erekhat called it a shameful week for Palestinians. He said early elections are the only way out of the chaos.
"Isn't that the civilized choice that will allow the Palestinians to avoid the horror of internal fighting and this situation?" Erekhat asked. "This must end. And if we keep it the way it is now we'll only have bullets. And bullets will only add to the complexities and will not solve any problems."
But Hamas leaders and supporters say any attempt to force a new vote is an illegal attempt to overturn the results of last January's free and fair elections. In a fiery speech Friday at a Gaza stadium packed with tens of thousands of flag-waving supporters, Hamas lawmaker Khaleel el Hiya vowed that the group would not accept any attempt to undo a democratic vote.
"Let the media underline this," he said. "We will not agree about any referendum or any early elections! Those who take these one-sided steps must bear the responsibility."
Abbas aides acknowledge that his call for new elections risks pushing Palestinian society deeper into chaos. But Fatah official Nabil Shaath says with rising poverty, violence and isolation Abbas had few other viable options.
"This is all blocked in with lack of real hope on the political level with the Israelis," Shaath said. "With the continued blockade of the Palestinian territories, [Abbas] has very little cards to play with."
Many in the region think the ongoing factional dispute -- and even the looming clash over the legality of holding new elections -- is likely to be contested in the streets, with brute force, not in the broken-down court rooms of Gaza.