Pianist Has Passion for Performing New Music
Award Recipient
Congratulations to Peng-Peng Gong, recipient of the Jack Kent Cooke Young Artist Award. Peng-Peng will receive an award of $10,000 to help him continue his music studies and assist him with music-related needs.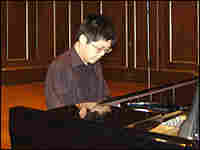 Peng-Peng Gong is originally from China, but these days he lives in New York City where he studies piano and composition at the Juilliard School's pre-college program. He also attends the Professional Children's School in Manhattan.
"The teachers at PCS are very understanding," he says. "They give students extensions on work when they have to be absent."
Peng-Peng has already performed with several major orchestras and recently performed in the Louvre in France.
"It was a great opportunity," he says. "I was the only one who got to walk around the museum for free!"
Peng-Peng performed on From the Top's radio show on two different occasions. The first time he performed a piece for two pianos written by his friend and fellow Juilliard pre-college student, Conrad Tao. A little more than a year later, he returned to perform another original piece, this one by Dominik Maican, also a Juilliard pre-college student.
This year, he performs Rachmaninoff's Six Moments Musicaux, Op.16, 3rd and 4th mvts.