The Palestinian Faction Hamas: A Primer
Since its founding in 1987, Hamas has pursued a dual policy of "armed resistance" against Israel — carried out by suicide bombing attacks on Israeli civilians — while also extending social-welfare programs to Palestinians in the occupied territories of Gaza and the West Bank. Here, a guide to Hamas' history and its leaders:
Full Name: Harakat al-Muqawama al-Islamiya (Islamic Resistance Movement).
Origins: Hamas was founded in the Gaza Strip in 1987 by Sheik Ahmed Yassin and Dr. Abdel Awziz al-Rantissi, both of whom have since been killed by Israel.
Hamas is an offshoot of the Muslim Brotherhood, a religious and political pan-Arab organization with branches throughout the Arab world. In 1988, Hamas wrote its charter, which calls for the destruction of the state of Israel and swears to "raise the banner of Allah over every inch of Palestine." The charter is still in effect today.
However, Palestinian Prime Minister and Hamas member Ismail Haniya has spoken of a possible long-term truce with Israel, if Israel withdraws from territory occupied after the 1967 war, namely, the West Bank and Gaza.
On the Ground: Since its founding, Hamas has pursued a dual policy of "armed resistance" against Israel, while extending social-welfare programs to Palestinians in the occupied territories of Gaza and the West Bank.
Its armed resistance has been carried out by suicide bombing attacks on Israeli civilian buses, nightclubs and other venues. As a result the United States, Israel and the European Union have labeled it a "terrorist organization." Human Rights Watch has also criticized Hamas for its attacks on civilians.
But Hamas' main claim for support among Palestinians comes from its provision of social welfare services that neither the Israelis nor Fatah provide. From its inception, Hamas has funded and developed an elaborate network of schools, orphanages, health clinics and other social services that have given it reach into every sector of its populations.
Elections: On Jan. 25, 2006, Palestinian voters in Gaza, the West Bank and East Jerusalem voted for a new Palestinian legislature. Hamas won a major victory, taking 74 of the 132 seats, in an election deemed fair and honest by international observers. Its rival, the once-dominant Fatah party, criticized for ineffectiveness and corruption, took only 45 seats.
The surprise victory gave Hamas control of the Palestinian Government; it also set up a conflict with Israel and with Palestinian Authority President Mahmoud Abbas. Hamas refuses to accept Israel's right to exist and says it will not honor all pre-existing treaties signed by the Palestinian Authority. In light of that, Israel, with the support of the United States and the European Union, launched a financial boycott. Israel refused to pay the Palestinian Authority its monthly trade taxes (which Israel collects), and Washington has sought to freeze all bank transfers to the Palestine Authority. The results have deprived the authority's 150,000 civil servants of salaries, massive unemployment and bankruptcies.
HAMAS' LEADERS
Bush, Olmert Declare Support for Palestinian Leader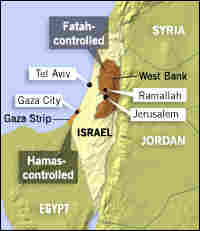 President Bush and Israeli Prime Minister Ehud Olmert on Tuesday sought to bolster embattled Palestinian President Mahmoud Abbas, calling him a moderate voice and the only true leader of the Palestinian people.
Bush and Olmert met in the aftermath of Palestinian turmoil that left Abbas, a Western-backed moderate, in control of one Palestinian government in the West Bank and his Islamist rival Hamas in control of the separate Gaza Strip.
At the Oval Office, the two leaders spoke positively of new meetings between Abbas and the Israelis.
"I'm going to make every possible effort to cooperate with him," Olmert said. Bush called Abbas "the president of all the Palestinians" and "a voice for moderation."
"This is an ideological struggle," Bush said, adding that he and the Israeli prime minister "share a common way forward. Our hope is that others in the region realize that this way forward will lead to peace."
"Our hope is that President Abbas and Prime Minister Salam Fayyad - who's a good fellow - will be strengthened to the point where they can lead the Palestinians in a different direction," Bush said.
Olmert said he will be talking to Abbas but spoke of several prerequisties for progress towards peace. They included a much more responsive Palestinian government and increased security efforts, Olmert said. The prime minister also said that he wanted to discuss threats to Israel's future from Iran.
Bush replied that he views Iran's statements as a "serious threat" to Israel and that "all options are on the table" to make sure Iran does not develop a nuclear weapon. Bush said Iran must see that there is "a price to be paid for this kind of intransigence."
From NPR reports and The Associated Press
Palestinian Prime Minister's House Attacked
Palestinian Prime Minister Ismail Haniyeh escaped injury Tuesday after a rocket-propelled grenade hit his home. His Hamas movement said the attack was an assassination attempt by Fatah.
The death toll is rising from recent factional fighting between the rivals in the Gaza Strip. At least 21 Palestinians were killed Monday and overnight.
The intensified fighting shattered a truce that is two weeks old as appeals for calm by factional leaders have gone unheeded.
Fatah and Hamas gunmen are battling for control of security centers in Gaza City. The main presidential security compound is the scene of fierce combat.
Fatah loyalists are using heavy machine guns and 25 mm cannons, while Hamas fighters respond with rocket-propelled grenades and automatic weapons.
Mohammed Suewherekey, a 28-year-old newlywed, became a casualty of the fighting. He worked as a cook and supply clerk with Force 17, an elite unit controlled by Mahmoud Abbas, the Palestinian president and Fatah leader.
Suewherekey was kidnapped by Hamas militants while delivering food to soldiers Sunday evening as new factional clashes erupted. Around dusk, Hamas gunmen took him to the roof of an 18-floor abandoned high-rise in central Gaza City and pushed him off.
"Mohammed's legs had been tied together with his own belt. His hands also had been tied, and they threw him off the roof," said Rami Suewherekey, Mohammed's brother.
Sitting under a blue plastic tarp at the mourning tent for his brother's funeral, Rami said Hamas officials who witnessed the murder kept phoning the family, telling them Mohammed was sipping tea with his captives and would soon be released.
"We hope that Hamas keeps on inventing new ways of killing the people so the rest of the world knows the truth and the reality of Hamas and how vicious they really are," said Rami, 35.
He said Islam's core is about mercy and forgiveness. "We don't want retaliation. We don't want any more bloodshed in this civil war," he added.
But Fatah fighters were not in a forgiving mood. Later that night, loyalists shot 24-year-old Hossam Abu Ghanus, a suspected Hamas supporter, and hurled his body off a 10-story tower.
The tit-for-tat high-rise killings were just the beginning of a new, brutal round of internal Palestinian fighting.
On Monday night, Force 17 brought out one of its few functioning armored personnel carriers and blasted away with its main cannon and heavy machine guns. The target? Hamas gunmen holed up in the abandoned high-rise from which Mohammed Suewherekey was thrown.
Also Monday night, Hamas gunmen laid siege to the home of Jamal Al-Jedyan, a Fatah leader in northern Gaza and a close aid to Gaza strongman and Fatah leader Mohammed Dahlan. Hamas gunmen shot Al-Jedyan 45 times and also killed his brother after storming his house, according to witnesses and hospital officials.
Four people were killed earlier when fighting erupted inside and around Beit Hanoun's main hospital. Militants also stormed Gaza City's Al-Shifa hospital, prompting health care workers to flee in fear and to protest that Gaza hospitals had, once again, become combat zones.
The fighting has prompted thousands of residents to flee.
One is 39-year-old Ali Badwan, a married father of four, who says there's no place in Gaza for reasonable people. He directs a management consulting firm there and is the kind of educated entrepreneur who will be needed to someday help rebuild the Strip.
"They have no voice. The voice is only for the gun machines. This is the problem," he said. "We don't understand really what they are fighting for – to build a state by fighting each other? They will destroy themselves and our country."
European Union monitors at the Rafah border crossing in southern Gaza say in the past year, at least 30 Palestinians have left Gaza Strip every day and have not returned. That's double the daily permanent migration from the previous year.
From NPR reports and The Associated Press
Ismail Haniyeh: Haniyeh is the prime minister of the Palestinian Authority.
Haniyeh, who is in his 40s, was born in a Palestinian refugee camp in the Gaza Strip. He graduated from an Islamic University in 1987, the same year Hamas was founded. Two years later, he was imprisoned by Israeli officials and later deported to Lebanon. He returned to Gaza in 1993.
On Dec. 14, 2006, Haniyeh, who had been traveling abroad, was stopped at the Rafah border crossing. He was believed to be carrying tens of millions of dollars in foreign donations for his cash-strapped government. Israeli border guards refused to let him enter.
A gun battle between Hamas militants and Palestinian security forces loyal to Fatah was reported in response to the incident. When Haniyeh later attempted to cross the border, an exchange of gunfire left one of his bodyguard's dead and his eldest son wounded. Hamas denounced the firefight, saying it was as an assassination attempt by rival Fatah, an accusation which prompted firefights in the West Bank and Gaza City between Fatah and Hamas forces.
Mohammed Deif: Born in 1960, Deif is the commander of the military wing of Hamas, a position he's believed to have held since July 2002. Deif spent several years at the top of Israel's most wanted list. In 2005 a tape of Deif surfaced in which the militant commander and bomb maker referred to "armed resistance" as "a legal weapon alongside political activity." He also threatened to make all of Palestine "hell" for Israel and encouraged insurgents in Iraq.
Khalid Meshal: The leader of both the military and political wings of Hamas in exile, Meshal lives in Damascus, Syria. He has called for the creation of a Palestinian army. Although he was a vocal critic of Yasser Arafat's leadership, Meshal attended the Palestinian leader's funeral in Cairo.
After the Hamas electoral victory in 2006, Meshal published an opinion piece in The Guardian which said, in part, "We shall never recognise the right of any power to rob us of our land and deny us our national rights. We shall never recognise the legitimacy of a Zionist state created on our soil in order to atone for somebody else's sins or solve somebody else's problem. But if you are willing to accept the principle of a long-term truce, we are prepared to negotiate the terms.