Trio Tackles Mendelssohn's Emotive Work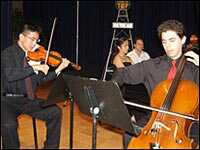 The Waleno Trio is comprised of violinist Foster Wang, pianist Victoria Lee and cellist Anthony Sabatino. The trio decided upon their unusual name by combining two letters of each of their last names — Wang, Lee and Sabatino — to form the word "waleno."
When they are not playing together, the members of the Waleno Trio have a range of individual interests outside of music. Foster Wang is a sports enthusiast who loves to lift weights and play baseball, basketball and soccer.
Victoria Lee is on her school's varsity swim team and she also enjoys art, especially sketching and welding.
Anthony Sabatino is involved in a community-service program in which he helps children academically and also gives them music lessons. The trio members all study music through the Juilliard School's pre-college division.
The performed the first movement of Felix Mendelssohn's Piano Trio in D Minor.
"The piece is like a big conversation between the three of us," Victoria says.
"It's very emotional and intense," adds Foster. "While we were preparing the piece our coach kept telling us not to push; to keep the level of intensity without rushing. She wanted us to have a range of dynamics, not to give it all away at first."