Stroke of Luck Leads Flutist to the Right Teacher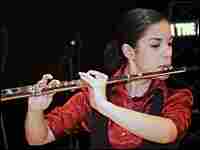 Choosing to play flute was a random lucky decision for Priscilla Wadsworth, 16.
"On the first day of band, the band director asked everyone what they wanted to play, and my friends chose flute so I did too," she recalls.
Although she enjoyed it immediately, Priscilla didn't get serious about playing flute until she met her teacher, Dr. Gerald Welker. Much like picking the right instrument, meeting the right teacher was also a random lucky event. Priscilla met her teacher when she stumbled into the wrong room at a competition.
"I was supposed to go into the room on the left, but someone cut in front of me and I was forced into the other room," she recalls. "There was my music teacher (though I didn't know that yet). I played for him, and he said I was the most talented person he'd seen all day, and he offered me lessons."
Priscilla has been studying with him ever since.
Flute has become the major focus of Priscilla's life, and she hopes to play professionally one day.
"I practice about three hours a day, and I motivate myself by thinking about how it will benefit me later on," she explains.
She performs Joaquin Rodrigo's Concierto Pastorale, 1st. mvt.