Violinist Studies at Juilliard's Pre-College Program
Award Recipient
Congratulations to Piotr Filochowski, recipient of the Jack Kent Cooke Young Artist Award. Piotr will receive an award of $10,000 to help him continue his music studies and assist him with music-related needs.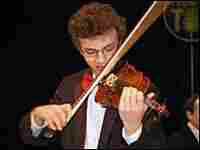 Piotr Filochowski is originally from Poland, but these days he lives in New Jersey and studies violin at the Juilliard School's Pre- College Division in New York City.
"I definitely want to have a career as a violinist, and I'm trying to concentrate more on that now that I'm getting older," he says. "I want to bring joy and happiness to others through music."
He is well on his way to achieving his goals, but Piotr admits that he wishes he'd practiced more when he was younger. He offers advice to younger musicians who also may have trouble practicing.
"Try to imagine your teacher is standing right outside your door," he advises, "and if you need to break up your practice time to be able to stay focused, that's OK, too. Do something fun in between, and then come back to practicing so you can practice more and enjoy your practicing."
He performs Antonio Bazzini's La Ronde des Lutins (The Round of the Goblins.)