Vocal Impressions: Hearing Voices, Round Two
In December, commentator Brian McConnachie asked listeners to describe the distinctive voices of four well-known personalities: Morgan Freeman, Marilyn Monroe, Truman Capote and Patsy Cline. The results of that challenge are in this story.
Now, McConnachie is issuing a second "Vocal Impressions" challenge. How would you describe the voices of actor Jack Nicholson, singer Norah Jones and singer, actor and musician Cliff "Ukelele Ike" Edwards?
Vocal Impressions: Hearing Voices
Read the Descriptions
Click here to read listeners' descriptions of the voices of Morgan Freeman, Marilyn Monroe, Truman Capote and Patsy Cline.
Several years ago, I had that last, long, wonderful father-and-daughter time as we went to look at colleges in the Northeast and decide which one had the most expensive landscaping.
Along the way, I put in a mix tape. The first cut on it was Ella Fitzgerald. I didn't know how familiar my daughter was with Ella Fitzgerald, but I asked, "How would you describe her voice?"
She listened some more and replied, "She sounds like ... diamonds dipped in caramel."
I thought, "Wow! High school certainly worked."
And it reminded me that Mel Torme's voice was described as "the velvet fog" and that actress Jean Arthur's voice was described as sounding like, "a thousand tinkling bells."
Which led me to this idea:
I'd like to invite the listeners of All Things Considered to take part in an experiment on how different voices sound to you — and what words you would use to describe them.
Updated March 22, 2007

I congratulate all the contributors on adding to this new literature of voices. Overall, your responses to this group of voices — Jack Nicholson, Norah Jones and Cliff Edwards — were pretty much in agreement.

Here are the ways in which you, the listeners, described these distinctive voices.

---
Jack Nicholson
Jack Nicholson elicited many references to mischievous cats and "that kid" your parents warned you about.

Listen to Actor Jack Nicholson
"A harmonica" — Yoanne Chartron

"The bottle that told Alice, 'Drink Me'" — Andrew Criss

"Brass knuckles in gift wrap" — Richard Davidson

"The tarnished silver ring you just can't shine" — Natailene Fineman

"A shave and a splash of cologne before a Friday night out on the town" — Richard Goal

"That kid your parents told you to stay away from because he was nothing but trouble" — Joe Kapitan

"What's left of a grin when you take the smile away" — Jeff Lonsdale

"Vegas when cigarettes were healthy and Dean Martin sang every night" — Todd Miller

"Awakening in the middle of the night to the smell of a fine cigar being smoked by a burglar robbing your house" — Michael Mode

"A bullet with butterfly wings" — Josh Parry

"The sound of the Cheshire Cat trying to talk his way into the Viper Room (a trendy L.A. nightclub)" — Sam Platt

"A Happy Meal laced with Viagra" — Tom Satterlee

"A snake oil salesman perfecting his pitch" — Randy Treplett

---
Norah Jones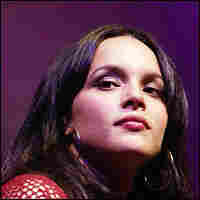 The voice of Norah Jones conjured up a lot of sensuality. There were numerous references to chocolate: melted chocolate, hot chocolate and being dipped in tubs of milk chocolate.
Listen to Musician and Songwriter Norah Jones
"The softness and warmth of flannel" — Chris Christianson

"The voice of a pretty cheerleader who is kind enough to smile at a nerd like me" — Andrew Criss

"The push you give yourself before telling someone you love them, not knowing if they'll say it back" — Olivia Crumer

"The reflection off a bright red apple" — Clayton Ebenr

"The voice of the sexiness that every woman knows she possesses" — Janelle Fay

"Being wrapped in a warm towel after a dip in a cold stream" — Jeff Lonsdale

"That pebbly mud that feels good squished between your toes" — Kendall Powell

"Silk brushing your cheek as chocolate melts in your mouth" — – Stewart Thorne

"A woman's skin beneath milky bathwater" — Jamie Fetty Ward

"Crunchy peanut butter — mostly smooth with a bump here and there" — Adam Whiting

---
Cliff Edwards
Cliff Edwards' voice brought memories, both sweet and bittersweet, and other pleasant thoughts.
Listen to Musician and Actor Cliff Edwards
"A voice that would put a smile on the faces of the dead" — Chris Ballo

"The leafless elm scraping at the window at 5 a.m., bestowing the gift of one more hour" — Erin Brennan

"A saw being played by a violin bow" — Elizabeth Frietsch

"A lovesick puppy begging the universe for a bone" — Kyrie Ivonovich

"A memory so bittersweet even senility can't suppress it" — Dimi King

"A tap dancer with his cummerbund on too tight" — Jamie Parmelee

"The day before Christmas" — Bridget Rasmussen

"The most beautiful part of childhood wafting by on a breeze" — Rosinna Roberts

"Sheets being blown straight up and wondering if the clothes pins will hold" — Melissa Straney

"A cricket named Jiminy" — Gary Wallace