Pigging Out with the Bacon of the Month Club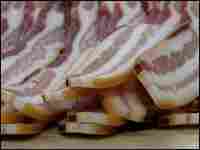 There's nothing quite like the salty, sweet, smoky smell of bacon frying in a pan. The smell is so seductive that it can vex even the vegetarians and kosher-keepers among us.
And imagine how much better it will smell if each month brings home a new artisanal bacon. John T. Edge, our culinary curator, tells how his life has changed since joining the Bacon of the Month Club, which sends a different bacon each month, along with recipes and toys, from a bacon T-shirt to a rubber pig nose. And club poobah Captain Bacon tells how he tracks down all those gourmet bacons.
Six Weird Ways of Makin' Bacon
Brian Logsdon, pastry chef at the Brown Hotel in Louisville, Ky., puts bacon in baklava. No, really! His recipe was featured in the January issue of Food & Wine magazine.

Ingredients
1 1/2 pounds sliced bacon
1 cup whole blanched almonds, toasted and coarsely chopped
3/4 cup coarsely chopped dates
1 package phyllo dough
10 tablespoons unsalted butter, melted
1 1/2 cups sugar
1 cup pure maple syrup
1/2 cup water
2 tablespoons bourbon
Finely grated zest of 1/2 orange
Makes 35 pieces

Directions
1. Preheat oven to 400 degrees. In a skillet, fry the bacon in batches until crisp. Drain well and crumble. In a food processor, finely chop the bacon with the almonds and dates.

2. Butter a 9-by-13-inch metal baking pan. Lay a sheet of phyllo in the pan; trim the edges to fit and brush with butter. Repeat with 4 more phyllo sheets and butter. Spread 1 cup of the filling evenly over the phyllo. Repeat this layering of 5 phyllo sheets and bacon filling two more times. Top with 5 buttered phyllo sheets, buttering the top well.

3. With a small, sharp knife, cut the baklava into diamonds. Bake the baklava for 10 minutes at 400 degrees. Then lower temperature to 325 degrees and bake for 1 hour longer, or until nicely browned.

4. Meanwhile, combine the sugar, maple syrup, water, bourbon and orange zest in a saucepan and bring to a boil. Simmer for 5 minutes, then let cool to room temperature. Pour the cooled syrup over the hot baklava and let stand uncovered at room temperature overnight.
John T. Edge presents a six-pack of recent bacon discoveries. Edge is the director of the Southern Foodways Alliance in Oxford, Miss.
1) Bacon Peanut (or Pecan) Brittle comes from the Grateful Palate, the folks behind the Bacon of the Month Club. Also on sale: trio of BLT votive candles, each smelling of one of the constituent parts.
2) Scallops in a Bacon Consomme is cooked by Damon Wise, chef of Craft Restaurant in New York City. Imagine scallops surrounded by a moat of smoky and soulful soup.
3) Bacon Baklava, a marriage of sweet Kentucky pig and sweeter local honey, is prepared by Brian Logsdon, pastry chef of the English Grill at Louisville's Brown Hotel. If you can't make it to Louisville, you can find at Food & Wine Magazine's Web site.
4) Pig on a Stick is on Linton Hopkins' menu at Restaurant Eugene in Atlanta: three hunks of 24-hour braised pork belly, crisped, then threaded on a stick and gilded with barbecue sauce.
5) Bacon Gravel is the only way to describe the crumble of bacon served alongside a sweet corn creme brulee at the eco-conscious restaurant Tilth in Seattle.
6) Squealer Burgers are the thing at a roadhouse called Tookie's, south of Houston, where the ground beef is larded with chopped bacon for a burger with pig oomph.