Rice Visits a Mideast Locked in Turmoil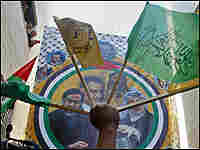 Hazem Bader/AFP/Getty Images
Secretary of State Condoleezza Rice meets with leaders in Israel and the Palestinian territories this weekend at the start of a weeklong Mideast tour. Her attempt to jump-start moribund Arab-Israeli peace talks comes at an extremely difficult time: Palestinians are embroiled in a fierce internal power fight and Israel's prime minister is hobbled by low approval ratings, political strife and allegations of government corruption.
Tens of thousands of Fatah loyalists showed up in the West Bank city of Ramallah Thursday for a celebration of the movement's founding. Big posters of the late Palestinian leader Yasser Arafat and colored balloons fed the festive atmosphere as smoke from grilled kebabs wafted over the crowd.
But the keynote address from current Fatah leader and Palestinian President Mahmoud Abbas underscored just how large a shadow Arafat still casts. The crowd wanted Arafat-like inspiration from Abbas. Instead they were chastised by the man who's become a politically damaged, Lear-like figure: In the middle of his speech promising a future Palestinian state, Abbas abruptly halted and admonished the crowd.
"I hear gunfire and shooting in the air right now. Please stop it!" Abbas yelled. "We completely reject this shooting and chaos, please enough! Just as we completely reject the shooting of our brothers in the other factions!"
It was a telling moment as Abbas addressed the lawlessness and violent internal tensions tearing apart the Palestinian Authority. While fending off — and at times trying to negotiate — with the ruling Islamists of Hamas, Abbas is also desperately trying to rebuild a Fatah party that has lost street credibility and public trust.
At least 30 Palestinians have been killed in factional violence since Abbas called for early elections last month in a bid to end the impasse with Hamas. No date for the election has been set.
It's in this context of division and stalemate that Condoleezza Rice makes her eighth visit to the region since becoming secretary of state two years ago.
"The United States has to invest more energy, more time into pushing the peace process forward," says Fatah lawmaker Abdullah Abdullah, an adviser to Abbas.
Israeli Prime Minister Ehud Olmert, Abdullah says, seems unwilling or unable to make-good on recent, relatively minor confidence-building pledges — including lifting some roadblocks in the occupied West Bank and transferring Palestinian tax revenue that Israel has withheld since Hamas' election win a year ago.
Instead of progress, Abdullah fumes, Palestinians got a deadly Israeli military raid into Ramallah — the seat of Fateh's power — just as Olmert was meeting with Egypt's president to try to advance the peace process.
"He promised many steps to be taken. None of them has been carried out," Abdullah said. "Except that the Israelis sent their soldiers into the center of Ramallah to kill and wound and destroy property. Is this the way to make peace with the Palestinians, to move forward?"
A spokesman for the Israeli Civil Administration in the West Bank concedes that no roadblocks have been removed yet. So far, Israeli officials say, barely $10 million of the pledged $100 million in tax funds have been transferred to Abbas's office.
Few expect Secretary Rice to make any significant breakthroughs while here. A senior Israeli official said expectations "are realistic."
Mark Regev of Israel's Foreign Ministry says the path to a two-state solution is clear: Palestinians embracing moderation and rejecting Hamas.
"Then the door is opened to very tangible political progress," Regev said. "To a Palestinian state not in the distant future but a very tangible, immediate possibility for independence — once they've renounced these extremist ideas that Hamas espouses."
But it's not at all clear Abbas or Olmert can deliver any concrete progress: Olmert remains politically weakened with his approval rating near an all-time low.
Harsh public criticism continues of his handling of last summer's war in Lebanon with Hezbollah and a series of corruption scandals has further hobbled the prime minister.