'Dreamgirls' a Golden-Globe Success Story
'Dreamgirls' a Golden-Globe Success Story
The musical Dreamgirls takes home three Golden Globe awards — including supporting-actor honors for Jennifer Hudson and Eddie Murphy — while Sacha Baron Cohen was honored for Borat.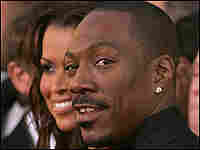 Frazier Harrison/Getty Images
RENEE MONTAGNE, host:
And I'm Renee Montagne.
Last night's Golden Globe Awards here in Los Angeles attracted some of Hollywood's biggest starts, which may have something to do with the fact that the Golden Globe set up the race for Hollywood's biggest prize, the Oscars.
Nova Safo has this story.
NOVA SAFO: If the Golden Globes aren't the ultimate Oscar's bellwether, they are at least the most visible one. And with few frontrunners heading into the Academy Award season, the Globe's offered its favorite.
(Soundbite of show, "The 64th Golden Globe Awards")
Unidentified Man: Jennifer Hudson, "Dreamgirls."
Unidentified Woman: Eddie Murphy, "Dreamgirls."
Unidentified Woman #2: And the Golden Globe goes to "Dreamgirls."
SAFO: "Dreamgirls," the film about a singing trio catapulted to fame, captured the most awards, a total of three. And it boosted the career of Jennifer Hudson, who won a Best Supporting Actress award. Hudson was a contestant on "American Idol," and she held back tears while accepting her Golden Globe.
Ms. JENNIFER HUDSON (Actress): I have always dreamed, but never ever this big.
(Soundbite of applause)
Ms. HUDSON: Ever. This goes far beyond anything that I could have ever imagined.
SAFO: "Dreamgirls" proved to be the vehicle for Eddie Murphy's first Golden Globe as well. He won for Best Supporting Actor. The top acting honors went to Forest Whitaker, who portrayed Ugandan dictator Idi Amin in "The Last King of Scotland," and to Sacha Baron Cohen for his satirical comedy "Borat." Best Actress awards went to Meryl Streep for her role in the comedy, "The Devil Wears Prada," and to Helen Mirren. Mirren's considered a favorite to win the Oscar for her work in "The Queen," in which she portrayed England's Queen Elizabeth II.
Ms. HELEN MIRREN (Actress): In 1952, a woman called Elizabeth Windsor at the age of 25 walked into, literally, the role of a lifetime. And I honestly feel this award belongs to her, because I think you fell in love with her, not with me. And I just tried to make her as truthful to herself as possible.
SAFO: The Golden Globe for Best Director went to Martin Scorsese for his film "The Departed." That's a boost for the man who's been nominated five times for an Oscar but has yet to win. Meanwhile, the film "Babel," with intertwining storylines crossing continents, remains in the Oscar race as well. With seven Golden Globe nominations, it only secured one award. But that was in the important category of Best Dramatic Film.
For NPR News, I'm Nova Safo in Los Angeles.
NPR transcripts are created on a rush deadline by Verb8tm, Inc., an NPR contractor, and produced using a proprietary transcription process developed with NPR. This text may not be in its final form and may be updated or revised in the future. Accuracy and availability may vary. The authoritative record of NPR's programming is the audio record.