Latest Office Designs Offer Comforts of Home
Latest Office Designs Offer Comforts of Home
Audio Extras
Chuck Saylor of izzydesign Describes the Company Conference Room (pictured above)
Consultant John Berry on the Office Design Trend
Some of today's offices barely resemble their predecessors: gray, steel office furniture is giving way to bright colors, soft fabrics and warm lighting — just like at home. Manufacturers say the trend speaks volumes about the work force many employers are trying to attract.
At Structure Interactive, an advertising firm in Grand Rapids, Mich., sleek minimalist furniture is clustered in irregular shapes; two of the walls are catsup-red. No one has an assigned cubicle.
Vice President Charles McGrath says the office's feel is aimed at inspiring creativity.
"We wanted something that would say this is a place where work is being done, but that would also facilitate creative work," he says.
Manufacturers say today's white-collar workplaces are undergoing drastic changes. Part of the change may be attributable to the increasing portability of work, thanks to laptops and PDAs. Now able to work from home or a cafe, employees are getting used to the creature comforts of an espresso machine or a soft couch. They want that atmosphere at the office, too.
Furniture industry consultant Michael Dunlap says he started noticing the trend a few years ago with bold color and home-like fabrics being offered for the workplace. At last year's office furniture convention in Chicago, Dunlap noticed plants, flowers, designer eating utensils — even a bed.
"Thirty years ago, none of that would have been there," Dunlap says. "Or if it was, it would be strictly utilitarian, near-military issue."
Sales at the Michigan-based izzydesign, a company specializing in office furniture with a residential feel, are up nearly 20 percent over last year, which is twice the industry's growth rate.
But could replicating home at the office create too much of a diversion from work? While that may be possible, izzydesign founder Chuck Saylor and others say that line hasn't been crossed yet. That means office furniture makers will continue to push creature comforts for the workplace.
When Bad Office Design Happens to Good People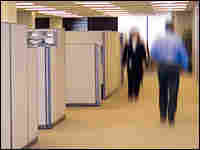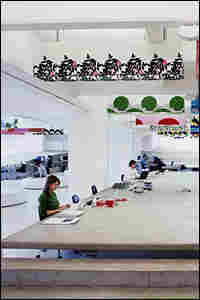 Adrian Wilson/Courtesy of Clive Wilkinson Architects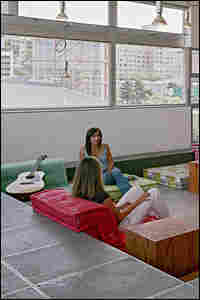 Courtesy of Gensler Architects
Benny Chan, Fotoworks/Courtesy of Clive Wilkinson Architects
The evolution of office spaces toward greater comfort and visual appeal has been taking place for about 15 years, according to Karen Singh, market editor for Interior Design magazine. Then why do so many workspaces remain devastatingly ugly?
Companies have some incentive to provide ergonomically friendly office furniture, because it can be tied to productivity, Singh notes. But when it comes to aesthetics, "it depends on who's in the room that day," she says. "[Maybe] the crazy office manager doesn't like blue and decides everything has to be avocado."
Or maybe no one thought of color at all. Let's say you're working in a brown cubicle, with a gray desk, fluorescent lighting and no windows (much like the author of this article). What can you do, besides apply to a job at Google, or Mother Ltd., pictured here?
Change the lighting. You'd love to dismantle the relentless fluorescent lights overhead, but that would be too much work — not to mention possible grounds for dismissal. A task lamp can counter a washed-out lighting scheme with some warmth. Singh likes the Leaf Personal Light, which has touch controls that mimic an iPod. Or, as izzydesign's Allison DeMarse points out, any residential lamp will do the trick.
Make your furniture multitask. Design manager DeMarse suggests adding a sit-to-stand or adjustable-height table, so that you can alternate sitting and standing throughout the day. Also essential, says Singh, is a good keyboard tray with an adjustable tilt, such as Workrite's Banana Board (it sounds a lot more fun than it looks).
If your cubicle has a couple of low filing cabinets, Singh recommends placing cushions on top of them to brighten the area and provide a place for visitors to sit. You can also buy file pedestals with cushions already installed at Steelcase.
Add some life. Bring in a plant or two, but keep it low-maintenance. A simple stalk of lucky bamboo in some water, or even a convincing artificial plant, can make a difference.
Put your coworker on mute. Singh recommends Babble, a button-activated "sound management system" that duplicates and scrambles the voice. The effect is a muffled conversation that's easier on the ears and protects privacy.
Take the conference out of the board room. Singh is a fan of open meeting spaces for companies that are idea-driven. She suggests buying a few of HBF's Dialogue chairs and arranging them around a big coffee table. The wide arms allow people to gather and do work at the same time. "That's something I'm happy to see," Singh says, "because conference rooms are so irritatingly useless sometimes."
Change something. Anything. DeMarse suggests bringing in a new book, a quote, photo, screensaver — any item that refreshes your space and inspires you. Another idea: "Buy a chair that allows you to mix materials, add a seat pad or change the fabric on your chair back," she says. Better yet, be eco-conscious and get furniture from a swap or thrift shop.
Of course, you'll want to think about your office culture and co-workers before making any big changes. There's a fine line between "individual expression" and "actionable."