Bush Resolute in Face of Low Ratings, Top Aide Says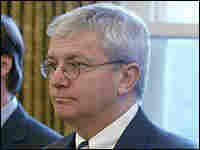 More from the Interview
White House Chief of Staff Joshua Bolten Discusses:
Placing too much emphasis on opinion polls would be a grave error for the Bush administration, says White House Chief of Staff Joshua Bolten.
"No mistake could be larger than to allow the polls to drive this president, or this government, into compromising the national security of the United States," Bolten says in an interview with Melissa Block.
Bolten acknowledges that there is disagreement about President Bush's Iraq policy. But he says there is opportunity for agreement between Republicans and Democrats on issues such as health care and education.
"We're going to try to use this year to take advantage of those areas of common ground and put some accomplishments across the goal line in those areas," he says.
Bolten says comments from critics of the president's Iraq policy, such as Sen. Chuck Hagel, a Republican from Nebraska who said there is "no strategy" in Iraq, are neither productive nor accurate.
"[Lt.] Gen. [David] Petraeus is going over to Iraq with a new strategy on how best to try to secure Baghdad…. We believe it has a very good chance of success, especially if the United States remains committed to it. But I don't think there's any doubt that there is a strategy and a way forward," Bolten says, adding that all of the president's chief military commanders agree on and are committed to the president's policy.
Bolten says that the White House will cooperate with any investigations that the Democratic-controlled Congress wants to pursue.
"We believe in vigorous and legitimate oversight by the Congress. I don't think political witch hunts are going to be particularly productive or well received," he says.
Regarding criticism that the Bush administration withholds information from Congress and is not cooperative with the legislative branch, Bolten says that tension is inherent in the U.S. political system.
"It's been a sore spot for well over 200 years, that the executive branch guards its prerogatives to run the government, to serve as the executive of government without 535 individual executives up on Capitol Hill," he says.
A certain degree of confidentiality is necessary, Bolten also says, in order for the executive branch to perform its job properly.
In the face of all-time low popularity ratings for Mr. Bush, Bolten says the president is "resolute in fighting a very difficult war on terror that is weighing on the American public."
The White House recognizes the challenge, Bolten says, but that "doesn't mean that you give up in the war on terror, or [that] you do something that is more comfortable in the short run but exposes this country to national-security risks in the long run."
"The president often reminds us that we're not here to be popular. It's better to be popular, I guarantee you. And I hope ultimately we will be able to reverse the decline in the popularity of some of the policies that we've pursued here," Bolten says.
But ultimately, Bolten says President Bush will be judged by how well he has promoted the economy, provided economic opportunities to those in need and protected the country.
"I think the record, in the end, will show that the president's done very well," Bolten says.