Sen. Christopher Dodd (CT)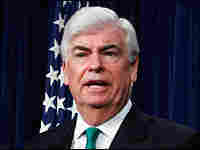 First Campaign
Read about Christopher Dodd's first campaign.
Christopher Dodd says he joined the Peace Corps in the 1960s "because an American president asked" him to. Now, Dodd wants to extend a similar invitation to a new generation. And he wants to do it from the very same platform as John F. Kennedy.
Dodd's call for national service — like the rest of his campaign — hasn't exactly lit a fire under the voting public. But the 63-year-old senator from Connecticut seems to be enjoying himself as he spreads his message, often accompanied by his wife, Jackie, and two young children. (Dodd likes to joke that he's the only presidential candidate getting mail from both AARP and a diaper service.)
When Kennedy issued his famous call for listeners to ask what they can do for their country, Dodd was sitting on the Capitol's east side with his father. Thomas Dodd had been elected Connecticut senator two years earlier.
The younger Dodd would eventually follow in his father's footsteps after a stint in the Peace Corps, building schools and community centers in the Dominican Republic, and six years in the House of Representatives. Christopher Dodd joined the Senate in 1981. He has served there nearly twice as long as Hillary Clinton, Barack Obama and John Edwards combined. He's the chairman of the powerful but low-key Senate Banking Committee. He also chaired the Democratic Party in 1996.
"Experience matters," Dodd says.
Despite his years of service, Dodd barely registers in national polls. And while environmentalists have praised his commitment to fight global warming, he's gotten little notice in national debates. A "Dodd Clock" on his Web site ruefully tracks how little airtime he gets compared to better-known rivals. In polls he remains in low single digits, both nationally and in the early states of Iowa and New Hampshire. His strategy is to keep plugging away and wait for the political winds to shift in his favor.