U.S. Commander Downsizes Bush's Troop Proposal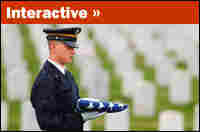 President Bush's nominee to be Army chief of staff, Gen. George Casey, faced tough questions about Iraq Thursday from members of the Senate Armed Services Committee — specifically from Republicans. Casey, the top U.S. commander in Iraq for the past 2 1/2 years, has received his share of criticism for the conduct of the war. Casey told lawmakers he had actually asked for fewer troops than President Bush is deploying as part of the surge into Baghdad.
The harshest criticism Thursday came from Sen. John McCain (R-AZ), a longtime supporter of the war who, at the same time, has been a critic of the war's conduct. McCain, a front-runner for the Republican presidential nomination, said that he has grave concerns about Casey, but that he is inclined to support his nomination.
"While I do not in any way question your honor, your patriotism or your service to our country, I do question some of the decisions and judgments you've made over the past 2 1/2 years as commander of multinational forces in Iraq," McCain told Casey during the confirmation hearing. "During that time, things have gotten markedly and progressively worse, and the situation in Iraq can now best be described as dire and deteriorating."
Casey, however, told the panel he doesn't see the situation that way. He testified that the struggle is "winnable," but that it will take patience and will. McCain reminded him that others who have testified recently, including the secretary of defense and the chairman of the Joint Chiefs of Staff, have said that the United States had a "failed policy" and was not "winning."
"I do not agree that we have a failed policy," Casey responded. "I believe the president's new strategy will enhance the policy that we have."
That strategy as outlined by President Bush involves sending an additional four to five brigades, approximately 21,000 troops, into Iraq, mostly to Baghdad. Casey testified that he thought only two additional brigades were necessary, but that after a mid-November re-evaluation of strategy, he agreed to request more. Sen. John Warner (R-VA) pressed Casey on why he initially didn't request additional forces.
"Could it have been because your concern and that of Gen. Abizaid that the bringing on of additional troops was going into the face of a rising resentment among the Iraqi people for more and more troops?" Warner asked.
"My general belief is I did not want to bring one more American soldier into Iraq than was necessary to accomplish the mission, and so what I asked for was the two brigades and the ability to maintain a reserve in Kuwait in case I needed additional flexibility," Casey replied.
Casey said he accepted responsibility for what went wrong during his tenure in Iraq, though Warner said the civilians who devised the policy deserved the blame. And while Casey came in for much criticism at Thursday's hearing, the chairman of the panel, Carl Levin (D-MI), said he will support Casey's nomination, and it is likely most, if not all, of the committee will, too.