Iraqis Bury Dead from Massive Truck Bombing
Iraqis Bury Dead from Massive Truck Bombing
In Baghdad, Iraqis buried the dead from Saturday's massive truck bomb that killed at least 135 people in a crowded market in a predominantly Shiite area. It was the single deadliest bomb attack since the war began in 2003.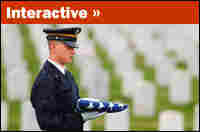 DEBBIE ELLIOTT, host:
From NPR News, this is ALL THINGS CONSIDERED. I'm Debbie Elliott.
Tomorrow, the U.S. Senate is expected to take up a non-binding resolution opposing the Bush administration's plan to send more troops into Iraq. Also tomorrow, President Bush will submit his budget for fiscal year 2008 as well as a supplemental request for $100 billion to cover the wars in Iraq and Afghanistan. The debate over the budget and the Senate resolution will follow a weekend of more carnage in Iraq.
In Baghdad today, wire services report scores of bodies were found in several parts of the capital, many of them showing signs of torture. There are also more reports of car bombings. Today's violence comes on the heels of the single deadliest bombing since the start of the war. Yesterday's massive truck bomb at a market in a Shiite neighborhood killed 135 people and wounded 300 others.
We begin our coverage with NPR's Jamie Tarabay in Baghdad, where a new security crackdown is set to begin tomorrow.
JAMIE TARABAY: At Sadriya market, the shattered remains of outdoor stalls and tables were piled along with smoldering shrapnel from yesterday's truck bomb. Ten apartment buildings were also destroyed. People here are angry. One man who would only give his name as Abu Sayf(ph) cursed those responsible, cursed Islam, and cursed the Iraqi government.
Mr. ABU SAYF: (Through translator) Is this the new government? Is this the new security plan? Killing the innocent people is their new plan? All the ministers are outside Iraq. They are all abroad while Iraqis are being killed.
TARABAY: Others tell people to clear the area so any other would-be bombers wouldn't be tempted by the sight of people gathering. Yesterday's bomb erupted as shoppers bought last-minute supplies for dinner. Speaking through a translator at a news conference in the fortified Green Zone, government spokesman Ali Dabbagh condemned the act.
Mr. ALI DABBAGH (Iraqi Government Spokesman): (Through translator) Anger does not express the way the Iraqis feel towards this criminal action. The Iraqis are challenging this, and this suffering imposed on us by (unintelligible) death squads that kill the Iraqis.
TARABAY: An Interior Ministry official speaking on condition of anonymity said yesterday's one ton truck bomb managed to pass through checkpoints unnoticed to reach the market.
Unidentified Man: (Speaking foreign language)
TARABAY: He says terrorists sent a clear message to the government with this attack. They can pass through searches and roadblocks and checkpoints, and will be able to do so even under the new security plan. The new military offensive begins tomorrow, but there won't be immediate results. U.S. military spokesman Major General William Caldwell extended his condolences for yesterday's bombing and asked everyone to be patient with the new security plan.
Major General WILLIAM CALDWELL (U.S. Military Spokesman): Although there is reason to be optimistic that this plan will succeed, it is important to acknowledge that it will not turn the security situation overnight. It is important for both the people in Iraq and in America to be patient. The key to solving Iraq's problems, whether military, economic or political, is leadership, Iraqi leadership to be precise.
TARABAY: Caldwell also acknowledged that all four American helicopters that have crashed in Iraq in the past month were shot down. It's the first time a U.S. military official has explicitly said this. Three of the aircraft were military. The fourth belonged to a civilian contractor.
Maj. Gen. CALDWELL: There's been an ongoing effort ever since we've been here to target our helicopters, based on what we have seen. We are already making adjustments in our tactics and techniques and procedures as to how we employ our helicopters.
TARABAY: Iraqi military commanders say American air support is critical to successful operations on the ground when the new military offensive gets underway.
Jamie Tarabay, NPR News, Baghdad.
NPR transcripts are created on a rush deadline by Verb8tm, Inc., an NPR contractor, and produced using a proprietary transcription process developed with NPR. This text may not be in its final form and may be updated or revised in the future. Accuracy and availability may vary. The authoritative record of NPR's programming is the audio record.