Former Sen. Mike Gravel (D-AK)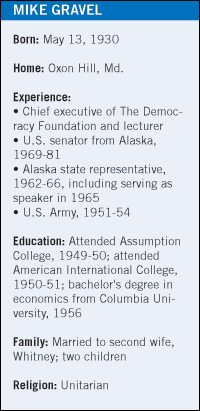 First Campaign
Read about Mike Gravel's first campaign.
Former Alaska Sen. Mike Gravel may be the most unlikely candidate of the 2008 election season, given that he has been out of public office for more than 25 years. At 77, he is the oldest candidate for president from either party.
A former cabbie and railroad man, Gravel was first elected to the Senate in 1968, after defeating incumbent Ernest Gruening in the Democratic primary. Gruening was one of only two senators to vote against the Gulf of Tonkin Resolution that President Lyndon Johnson used as his authorization to expand the Vietnam War.
Gravel went on to become a strong opponent of that war during his two terms in the Senate. He gained notoriety in 1971, when he entered thousands of pages of the classified Pentagon Papers — the secret documents that detailed U.S. involvement in Vietnam — into the Congressional Record.
Gravel made an ill-fated bid to become George McGovern's running-mate at the 1972 Democratic national convention. He lost his own Senate seat in the 1980 Democratic primary — ironically, to Ernest Gruening's grandson.
Gravel's policy positions largely trend to the left: He favors immediate withdrawal from Iraq; normalizing relations with Iran; total nuclear disarmament; full marriage benefits for same-sex couples; single-payer universal health care; and the legalization of marijuana. But he jogs right with staunch support for the Second Amendment. He also calls for a plan to eliminate the IRS in favor of a progressive sales tax.
During the first Democratic presidential debate, in Orangeburg, S.C., on April 26, Gravel offered a scathing denunciation not only of the Iraq war but also of his fellow Democratic presidential candidates. That fiery performance catapulted him from virtual obscurity to overnight Internet phenomenon. A Gravel debate highlight reel shot to the top of YouTube's popularity list, and his Web site crashed after receiving unprecedented traffic in the days following the debate.
With a lack of a credible campaign organization and nearly out of money, Gravel is no longer considered worthy of inclusion in the Democratic debates by both CNN and NBC. At this point, he remains more of an agitator than a serious contender for the nomination.
Related NPR Stories
Web Resources