13-Year-Old Plays a Nearly 400-Year-Old Violin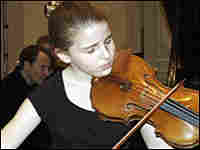 Caroline Goulding, 13, plays a unique violin: a 1617 Amati loaned to her by the Stradivari Society in Chicago. She is in excellent company. Former Stradivari Society recipients include Joshua Bell, Midori, Sara Chang and Yo-Yo Ma.
Goulding performs Brahms' Sonatensatz in C Minor.